Interior Designer Tells Us About What Goes On Behind The Scenes
Interior Design & Decor
4651 views
4651 views
Don't be fooled by Des & Co's fresh entrance into the market. With years of experience in the renovation field, its pool of bright interior designers will make sure every client moves into a place they can truly call home. Scandinavian, industrial, rustic, or contemporary – they've got everything covered!
"Our company's main goal is to create a sanctuary for every homeowner – an abode that they can look forward to going back to everyday," Desmond Tiew, project manager of the interior design firm says.
Almost like a personalised artwork, every home they design is reflective of its owner's character. "Communication is highly important to us, and we work towards delivering tailor-made plans to each of them," Desmond adds.
With such an impressive showroom, you can expect innovative designs from the people at Des & Co.
Choose from an extensive collection of materials, colours, and products. Be assured that the firm will find the ideal match of everything to suit the taste of every individual. As Desmond explains, "We always try to understand the needs and lifestyle of our clients before formulating anything. For example, a family that spends more time in the living room than bedroom will require different table tops/couches and so on."
Des & Co produces its own kitchen carpentry, so even your cabinets will fit like a dream. Want to start cooking as a serious hobby? They'll build the perfect kitchen configuration for you!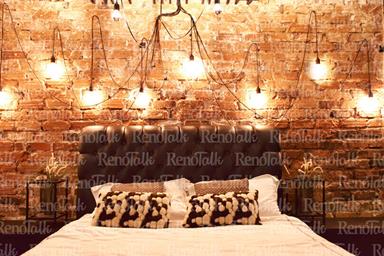 From brick walls to hanging bulbs, a bedroom can be transformed into a cosy nest with the proper elements.
"Design aside, practicality is another main factor that we take into account seriously. We constantly think of ways to blend the two together because what good is a beautiful home that isn't functional?" The project manager points out.
We agree – it's all about the finished product after all!
"The best part of the job is seeing our customers' smiling faces when they open the door, and see the fruits of our labour for the first time." Desmond expresses.
Check out the home renovation projects Des & Co has completed here.
Request for quotes and we'll match you with a selection of Interior Designers!
Previous
Amazing Feature Wall Ideas For Your Home
Next
Unique (And Outright Gorgeous) Themes For Your Home