5 Bedroom Ideas Your Kids Will Adore
Interior Design & Decor
2469 views
2469 views
It is no surprise that children spend a lot of time in their bedroom. Used for sleeping, playing and studying, it follows that their space should be a reflection of their little personalities. However, there really aren't many rules to follow when it comes to the kids' bedroom designs. That does not mean that this room should not have its own style and look like the rest of the house, though. Therefore, we showcase 5 bedroom ideas your kids will adore in this blog.
Image via kuoo.pl
Kids are a great joy of family life, but one thing that can be difficult is decorating a bedroom of someone that grows so quickly before your eyes! If simple and clean design is your preference, then you should go for this bedroom idea. It is so bright and natural with bits of contemporary design. Little elements like the blackboard, bean bags and lights are used to give the room a warm feeling even though the design is really straightforward. We love how the bed is placed in the corner by a large window, as it makes sure your kid wakes up to sunlight every morning.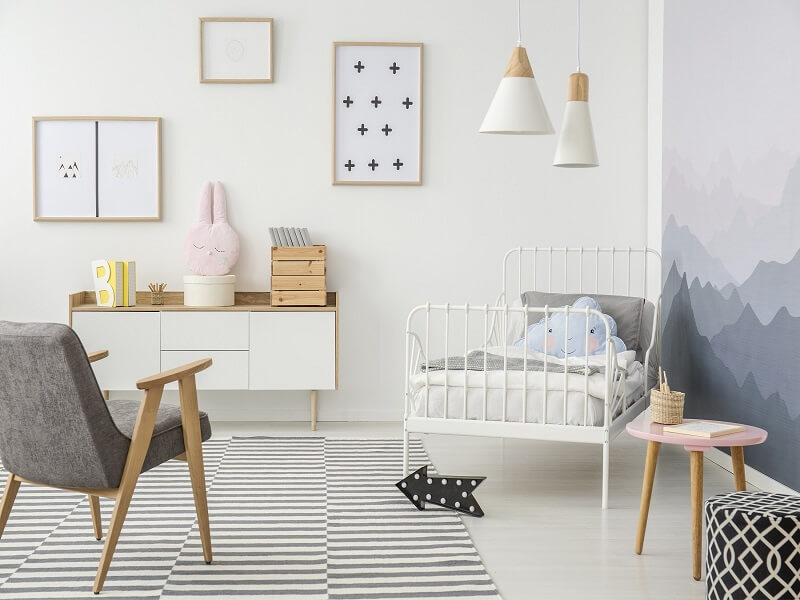 Image via photographee.eu
A dash of vintage, a sprinkle of whimsy and a drop of contemporary all seamlessly intertwined into this gorgeous kid's bedroom. The easy to reach storage space makes it easy to tidy up and keep things in their place. Plenty of floor space allows for freedom to move, play and imagine, and the bed frame creates a creative space within a space where dreams are made. The colours used are pleasant and the warmth of the light enhances the colours and softens the geometric lines of the mural and the carpet.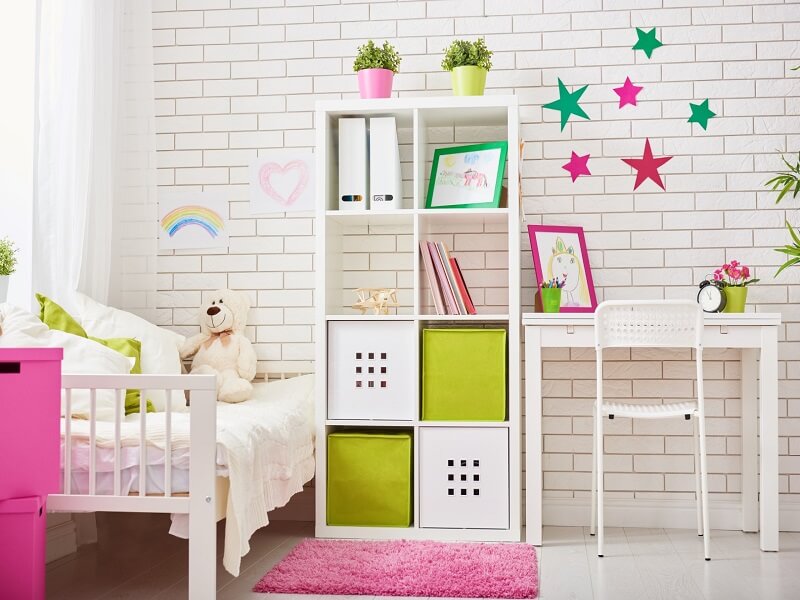 Image via stock.adobe.com
For kids, a bedroom is a place of tranquility and calm. It is an exclusive space to realize their rainbow-coloured personality. As children usually come with a lot of stuff, a bedroom with clever, inventive storage is essential to balance your desire for organisation with plenty of bright, colourful, child-friendly fun. For instance, a built-in storage and bookshelves are all great ways to use every space as efficiently as possible. Other than that, the clever furniture and pops of colour in this bedroom are just neat and perfect for your kids.
Image via hidesleep.com.au
If your kid's favourite colour is blue and he is driven by a strong desire to travel, then this bedroom idea is for him. As you can see, a large blue rug is used so that blue is prominent in his room. If you don't want it to be so dark and dreary, you can opt for another colour like yellow to lift the blue and then use accents of both blue and yellow around the room. For wall decorations, the bedroom has a world map on one wall and a small hand-painted compass mural on another wall to inspire his travel goals. We are sure your kid will love this bedroom design because it is light, bright, stylish and reflects his fun and adventurous personality.
Image via photographee.eu
This bedroom idea features some must-haves for ultimate fun and style for your kids. Pastel colours are great in children's bedrooms, and mixing pastel colours makes it really easy to achieve a scheme that is soothing and fun-filled. The pink and mint features stand out in this bedroom as well! The little raindrop wall stickers are another great addition as they are easier and cheaper to use than wallpaper. In addition, the bedroom is also making storage fun by using a cleverly shaped side table.
Stylish, practical, fun, cosy and comfortable – we are sure these bedroom ideas will keep your kids happy from toddler to teen and all ages in-between. Ultimately, the purpose of this blog is to show you a lot of ways that you can design your kids' bedroom so its playful and entertaining features remain while matching with the rest of the interior's design. Time to release your inner child and enjoy it to the fullest!
Request for quotes and we'll match you with a selection of Interior Designers!
Previous
How To Create The Perfect Family Entertainment Room On A Budget
Next
Kid-Friendly Entertainment Rooms You Need