Kitchen-spiration: Creative Ideas to Revamp Your Cooking Space
Interior Design & Decor
3672 views
3672 views
They say that nothing beats a home cooked meal. But what if your home doesn't inspire you to cook? People often make the mistake of thinking of the kitchen as a utilitarian space just for keeping groceries, cooking meals and the much despised chore of dishwashing and cleaning. As a result, kitchens are often treated much like a storeroom - unadorned and unloved. In reality, the kitchen is just as important as your living room and bedroom, and it is even often referred to as the heart and soul of the home.
For foodies and domestic goddesses, or for those of you simply wanting to give your cooking space a new life, try these creative tips to revamp your kitchen:
1. Decorate the walls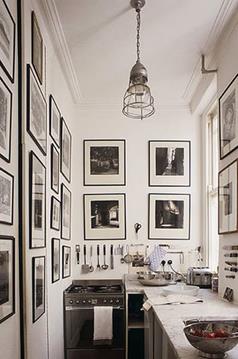 Kitchen walls are not just for hanging up pots and pans. They deserve to look just as homely as the rest of your walls. To give your kitchen walls a seamless transition from the adjoining room, repeat certain decorative elements, such as displaying family photographs or sticking on wall decals. Alternatively, give your kitchen a modern and bold statement by hanging up artwork that would normally be reserved for the living room or bedroom, such as eye-catching monochrome photography shots or vibrant, colorful oil paintings.
2. Have a breakfast corner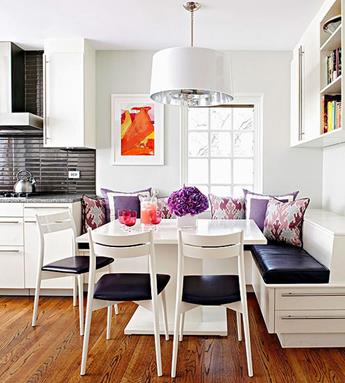 Breakfast is the most important meal of the day, and what better way to enjoy it than to eat it in your very own breakfast corner? Incorporate a cozy eating nook by building in custom-designed seating areas in the corner of your kitchen. Ideally, your breakfast corner should be situated by the windows to let in the natural morning sunlight as you read the paper and munch on your toast. Opt for colorful and vibrant cushions to make your breakfast nook visually pop out from the rest of the kitchen.
3. Mirror, Mirror on the Wall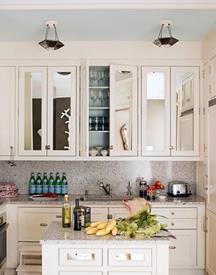 Visually double up the space in your kitchen by strategically placing mirrors on the walls, on the stove backsplash or on cabinet doors. Installing mirrors will also make your place appear as if it has plenty of scrumptious food! Mirror glass panels on the cabinet doors in the example kitchen above complement the granite countertops and white furniture, giving the room an overall clean and antique feel.
4. Break the walls and build an island

Transform your enclosed kitchen area into one with an open plan. By opening up the space, you now have extra room to include a kitchen island, which not only gives you more counter space for food preparation, but is also for ideal for creating extra storage underneath for kitchenware. A kitchen island can double up as a dining area if you are using high bar stools. Simply hide the seating underneath when you're not using them. Take note that an open-space kitchen design is better fitted to those who enjoy preparing baked meals in the oven, rather than fried dishes on the wok.
5. Go rustic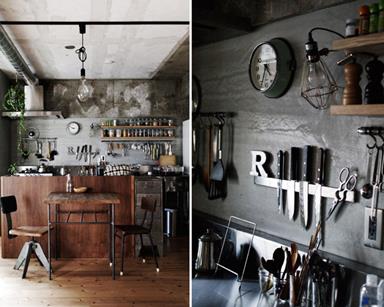 Inspired by celebrity chef Jamie Oliver, who is an avid promoter of healthy eating and using homegrown ingredients, rustic-themed kitchens are now all the rave. From incorporating hardwood flooring and pine cabinetry to building in a stone backsplash, creating a rustic look is all about bringing in the best elements Mother Nature has to offer. Add to this look hanging plants and flower pots to give your kitchen that extra countryside charm.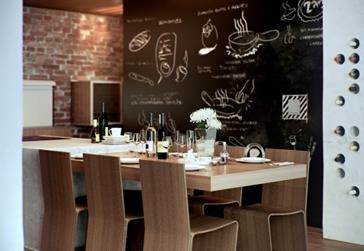 If your rustic kitchen requires some modern elements to let it blend in better with the rest of your home, install chalkboard walls or chalkboards on the interiors of cabinet doors, practical for writing grocery lists and recipes. This look pairs well with yellow lighting that will give your kitchen a relaxing ambience.
Stone Amperor: 100% Unbiased Advice & The Widest Range of Countertops

Request for quotes and we'll match you with a selection of Interior Designers!
Previous
5 Cleaning Hacks That Will Save You Time
Next
This Just In: You Can Now Control Your Home Without Being In It