Loft-Inspired Living In A Small Space.
Interior Design & Decor
29052 views
29052 views
Spaciousness greets visitors as soon as they step into Emily's haven, an apartment in Taiwan. With light streaming in through the full-length windows awashing the airy space with sunshine, as well as cove lighting that illuminates the ceilings for an illusion of height, her apartment is reminiscent of a loft.

Gold might not be a conventional choice for a pendant lamp, but this metallic beacon of light harmonises perfectly with the warmth of the wood accents in Emily's little sanctuary. Like the golden pendant, the turqiouse sofa also brings cheer and personality to an otherwise stark interior.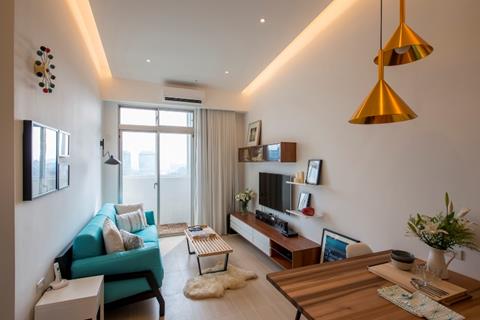 Fact is, Emily's abode is a scale smaller than a regular-sized apartment. Plus, it was too cramped to comfortably house her other two furry friends. Thanks to the expertise of Head Interior Designer, Ching Wen Wang, it is completely remodeled and redecorated to look loft-like. Here, the industry expert shares some tips on maximising and making the best out of a small space.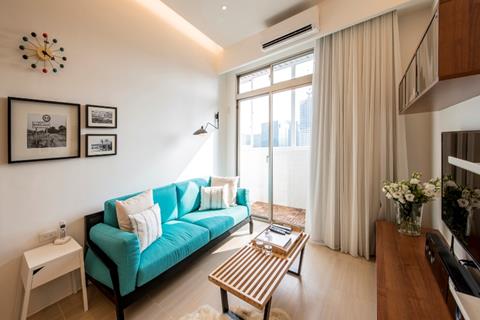 The secret to opening up a tight space? White and lots of light!
An ingenious space-saving idea that saves you money, because this way, you don't need to get a separate vanity dresser for dolling up.
Q: Share with us some of the more interesting space-saving ideas you implemented in Emily's home?
A pull-out chair that was constructed to fit seamlessly into the lower part of the basin keeps her small bathroom streamlined. Storage compartments were included to keep her toiletries, skincare products and make up out of sight.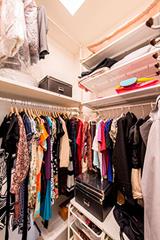 Q: Any other advice to maximise small areas of the house?
I recommend setting up a small storage area, instead of installing shelves, drawers or wardrobes that collectively occupy more space than you think. Say, for instance, create a small walk-in wardrobe at a nook or corner of your room. As the amount of furniture is reduced, the interior does feel more spacious.
Instead of a regular-sized bathtub, Ching Wen Wang installed a gorgeous albeit smaller version of a claw-footed tub. Tiles sharing the same hue and pattern create consistency in this tiny lavatory.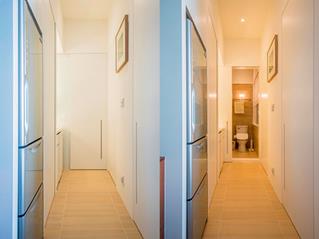 Now you see it, now you don't. The tiny bathroom is concealed with the mere use of a door painted in the exact same shade as the walls and ceiling in this narrow area.
When used in abundance, white might appear stark. However, it is copiously used to great effect in this long and narrow kitchen. We love how light bounces harmoniously off the glossy surfaces, and optically opens up the area.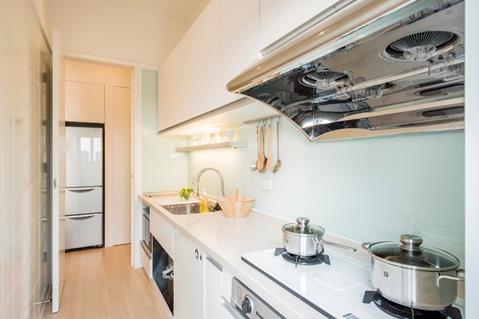 Q: The kitchen is really narrow. Did this pose as a challenge?
Space planning was a challenge, but I managed to overcome the tight space by installing white wall tiles, as well as white laminates for the cabinetry. I kept the area even more streamlined by hiding the fridge into the wall opposite the kitchen entryway.
Lush greenery, beautiful blooms and wood accents inject warmth and liveliness to Emily's cosy nest.
Interior designer: Ching Wen Wang
Photo credits: Sincere Space Design
Request for quotes and we'll match you with a selection of Interior Designers!
Previous
Elements of a Good Home Office
Next
Inspiring Interior Design Theme Cafes and Restaurants in Taiwan