Lovely Ideas That Will Make You Crave An Indoor Garden
Interior Design & Decor
5669 views
5669 views
Living in a city filled with high-rise flats, it's sometimes hard to grow a garden with the absence of a large yard. Those with green fingers have to keep their blooms mostly indoors, scattered around various corners of their house. But it's not as upsetting a situation as it sounds though, because some indoor gardening ideas can look pretty splendid too. So if you're planning on growing some greens in your abode, one of these ideas can be your first step!
1. On A Kitchen Trolley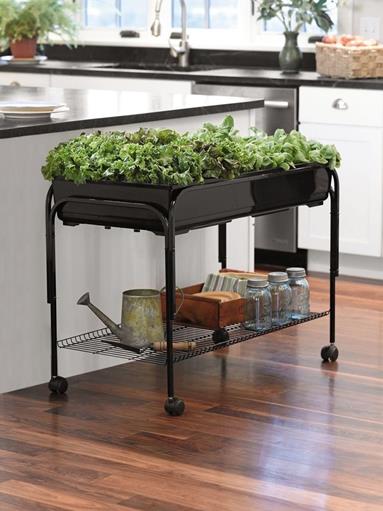 Besides just growing an indoor garden, you can actually create a mobile garden too. Purchase a kitchen trolley and start growing pots of your favourite plants on the top shelf, while storing other gardening necessities on the shelf below. It's such an easy setup to construct and once you're done you can even have your little garden tag along whenever you're on the move at home!
2. In Teacups
If you've got any fine china or quirky cups that you don't quite use but aren't emotionally ready to get rid of, turn them into little homes for your plants. It's an idea that looks really adorable and it won't even require that much space. To switch things up, you can even create a consistent theme by placing a single plant in each room of the house, with each plant housed in a differently designed cup.
3. In Glass Jars
Buy a bunch of large glass jars and sit your plants in them, but don't keep them contained and let them overflow from the top if need be. This makes it look a little more wild, creating a magnificently raw finishing we're sure will add some edge to your home.
4. Magnet Homes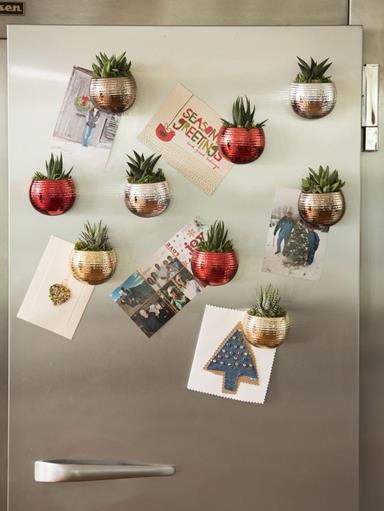 If you're lucky, you'll be able to find some tiny homes for your cacti that have magnets attached to them. But it's not an easy task, so if you're quite bent on this idea we'd suggest you DIY. Find little pots that aren't too heavy and attach the magnets yourselves. Of course make sure those magnets are securely glued to the pots, then start populating them with your darling cacti!
5. Recycle Your Bulbs
Instead of tossing out used lightbulbs, turn them into vases for some of your plants. They will look good when bunched together and hung, a perfect air garden you can situate anywhere in your home. If you'd like something even louder, go on and decorate those bulbs, or get your family together and make it an afternoon craft activity!
6. Aquariums Aren't Just For Fish
A large fish tank is great for housing plants too, a place where they can be grouped together and legitimately begin looking like a garden of greens. It's a great decorative piece for common rooms in your home, and you can even tweak its outlook with some DIY techniques so it'll blend in with your interior.
7. Collect Crates
If you're able to, collect some wooden crates then stack them together, creating a little sanctuary for some of your potted plants. It generally gives your home a rustic feel, and has an outlook that easily matches most interiors, but if you want something more colourful, paint each crate a different shade for a more modern look.
Request for quotes and we'll match you with a selection of Interior Designers!
Previous
He Brings Artwork Into the Kitchen
Next
6 Simple Tricks to Make Your Room Look Bigger