Mind-boggling Optical Illusions You Absolutely Have To See
Living & Lifestyle
3612 views
3612 views
If basic renovation doesn't score high enough on your satisfaction meter, then maybe revolving your home around a wacky optical illusion theme might. Make your pad look like it's encased by an aquatic chamber via several interior tweaks and adding breathtaking customized flooring, and it's sure to knock your guests' socks off.
Let's start with the living room. It would be a really great conversation starter when guests come in and are greeted by what seems to be a beach setting right in the middle of the room. Complete with foot imprints along the 'sandy coast', the room looks almost as similar as the real deal.
The beach vibes may also end up making the space a little more soothing, allowing you a more relaxed evening after a gruesome day at the office.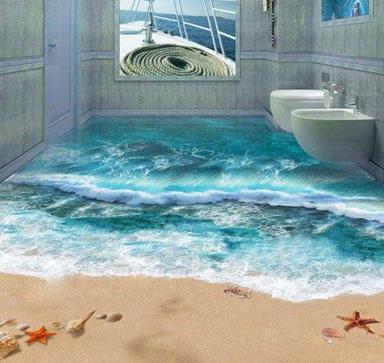 Next, we explore the possibilities of having such a theme for the toilet. Optical illusion beach themes are particularly popular with bathrooms, and there are multiple variations to choose from.
First off there is a simple all white theme to go along with the beach setting. This saves you the fuss of trying to coordinate the colours within your bathroom. Just select simple white toilet bowls, bathtubs and cupboards, which seamlessly fits in with a full fledged beach themed wallpaper and flooring.
It would be great if you're able to have the beach themed feature wall directly opposite the door, so once you enter you get a full effect of the optical illusion. The flooring can feature shallow waters which merge into sandy beaches, which gives you something nice to focus on as you pad through the bathroom.
If you prefer something a little more adventurous, perhaps you could make it look as if you're out at sea. Instead of only filling up your floors with the optical illusions, add large frames filled with images of the view from inside a boat or yacht, especially those that have been shot as if the boat was traveling through huge waves.
We left the best for last: the bedroom. Bedrooms are a major part of the house, the most personal room, so we're sure you'll want only the best kind of optical illusion for this space.
We're particularly in love with the way this bedroom was done up, the entire room looks like it's immersed in the setting, ridiculously life-like as if your bedroom has been swallowed by a massive waterfall. Placing your bed right in the middle of it all gives you the illusion that you're looking down at a steep cliff, and we're sure the view is magnificent.
Other subtler effects you could add are ceiling to floor windows, allowing a large amount of light to stream in. This brightens up your gorgeous flooring, making it look even realer. If you're not comfortable with such revealing windows, you could perhaps choose to make it frosted instead.
Add frames filled with images of a clear sky and clouds above your bed, and even on the other walls if you'd liked, making the optical illusion feel real from every angle.
If such a theme is too extreme for you, or you'd prefer optical illusion effects without so much of a fuss, fret not because we've rounded up a few picks from the internet, consisting of optical illusion furniture you could simple sprinkle around the house.
Besides simply being a creative piece attempting to play tricks on the eye, these selects are also stylish with a modern touch, and are great for any kinds of homes.
Credit: davideconti.it
When you first catch sight of it, the chair from Davide Conti seems to have defied the laws of physics. From certain angles it will look as if it's incomplete, and impossible to be standing upright. When you get closer though, you'll realize it's being held up by a transparent material.
This optical illusion chair may feel like it's pretty fragile, but it's actually a pretty sturdy piece. Its sleek and elegant design makes it all the more desirable as well, and would be a beautiful addition to a dining table set.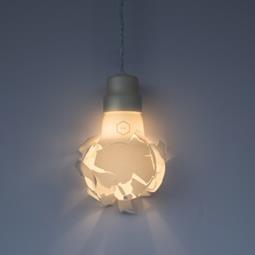 Credit: gassling.com
Made to look as if it's a bulb in the process of shattering, this lamp is actually one of three lamps that's part of the Breaking bulbs lighting project from Gassling. The lamp itself is 3d printed, and it reminds us of slow motion clips of bulbs falling and breaking into pieces.
It's a creative design that still manages to look chic and exquisite, and with such a simple colour palette it's bound to seamlessly blend in with any sort of furniture.
Credit: john-leung.com
This might just be our favourite. It's an illusive bookshelf, that tends to tilt at a different angle depending on where you're standing. Perfect for shelving books, magazines and even your iPad, its design is elegant yet quirky, and we love how juxtaposed the whole concept is.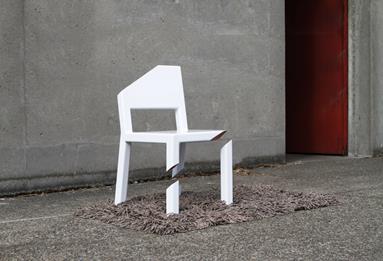 Credit: peterbristol.net
Titled the Cut Chair, this piece from Peter Bristol literally looks like it's been sawed into, yet is still miraculously standing. Of course everyone knows it's an optical illusion, but that doesn't make it any less mesmerizing.
We figure placing a few of these around your home may make it look tons more interesting, but beware, it comes with a hefty price tag slapped onto it.
Credit: yoy-idea.jp
This isn't quite as out there as other optical illusion pieces, but it's adorable nonetheless. It's simply a book shaped flower pot, which you can encase a plant right in the middle of. When you open the front cover, you can see the soil inside.
It's a cute idea to add a little greenery among your bookshelf, and we can bet that when your friends come over, they'll be all puzzled trying to figure out how you managed to keep a plant within your flurry of books.
Request for quotes and we'll match you with a selection of Interior Designers!
Previous
5 Simple But Super Effective Shelving Ideas
Next
5 Creative Natural Decors for Contemporary Homes