One Big Open Industrial Space
Interior Design & Decor
16658 views
16658 views
While there are many ways to toy with the industrial look, a cool way to inject warmth is to balance the interior design with plenty of wood. Joe Tan and his wife enjoy the clean lines of their home which is one big open space for their cats to roam.
1. Please give us your home type, location and size. Plus, number of family members and pets residing there.
Space: HDB 5-room
Size: 107 sqm
Location: The Pinnacle@Duxton, Cantonment Road
Who stays here: A husband and wife, and their two cats
2. How would you describe this style?
Industrial loft open concept.
3.What inspired you to settle for this style?
The small HDB floor size. Plus having an open concept gives the illusion of a larger space.
Also, having the living, kitchen, dining, study areas merge into a shared space provides more opportunity for social interaction among family members as well as to host more guests.
The open concept also let the cats have more uninterrupted running space. With a single large space, it's easier to rearrange the furniture elements according to changing needs.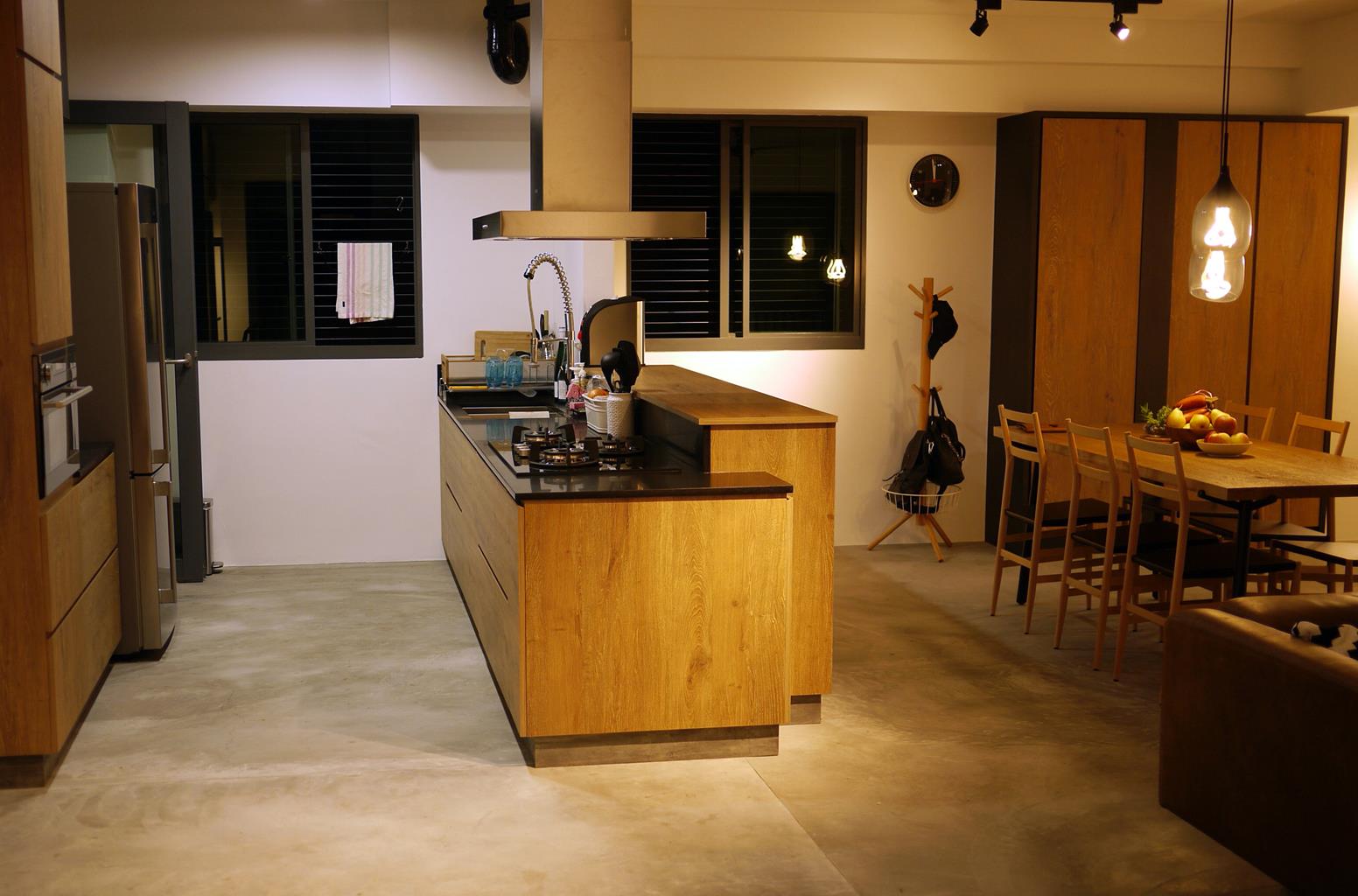 Wide open concept
4. What were the main challenges you faced during renovations?
Our inexperience really caused us to have a steep learning curve and made us do lots of research. Finding a good contractor also posed a challenge. Additionally, we had to monitor and ensure the contractor followed our design intention faithfully.
5. Please explain your choice of furniture and colour palette.
We went for furniture with cleaner lines and simpler geometries that can age gracefully and last longer.
There's also heavy use of authentic, natural materials like teak, weathered oak, ash, distressed leather. We decided with a warmer palette, we will get a more cozy atmosphere.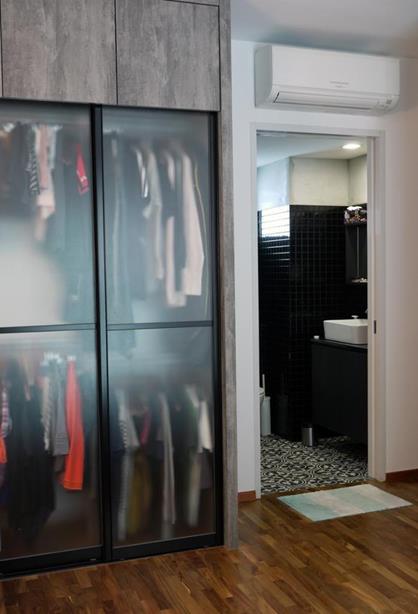 Transparent wardrobe. (Authentic peranakan tiles available at Aster By Kyra)

6. The lamps over the dining table are gorgeous. Where did you get them? Did you had a hard time choosing them?
Those are Vessel lamps designed by Samuel Wilkinson. Got them at Grafunkt. I had always wanted them but it was not available in Singapore until 2012.
All that wood adds warmth.
7. The cement screed flooring matches well with the wood flooring. How did you decide on this theme?
We have always wanted cement screed, its kind of the "in thing" now. The parquet floor was a default finishing provided by HDB, which we kept since it contrasted nicely with the cement screed. We worked with what we have.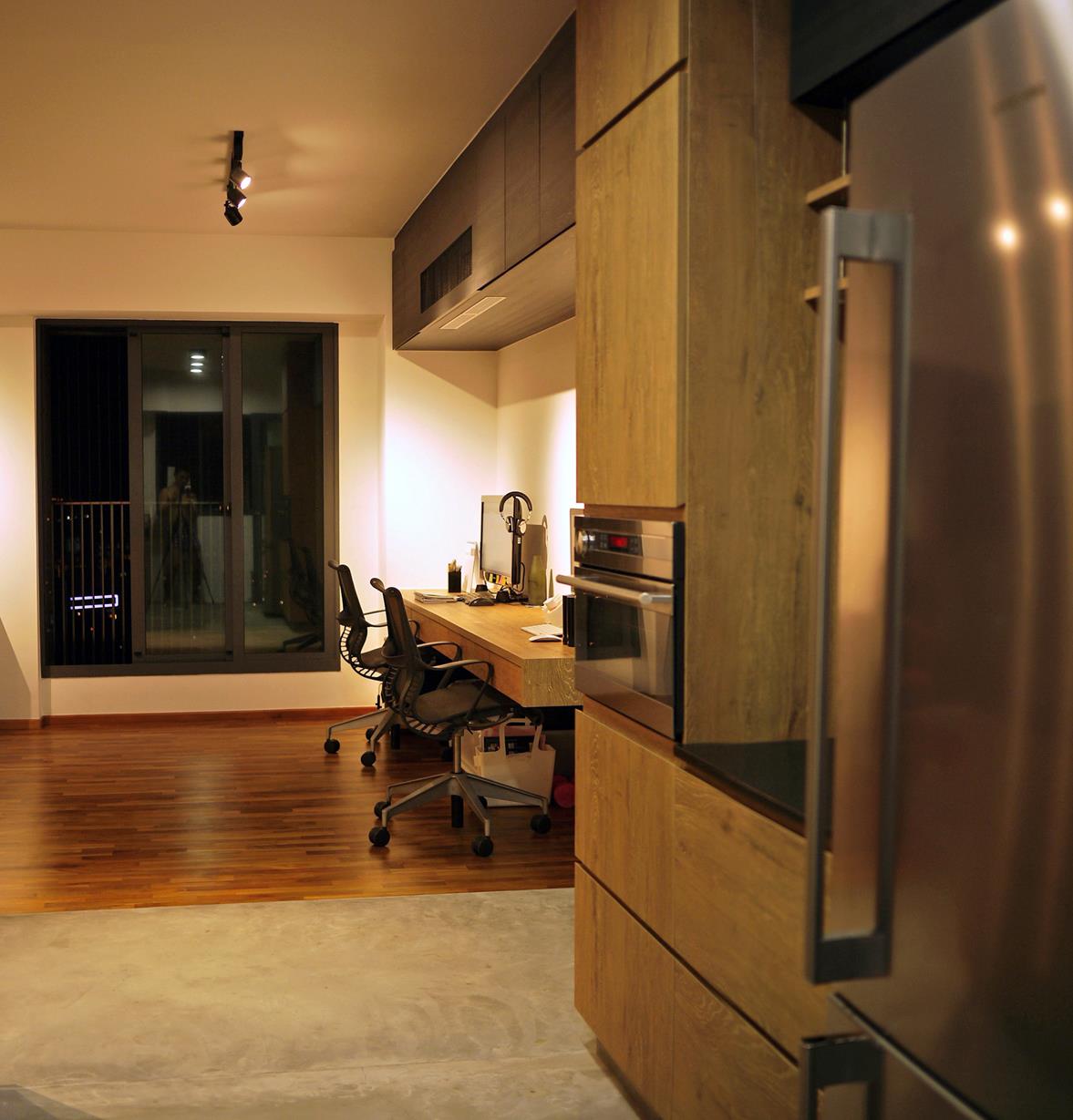 8. Please reveal a brief breakdown of the major components in this renovation.
We spent about $19k on wet works, $15k on cabinetry and $2k on electrical works.
9. Any advice for anyone interested in a similar kind of renovation?
This concept does not work for a family that does a lot of frying in the kitchen. One should invest in a powerful cooking hood and ensure the interior has good ventilation.
Also, one should be able to live with the characteristics of cement screed as it stains easily and will develop hairline cracks over time. Lastly, its not easy to coordinate the furnishings and colours in such a merged space.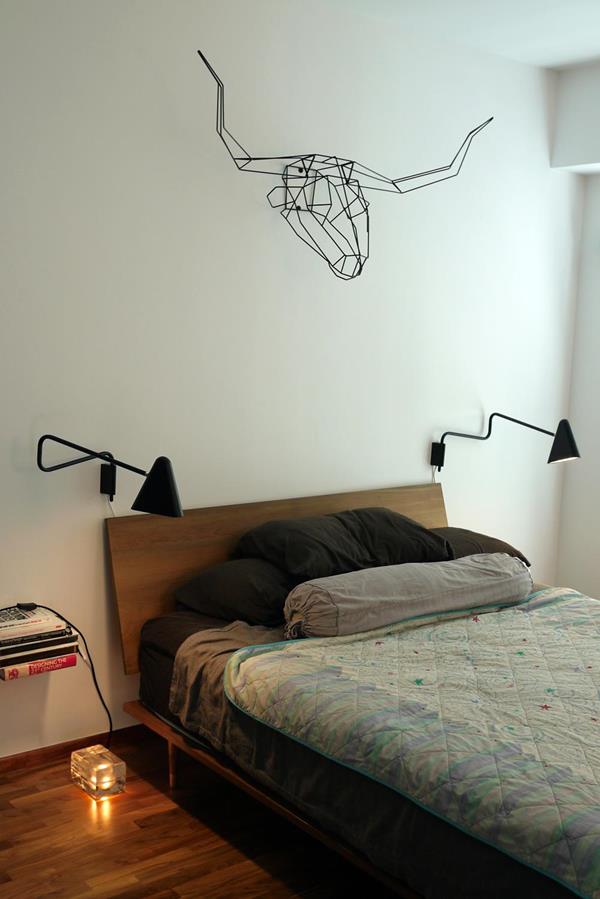 Renovation works done by:
H2O Interior Renovation
Blk 1 Kaki Bukit Ave 6 #02-14
Autobay @ Kaki Bukit
Singapore 417883
Showroom: 17 Kaki Bukit Road 4 #01-58/59/60/61/62 (@ 2nd Floor Pitstop Upstair) Bartley Biz Centre Singapore 417809

TEL:+65 9022 2321
Enquire here!
Request for quotes and we'll match you with a selection of Interior Designers!
Previous
Fabric vs leather sofas – Which is Better for You?
Next
The Great Singapore Sale