PICKET & RAIL LAUNCHES THE BABY COT COMPANION CONVERTIBLE CABINET
Home Appliances & Tech
814 views
814 views
Engineered for Life, Convertible Cabinet to See One Through Life's Milestones
No Waste, Eco-Considerate, Sustainable Furniture the Way Forward for Thinking Families
22 December 2022, Singapore – The latest in baby home management, Picket & Rail's Baby Cot Convertible Companion CabinetTM has been specially designed for the practical and space-conscious Singapore family home. As space becomes more of premium and property prices continue rising, home owners have started to seek more durable and long-lasting furniture for the home they now plan to stay longer in.
Says Faisal Alsagoff, Picket & Rail's CEO and Chief Design Engineer, "Since Picket & Rail has been in business, we have seen the trends and changing preferences of the Singaporean homeowner over the years. We have also engineered our furniture, over time, to complement the changes and developments in the Singaporean lifestyle."
The Singaporean consumer has grown more affluent and they started investing in better quality furniture 10 years ago. This spurred the company to source for better materials, and to design ergonomic and durable furniture with practical designs that appeal best to Singaporeans. "Singaporeans are very practical people who appreciate quality yet value for money, so our designs always incorporate good design with design longevity," adds Faisal.
This is one of the reasons why the company's Tatami Storage BedsTM (Your Cupboard Under the BedTM) have been such hot sellers. The Picket & Rail Tatami Storage BedTM has large storage compartments, paired with thoughtful revertible flip handles and deep drawers that maximise the space under the bed fully for storage. The beds' unique ability to store both lesser used and often used items with easy access is an engineering delight. The demand for Picket & Rail Tatami Storage BedsTM has not waned since its launch 5 years ago and it remains one of the company's best sellers.
Picket & Rail is one of Singapore's most popular and established furniture brands and has furnished more than 200,000 homes over 20 years. Picket & Rail is also a leading baby cot and children furnishings supplier and the exclusive distributor for a range of UK-safety standards approved baby gear such as car seats, strollers, and baby chairs. Inspired by feedback from customers starting a family, and by the success of its tatami beds range, the company has now designed a convertible shelving unit to take a child from infancy through to adulthood. The Picket & Rail Baby Cot Convertible Companion CabinetTM is a shelving unit that can fit a standard baby cot, which later can be replaced with study desks or a settee as the child grows.
All Picket & Rail products are designed and verified by structural engineers to ensure structural integrity, safety and product use longevity. The company maintains an engineering advisory board and is the only Singaporean furniture company to do so.
Says Faisal, "As a structural engineer myself, who took over this furniture business, I have instituted many changes to raise the value and safety of Picket & Rail products. The result is furniture that families can trust and this is one reason why our business has remained resilient despite the entry of cheap online furniture brands, and even other general furniture brands in the market. When you sit at a chair or a table or lie in a bed, you can feel the difference in security and comfort with well-engineered furniture. Add the thoughtful small touches to hold the bits and pieces neatly and conveniently, once you live with the difference, you will not compromise with anything else, and this has gained us very loyal followers over the years who trust our furniture to perform."
The Picket & Rail Baby Cot Companion Convertible CabinetTM comes in a variety of colours and finishings and retails from SGD 599 from Picket & Rail (Baby & Kids) at https://www.picketandrail.com/products/custom-carpentry-baby-companion-cabinets?variant=40399747842118. Free installation is provided to ensure that the cabinet is safely installed in the home.
For details on the Picket & Rail Baby Cot Companion Convertible CabinetTM, refer to appendix A.
For details on the popular Picket & Rail Tatami Storage BedTM, refer to appendix B.
+++
Website: www.picketandrail.com
Facebook: www.facebook.com/PicketnRail
Instagram: www.instagram.com/picketandrail
Picket & Rail Showroom Locations:
Furniture, Art & Baby Megastore @ 25 Tagore

(25 Tagore Lane, Level 2, G Building, Singapore 787602)
Picket&Rail @ City Square Mall

(180 Kitchener Rd, #03-46/47, Singapore 208539)
APPENDIX A
PICKET & RAIL BABY COT COMPANION CONVERTIBLE CABINETTM
Changing, cleaning and putting baby to sleep has never been more organised and easier. All your wet wipes, diapers, tissues, towels, clothes, spray bottles, changing mats, mobiles, nail clippers and grooming accessories within easy reach.
Customisable size and cabinets to fit your purpose, wall and room, from 1.8m to 2.4m tall and 1.6m to 2.4m wide.
Made from 100% formaldehyde-free virgin wood to be 100% safe for baby and you. Comes in a variety of wood and colours such as maple, walnut and pine.
Prices start from SGD 599.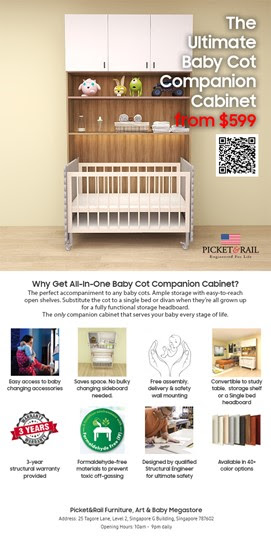 APPENDIX B
PICKET & RAIL TATAMI STORAGE BEDTM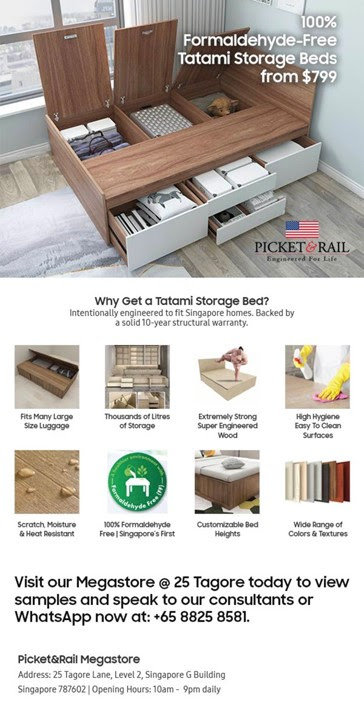 Request for quotes and we'll match you with a selection of Interior Designers!
Previous
Create A Comfortable Living Room With 6 Inspiring Ways
Next
Nippon Paint's Colour of the Year 2023 Promotes Sense of Tranquility in Homes