Planning Your Kid's Bedroom for Your Upcoming BTO Renovation
Interior Design & Decor
26939 views
26939 views
Racking your brain thinking of how to do up your kids' rooms? Suitable for different ages, we gathered 18 of the best kids room layouts we could find with the 4 basic neccessities – 1) bed, 2) wardrobe, 3) study table, and 4) ample storage. Whether it's a room for 1 child, or a shared room for 2 kids, get inspired to create the perfect living environment for the little loves of your life.
Room for 1:
#1
Perfect for pre-teens who are slowly growing into adulthood, the clean lines and neutral colours in this layout make for a stylishly minimalist room. In tandem with the space-saving theme, furniture has been kept along the walls with vertical storage above the bedside table too – leaving the room looking spacious with ample floor space.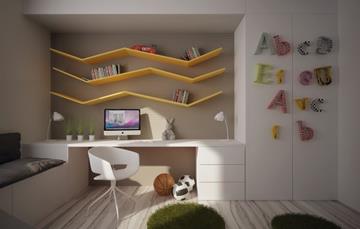 #2
We particularly love the stand out shelving on the wall providing excess storage options while making a cool statement. This bedroom will make the transition from childhood to adulthood with your kid – suitable for ages 7 and above.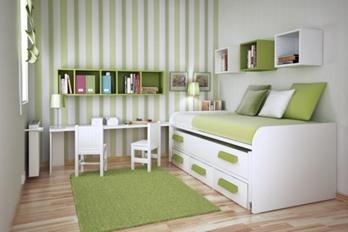 #3
An interesting way of increasing storage in the room, instead of framing pictures, consider putting up boxes where your child can store anything from toys to books.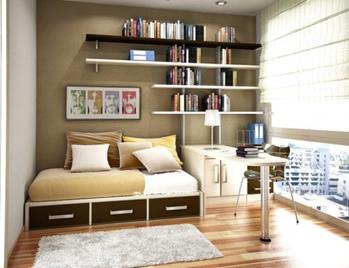 #4
A few things to note here: storage drawers under the bed, and a blank white wall and window blinds that provide a great projector screen for movies, or a study room for home tuition.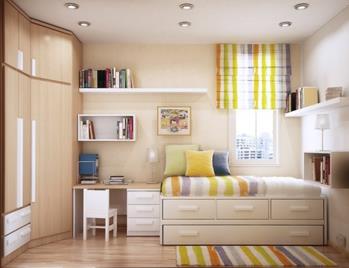 #5
Introduce a little colour into the room especially if your child is still relatively young. If you tend to shy away from colour or prefer muted tones, try mixed neutral warm colours with a pop of coloured stripes.
#6
Loft beds are great fun for the youths, and are a great way for you to utilise vertical space effectively. Do note that it is only suitable for the older kids.
#7
Here's one great example combining both under-bed storage drawers and box storage on the walls!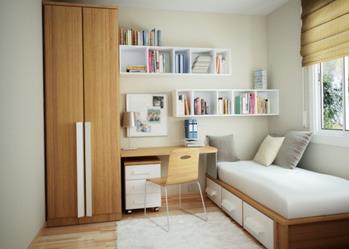 #8
If your child needs more storage for his/her comic books or art supplies, here's an idea: get a chest of drawers on wheels, so it can be conveninently pushed under the study table and out of the way. It can also be used as a bedside table if necessary!
#9
Warm wood tones with a dash of blue, this layout is both compact and perfect for your little boy. Providing a sweet focal point in the room, this layout also utilised a curved wardrobe to create a more spacious look.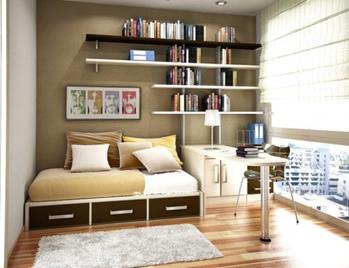 #10
...And here's another example of the curved wardrobe! See how it opens up the floor space like so?
#11
Resembling something like an island, instead of pushing furniture to the walls, this layout put both study table, bed and storage right in the middle of the room. The spacious feel is retained thanks to the ample space left for walking in the rest of the room.
Room for Two: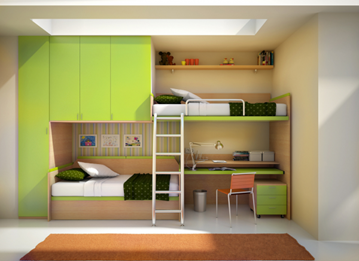 #12
When it comes to a room for two, this is a really neat idea for putting storage, two beds, and a study – all in one.
#13
Slide out bunk beds have been a favourite for years, and will continue to be. Even if your children's room has an irregular shape, you may utilise the irregularity to work out an efficient layout – for example, in the photo above, the homeowners used the protruding pillar to divide the study area into two.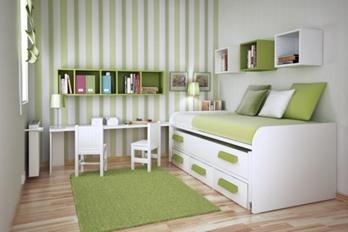 #14
This bedroom is small but mighty, thanks to the efficient bunkbed design that incorporates drawers and small wardrobe at the side. Well done!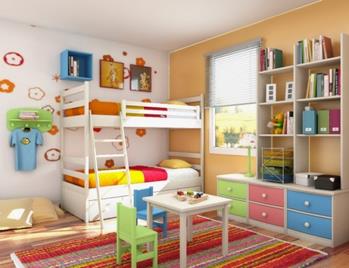 #15
If your kids are still really young and in the kindergarten to primary school age – this would make for a superbly fun bedroom. The mixture of vibrant colours and furniture suitable for their little sizes will please their little hearts.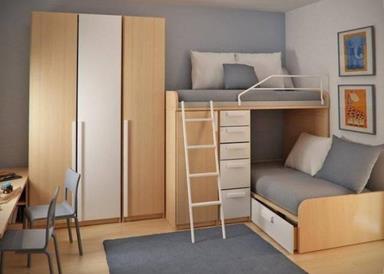 #16
We know, we know, the photo quality sucks. But this bedroom is the perfect minimalist example for a dual-shared room. A study table for two, and bunk beds where the bottom bunk transforms into a sofa during the day where they can lounge and read a book or play some games with friends? Sounds like every teenagers' dream come true.
---
Photo Credits: 1. Home Designing; 2. Svoya Studio; 3. Home Designing; 4. Home Designing; 5. Home Designing; 6. Home Designing; 7. Home Designing; 8. Home Designing; 9. Home Designing; 10. Home Designing; 11. Butter Bin; 12. Home Designing; 13. Home Designing; 14. Home Designing; 15. Home Designing; 16. Butter Bin;
Request for quotes and we'll match you with a selection of Interior Designers!
Previous
An Essential Guide to Tile Shopping for Your BTO Renovation
Next
Yusheng Idioms and more Chinese New Year Favourites