Purify Your Air With Bio-X Kleanze Air!
Home Appliances & Tech
848 views
848 views
COVID-19 cases are on the rise once more, and with the revelation of the coronavirus being spread via airborne transmission, it is time to invest in good air disinfectant products.
Spread Through The Air
COVID-19 is easily transmissible via pathogen-laced airborne droplets that travel through the air indoors when people talk, breathe, or eat. These particles are capable of reaching as far as six feet in an enclosed space.
In fact, in a recent publication by researchers Martin Z. Bazant and John W.M. Bush from the Massachusetts Institute of Technology, it was reported that the risk of being exposed to COVID-19 indoors can be as great as 60 feet!
It has thus become known that airborne transmission plays a huge role in the spread of COVID-19, compared to the earlier months of the pandemic where hand-washing was considered the best method to avoid infection. However, there is still ongoing research to accurately quantify the risk of airborne transmissions, such as time, mask use, and ventilation rates. 
Introducing Bio-X Kleanze Air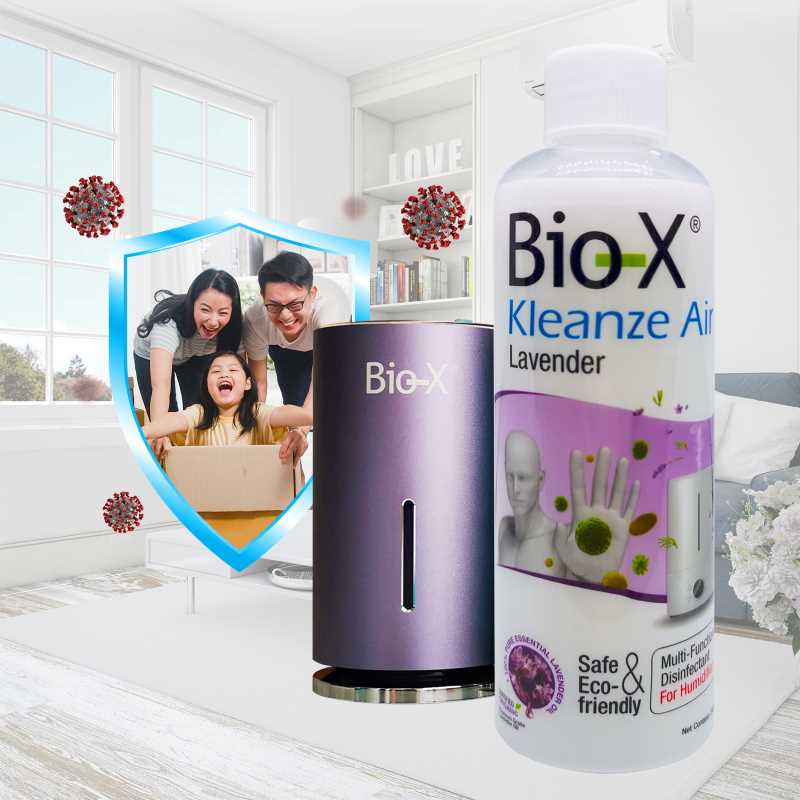 Image © Okada Ecotech
To help ward off COVID-19 particles lingering in your indoor spaces, Okada Ecotech (manufacturer of the environmentally-friendly, non-poisonous, and water-based multi-functional solution Bio-X) recently launched Bio-X Kleanze Air - a specially-designed aromatic water-based disinfecting solution that can be used with a diffuser to fight off airborne germs.
Using the original Bio-X organic plant-based disinfectant solution, Bio-X Kleanze Air is specially designed for use with a humidifier, diffuser, or ventilation systems, making it suitable for use at homes and small public places.
Image © Okada Ecotech
How is the Bio-X Kleanze Air solution compatible with a diffuser? Diffusers 'break up' oils and liquids into smaller, lighter particles, so that they can remain in the air for a long time.
This makes them inhalable, so the Okada Ecotech team had to research and create a diffuser-usable disinfectant solution that can kill airborne germs and viruses without harming human and animal lungs. 
After consulting various international GLP labs and 15 months of rigorous testing of its efficacy and safety concern, the Bio-X Kleanze solution was deemed safe to use.
"Bio-X has always been a safe, eco-environmentally friendly formula. For more than 20 years, our solution has proven over time that it produces no side effects in babies, pets, and humans," said Mr KE Tan, owner and Managing Director of Okada Ecotech.
"When the COVID-19 pandemic hit, I am convinced that our concept using humidifier/diffuser to diffuse Bio-X Kleanze will provide more comprehensive protection as compare to all the approved surface disinfectants using synthetic chemicals, in curbing the spread of the airborne virus." 
What Is So Good About Bio-X Kleanze Air?
Image © Okada Ecotech
Bio-X Kleanze Air (as well as the entire Bio-X Kleanze range) eliminates up to 99.99% of bacteria and viruses and is able to inactivate the COVID-19 coronavirus in TWO minutes, according to the EN 14476:2013+A2:20192 standard for elimination effectiveness. 
This has earned it the National Environment Agency (NEA)'s approval of use against the virus under the 'Interim List of Household Products and Active Ingredients for Surface Disinfection of the COVID-19 Virus'.
It is also:
Water-based, organic, and bio- + photo-degradable
Non-abrasive and non-corrosive
Free of chlorine bleach, artificial fragrances, harsh chemicals, and carcinogens
Proven a 'non-irritant' and safe for lungs, skin, mouth, and eyes (according to the OECD Guideline for Testing of Chemicals4)
Also a deodoriser and an insect repellent with anti-fungal properties.
"At Okada Ecotech, we undertake a big responsibility towards our customers to protect themselves and their loved ones. We invested much into the research and development of Bio-X Kleanze Air to ensure that our products are safe and effective during these uncertain times," said Mr Tan.
Check out this video on how to use the Bio-X Kleanze Air with the Bio-X Diffuser.
Get Bio-X Kleanze Air
Bio-X Kleanze Air is distributed by Bio Vectrol Singapore Pte Ltd. You can get Bio-X Kleanze Air (and other Bio-X Kleanze products) from NTUC stores island-wide and on their website.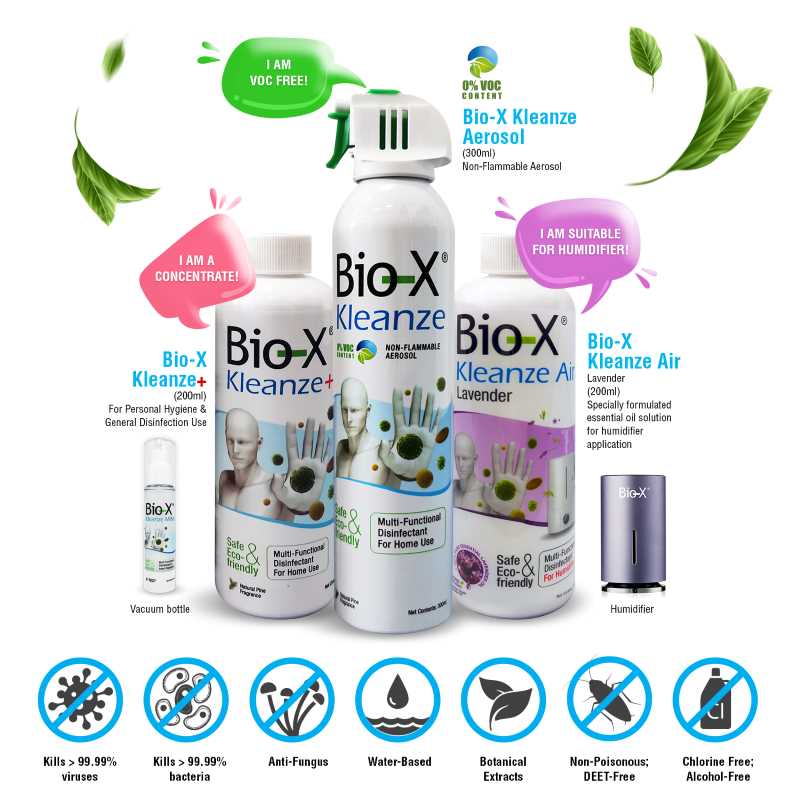 Image © Okada Ecotech
Request for quotes and we'll match you with a selection of Interior Designers!
Previous
5 Creative Ideas to Upgrade the Look of Your Old House
Next
5 Fun Ways to Camouflage Eyesores Around the House