Quick Guide to Popular Kitchen Countertops
Interior Design & Decor
19512 views
19512 views
Thinking of overhauling your kitchen or updating it with a new countertop? There are many options out there that are gaining popularity. We've put together the pros and cons of 5 kitchen countertop materials.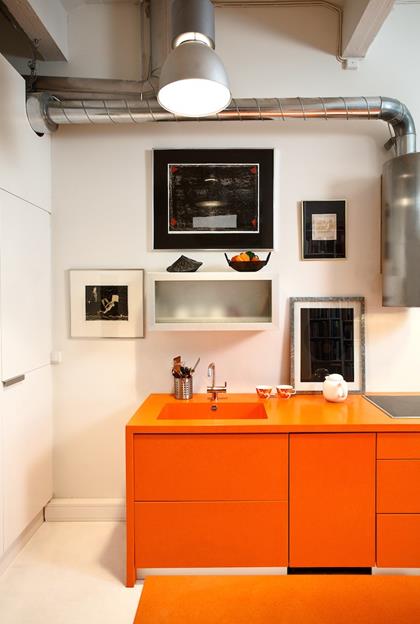 Source: Remodelista
Solid Surface
Solid surface and its wide range of colours have steadily gained popularity for many reasons. Many love solid surface because it mimics the look of natural stone, while it is a blend of acrylic and polyester. Want your solid surface to handle heat and scratches better? A good rule of thumb is to look for those with higher acrylic content. While solid surface is typically stain resistant, stains can still appear, along with scratches. Darker solid surface materials will reveal scratches as white lines, while stains will be obvious on white surfaces. The great thing about solid surface, however, is that you can polish the surface to make it look brand new. And have we mentioned that there are no joint lines? Perfect for L-shaped kitchens.  
Price: $75 upwards per foot run
The Good: No joint lines. Non-porous material, so it's easy to maintain.
The Bad: Heat from pans may cause scorch marks. Prone to scratches.
The Bottomline: Affordable alternative that mimics the look of natural stone.
Source: Leif 1981
Granite 
There's no denying the beauty of granite. Its mottled surface and variety of colours give a great boost to the look of a home. Granite can also take heat and scratches. However, some granite varieties are softer and can crack when hit with a sharp object. Some can also suffer from water stains, so make sure to use a sealant to protect the surface. Unlike solid surface, granite countertops in L or U formations will show joint lines. The material is also heavy, so your cabinets must be sturdy enough to hold its weight. 
Price: $100 upwards per foot run 
The Good: Beautiful material that adds value to the home. Heat and scratch resistant.
The Bad: There will be joint lines between granite slabs. Water marks can occur.
The Bottomline: Great option for those who can afford it. Due to the joint line issue, it's best for straight counters.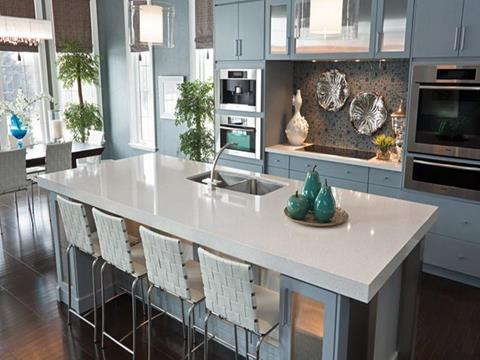 Source: Fortikur
Quartz 
Quartz is one of the premium countertop materials available. If the price is within your range, you may find that the benefits far outweigh the cost. Quartz is also a durable material known to be resistant to heat, scratch, stains and acid. Like other natural materials, the only drawback, of course, is the existence of joint lines. 
Price: $150 upwards per foot run
The Good: Beautiful, hardy and easy to maintain.
The Bad: Costly
The Bottomline: Worth the investment if price is within range.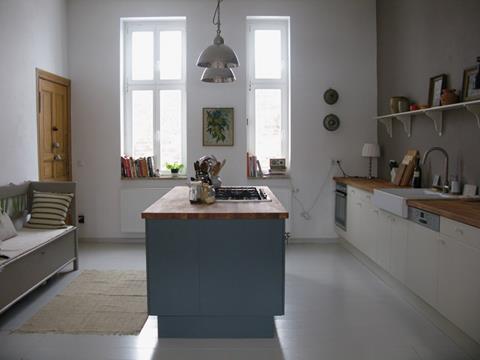 Source: Taking Notes
Wood 
Wood countertops are heat-resistant with anti-bacterial properties, really pretty to look at, and they add a gorgeous earthy charm to the kitchen. However, it is less commonly seen in Singapore homes. Wood is prone to water damage, so take extra care around the sink. You will also need to coat it with sealant, or oil it two to three times a year. Do note, not all wood types have equal properties. If you're looking to use the counter for cutting, go for harder wood like hard maple and cherry to minimise scratches. 
Price: $40 upwards per foot run.
The Good: Heat-resistant and anti-bacterial. 
The Bad: Needs regular maintenance with either oil or sealant. 
The Bottomline: Not for heavy-duty kitchen use. 
Source:  PLD Homes
Marble 
Marble never fails to infuse any space with a luxurious elegance. Having been long used as a countertop material, marble is however, not for everyone. It is a porous material, so stains can easily occur, even when the surface is coated with sealant. So, if curry and wine are among your favourite things, it's best to avoid marble countertops. That said, the variegated surface of marble with its dramatic grains offer unparalleled beauty. So you prefer beauty to function, we say go with it! However, be prepared to accept the scars and stains that might happen over time. 
Price: $150 upwards per foot run.
The Good: Premium natural stone that gives a stately feel to the home.
The Bad: Stains easily and vulnerable to acidic material.
The Bottomline: Not recommended for heavily used kitchens.
Stone Amperor: 100% Unbiased Advice & The Widest Range of Countertops
Request for quotes and we'll match you with a selection of Interior Designers!
Previous
Make the Most out of Your Sound Systems!
Next
Designing a Home with Personality