Refrigerator 101: 8 Easy Tips to Organise it in 10 Minutes
Living & Lifestyle
6778 views
6778 views
The refrigerator is perhaps one of the best modern inventions of all time. It keeps our food fresh and in optimum condition, so we no longer need to purchase our groceries daily. Over time though, refrigerators tend to get messy.
We constantly add and remove items when we replenish groceries, cook, and when we simply open the fridge to grab snacks. With that in mind, read on for 8 easy tips to get your refrigerator organised in just 10 minutes!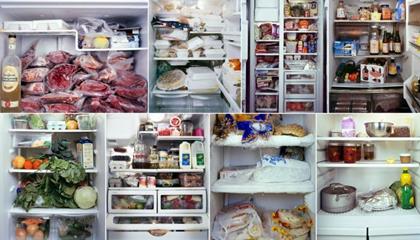 1. Get the Right Complements
As the saying goes, "out of sight, out of mind". Make sure you can view all items, especially those on the top shelf. A turntable or a pull-out basket lets you retrieve things at the back of the refrigerator with ease. Place similar items, such as sauces, condiments and medication, in baskets. That way, you can retrieve and access what you need by taking the needed basket out. This will save on energy and time as you won't need to spend time rummaging in the refrigerator. Do note, items that are used more regularly than others should also be placed on shelves at eye level for easy access.
2. Where to Place What?
Temperature changes everytime you open and close the refrigerator door – instead of storing yur eggs on the door of the fridge, store them on the shelves to keep them fresh longer.
Milk and dairy be placed near the back of the refrigerator where the temperature is cooler.
Store your loaf of bread in the refrigerator to prolong its lifespan.
Raw meat must always be covered to prevent bacteria growth.
Keep your fruits in a separate storage box from the vegetables.
Ice cream should also not be stored on the door shelves of your freezer.
3. Best Storage Containers
Invest in good storage containers and use clear containers so that you can see the contents easily. Opt for rectangular or square storage containers, instead of round ones to make better use of space. Also, BPA leaches into foods, especially if they contain oil. Go for BPA-free containers for food storage.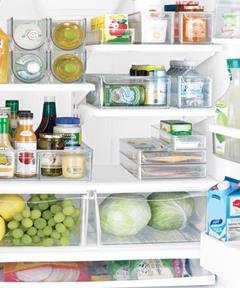 4. Spring Clean Regularly
Just like the home, regular spring cleaning is necessary – either to throw out expired items or check for spills. Set your schedule for cleaning the refrigerator at least once a month.
5. Frozen Foods
Your freezer can also benefit from storage baskets. What not to freeze? Fruits and vegetables with high moisture content and dairy products. You can also freeze dried goods like shrimps, anchovies, homemade stocks and breads – they can keep up to three months when frozen!
6. Freeze in Portions
Bought a whole salmon at the market? Instead of storing all the pieces together, make sure to store them in portions that you'd cook for one meal. That means you won't have to defrost the entire bag and refreeze them, which would speed up bacteria growth.
7. Label Them!
Search your refrigerator and chances are, you'll find expired foodstuff. Labelling containers clearly with the contents and date they were placed in refrigerator will let you keep track of your items more easily.
8. Implement a System
A great way to remember what you have and replenish where needed, is to have a noticeboard on the refrigerator. Make a note of items that are running out and those that are about to expire, so that you can use them in time. Avoiding wastage will help to save money in the long run!
Photo Credits: 1. Splendid Table; 2. For Rent; 3. The Social Home
Request for quotes and we'll match you with a selection of Interior Designers!
Previous
What to Do with Your Bay Windows
Next
Luxurious Condominium in a HDB Flat