Renovation Story: A Dreamy Scandinavian 4-Room HDB Resale Flat
Interior Design & Decor
40149 views
40149 views
It can get pretty tiring when you have to juggle between work and housework. Imagine if you have an all-white interior. Sounds like a cleaning nightmare? Apparently not, according to Rosliani, wife to hubby Khairudin and mother of an impish little girl. We chat with the eloquent lady as she shares the secret to keeping her abode spick and span, and working towards attaining the perfect Scandinavian home. Come explore this Scandi-licious sanctuary with us!
Type: 4-room HDB Resale Flat
Size: 90 sqm
Location: Punggol Drive
Residents: Khairudin, Rosliani, and their adorable two-year-old daughter
Hi Rosliani, your home is lovely! What's the inspiration behind this theme?
Thank you! We decided to go with the Scandinavian style after looking through Pinterest. We also went to Copenhagen last year, and were thoroughly inspired by the sights there.
Is cleaning tough when you've got so much white in the house?
Cleaning isn't that bad. My husband is very neat, so both of us tend to wipe surfaces frequently. What's more, he helps out with the housework a lot, so it's definitely not a chore. As for the walls, as long as our daughter's colouring sessions are closely supervised, then it's all good.
White is stunning. Be inspired to take the leap.
Your daughter's room looks like something right out of Pinterest. Tell us more.
We did get most of our inspiration from Pinterest and Instagram. In fact, my husband and I recently bought an IKEA play kitchen and remodeled it. I painted the wooden surfaces white, while Khairudin used marble contact paper for the countertop. All of which was found on Pinterest.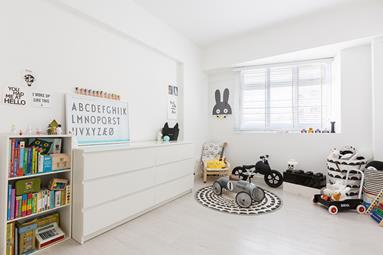 We love your choice of home accessories and décor items. Tell us more about them.
When we decided on this theme, we wanted to make sure that it has an authentic look and feel. This is largely the reason why we opted for wooden tiles, as they look like the pine floorings characteristic in Scandinavian homes. We also like brands such as Hay, Normann Copenhagen, and Muuto a lot. We procured most of our home décor items from Scandinavian Design Centre, Lifestorey, and Grafunkt. Some of the smaller ones were purchased on our holiday getaways and online. In addition, we went to Helsinki in September, and bought a stool from Artek.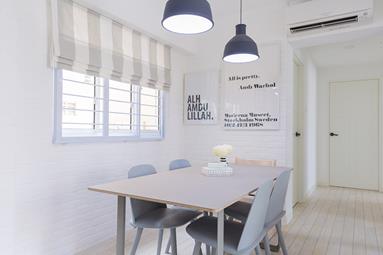 The dining room.
Which parts of your house do you and your husband love most?
I love the kitchen, especially the sink where I've arranged a few of my favourite things. I've hoarded some items for a few years. To finally see them out of storage really makes me smile.
Khairudin's has to be the wardrobe with the wire mesh. We initially wanted a display cabinet, but didn't want glass doors because they don't conceal much. As I have mentioned, he's a neat person. It makes him happy to see his stuff arranged neatly.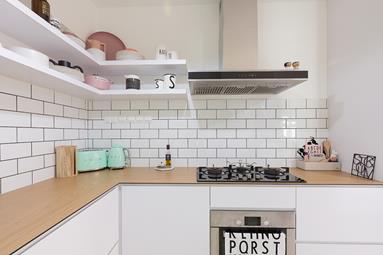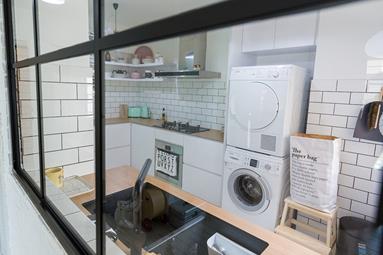 The couple had their kitchen sink re-located and added windows to complement their bedroom windows. This way, Rosliani can also look out and see what her little one is up to when she's busy in the kitchen.
Khairudin's favourite part of the renovation.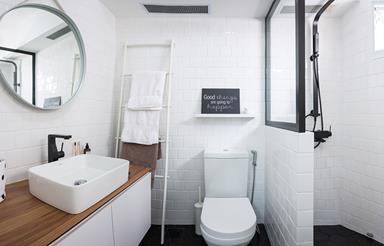 Water stains tend to show up easily on all-glass shower screens, and the pair didn't want that. Plus, Khairudin's particular about the wet and dry areas in the bathroom. The half-bricks, half-glass partition that you see here makes a perfect (and unconventional) solution!
There are tons of interior design agencies out there. What made you decide on H20 Interior Renovation?
Kevin, our contractor from H20 Interior Renovation, was recommended by a friend. So I read up extensively about his services on RenoTalk's forum before we finally met up. Although he was pretty popular on the forum, his quote was surprisingly the most affordable compared to the other contractors we met up with.
Both of you seem really happy with the makeover. Were there any hiccups along the way though?
Our renovation journey was a smooth one. We liked how he always seem to remember all our requests – even the small ones. That said, we highly recommend his services!
---
Designed By
H20 Interior Renovation
Office: Blk 1 Kaki Bukit Ave 6, #02-14 Autobay@Kaki Bukit, S417883
Showroom: 17 Kaki Bukit Road 4, #01-58 (@ 2nd Floor Pitstop), Bartley Biz Centre, S417809
Tel: 9022 2321
Fax: 6743 2524
Website: http://www.h2ointerior.com.sg/
Request for quotes and we'll match you with a selection of Interior Designers!
Previous
4 Types Of Window Furnishings You Can Explore
Next
This Condominium In Bishan Is Every Minimalist's Dream