Renovation Story: An Interior Designer's Abode
Interior Design & Decor
2820 views
2820 views
Here's an interesting fact about this apartment: it's both owned and designed by Sharon from Darwin Interior. As an interior expert herself, Sharon needed her place to look nothing short of amazing, and went on to spend an immeasurable amount of time on its design — even obsessing over the nitty-gritty details.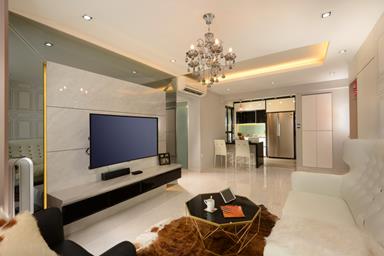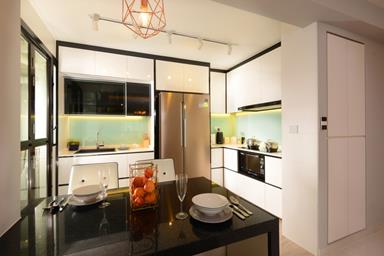 What you're currently seeing isn't the original orientation of the flat. Sharon went as far as hacking walls and moving doors in order to fit everything she wanted into the space.
Anything Sharon could opt out of she did, and this included ready-made HDB doors and flooring. Starting with the bare minimum gave Sharon the opportunity to be extra hands-on with her own home, and she could easily ensure each and every element was perfected. Even the original kitchen and bathroom tiles that came with the flat itself have been overlaid with flooring of her choice.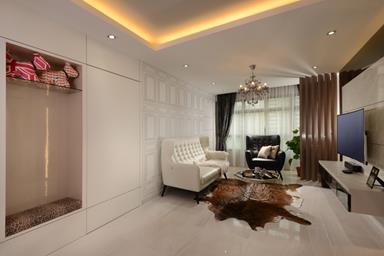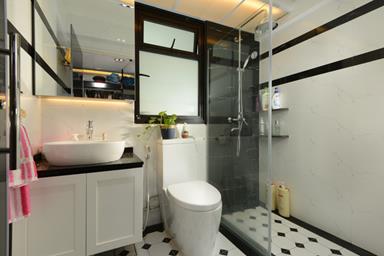 Going into the renovation project Sharon knew she wanted a modern apartment with a slight Victorian touch. However, afraid that Victorian vibes can look far too complicated and distracting, Sharon kept to a monochromatic palette in most areas of her home.
Both the living and dining quarters are dominated with black and white furnishings while the bathroom has been decked out in tiles of the same shades. Despite the lack of colour, Sharon spruced things up by incorporating not one, but two feature walls in her living room.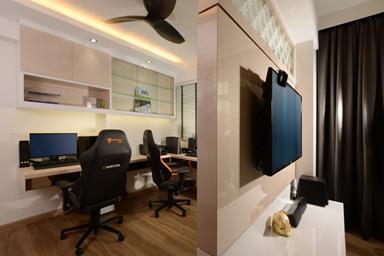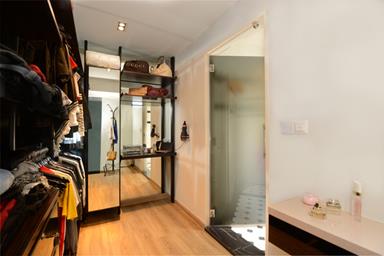 Relatively large, the master suite is a combination of the bed area, walk-in wardrobe and workspace. The couple predicted they'd spend most of their time here, and wanted enough room for their pet dog to wander around.
The platform bed and headboard were entirely customised by Sharon herself and the designer added mirrors on both sides so the room could look broader. For convenience, the television in the middle can be flipped to face either the bedroom or workspace.


Darwin Interior is having an open house at their showroom this weekend. For more information, click here.
Request for quotes and we'll match you with a selection of Interior Designers!
Previous
Hasten The Speed Of Household Chores With These New LG Products
Next
Living The Paris Dream In Singapore