Renovation Story: Couple Brings A Fireplace into their HDB Home
Interior Design & Decor
14029 views
14029 views
WHERE


A three-room BTO flat in Sengkang

SIZE


68 sqm

WHO STAYS HERE


A couple in their 20s
Kara-Anne Cheng has a theory about the look of her three-room BTO flat, which she shares with her husband, Isaac Peh.
"When we travelled to London and saw the houses there, we could really tell that they have a lot of character and history," the t-Blogger, better known as 'Bykaranne' on our Reno chat, recalls.
"We realised that we didn't just want to build a nice house – we wanted to infuse our character into it."
As the heart of the home, the living room is resplendent with details both deeply personal and aspirational.
Kara-Anne and Isaac had envisioned their home to be an extension of their character and dreams. Hence, each item in the house has a meaning behind it.
---
Finding books tucked away in various spaces around the house – including the kitchen, we couldn't resist asking the couple about their affinity for reading.
But that's exactly what they were counting on us to do. "I feel they're conversation pieces," Kara-Anne says.
Likewise, the couple displays an Iris Grace art print (Ed. Note: Iris Grace is a 6-year-old girl with autism. Her works can be found on her online store) because it speaks to them.
MAKING FIRE IN THE LIVING ROOM
They bring all these together in a space carefully manicured to evoke a sense of old-world luxury.
The ingredients? Furnishings wrapped in distressed gold trimmings and pseudo hardwood flooring that's actually created from porcelain tiles.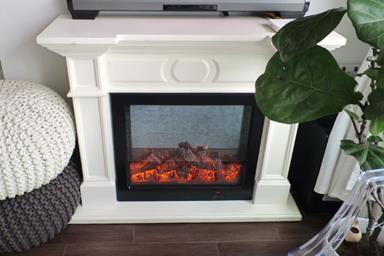 The focal point of the living room is a baroque fireplace imported from China. 'Fire' is made by turning on the LED light panel. (Photo: Loh Yong Jian)
---
Less modest, however, is a baroque fireplace that dominates the longue. It's carved from a single piece of solid wood cuddling an LED light panel.
"It looks like a real fire!" We squeal like children when Kara-Ann turns it on, but not before suggesting that her home may be the only house in Singapore to have a fireplace.
It's a sentiment that chimes with Edmund Goh from DX Interior, whom the couple had sought to do up their home.
"It's a unique home, unlike any other project I've done," Edmund says. "They had very clear ideas on what they wanted, so I mostly kept to their specifications."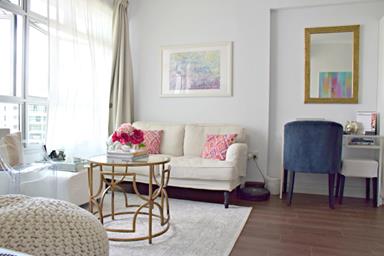 Various furnishings around the house are framed in gold. The colour is a defining feature of a Modern Classic home.
---
In total, renovation, which lasted 1.5 months, cost $39,000 (including furnishings).
Besides flipping the pages of Pinterest and the Renotalk forums for inspiration, Isaac admits that they had "peeped into the houses in London because most of them have full-length windows" during a trip there last year.
Then, as Kara-Anne explains, they hope to live in London eventually, so the home is a way of reminding themselves about the dream.
TRIAL AND ERROR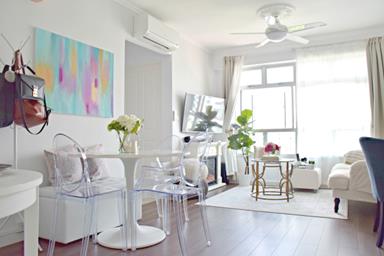 A tulip table and ghost chairs occupy the former spot of a Victorian-style dining set. The latter was replaced after Kara-Ann and Isaac struggled to fit its 'bulky' appearance into their compact three-room flat.
---
But not everything they saw in London managed to follow them back to Singapore.
While the white interiors are a natural fit for their abode, some – such as the Victorian-style furniture pieces – couldn't make the cut.
In fact, the couple had bought a dining set boasting a rectangular table with ornate carvings running down its legs and four chairs with tufted cushions.
However, they realised that the 'bulky' appearance of their new acquisitions was weighing down their home.
They replaced the set with a tulip table and ghost chairs.
The lightweight designs of the furnishings allow light to jog more freely around the house, making it look brighter and more spacious.
KITCHEN NEEDS
Gilded knobs and handles are the only classic elements to make the jump to the kitchen. An avid home chef, Kara-Anne's priority was to make the kitchen easy to clean – a requirement fulfilled by the glossy laminate-wrapped surfaces. (Photo: Kara-Ann and Isaac)
---
One space in the home that the couple hadn't tried to deck out in classic elements is the kitchen, which exudes a clean, minimalist appeal.
Surfaces are clad in glossy laminate, with the gilded handles and knobs being exceptions.
Kara-Anne feels that an overly elaborate design may not be suitable for small local kitchens, especially those in newer BTO flats.
An avid home chef, she fears that grease and dirt may get stuck in the ornate details and make cleaning the kitchen harder than it already is.
In choosing a style born out of juxtaposing classic elements against modern environs, the couple has had to make their home look traditionally beautiful while still maintaining the functionality of today's home.
But, as the couple puts it, it's all worth it for "Little London".
KARA-ANNE & ISAAC'S 3 TIPS FOR CREATING A MODERN CLASSIC HOME
---
1 DON'T RUSH TO FILL YOUR HOME WITH FURNISHINGS

Modern Classic isn't a popular theme in Singapore, so it may be hard to find suitable furniture. But even when you do come across classic furnishings, take your time to evaluate each piece and see which fits into your home. Classic furnishings are usually heavy on details, which can easily weigh down smaller homes. We took a year to fill up our home.

2 WHEN IN DOUBT, GO FOR GOLD

Gold is a classic colour and one of the defining features of a Modern Classic home. Pairing gold with an ornate design can help bring out more character. Most European paintings are framed in gold too.

3 MAKE USE OF AIRBNB TO TRY THE STYLE FIRST

Once you renovate, there's no turning back, so make sure you're investing in a theme that you actually like. You don't even need to venture too far from Central London; you should be able to experience what living in a Modern Classic home is like in most middle-class houses.
Request for quotes and we'll match you with a selection of Interior Designers!
Previous
5 Inexpensive Ways to Personalise Any Home
Next
In Pictures: 'Your Dream Home Journey Begins Here' by Dreamvision Designer