Singaporean couple renovates their HDB home into a European Museum
Interior Design & Decor
114466 views
114466 views
Fitted with gold trimmings and glittering chandeliers, her home truly befits royalty – all thanks to the interior design experts from The Cottage Crafts.
Charmaine Low's two-months stint in Germany as a student left such an indelible impression that she fashioned her living quarters after the charm and elegance of a traditional European home. Far from intimidating, this grand yet inviting space provides a sanctuary perfect for Charmaine (an active Renotalk.com forum user), her husband, Allan, and their two little cherubs.
Photos by Allan Low
Space 5-room DBSS flat
Size 1216 sqf_______
Location Tampines Central
Who stays here A couple and their two small children
Total reno costs $120,000______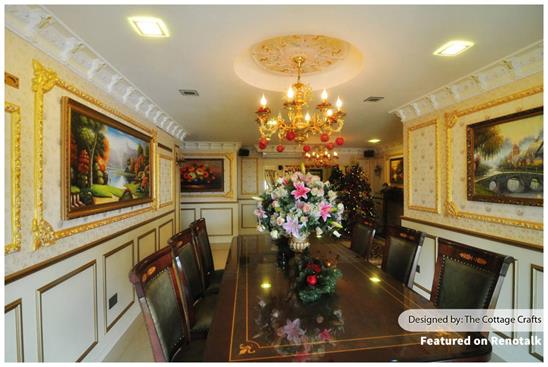 What was it about Germany that enchanted you?
I was utterly captivated by the charm of traditional European homes that I visited during my stint there! Unlike today's changing new trends, a classic style feels more inviting and is forever timeless.
Classical European styles aren't a norm here, especially not a HDB apartment. Was it difficult to convey your vision to your interior designer?
We knew exactly what we wanted from the very start, and our interior designer Romie Lee from The Cottage Crafts is experienced; so working with her was a breeze. We simply had to modify and revise the details on the draft before it was good to go.


Similarly, the fireplace, especially a gold one, is a rare commodity. How did you manage to fit this in?
We chose to install the fireplace in the living room because we wanted it to be the very first thing guests see when they enter. Apart from making a statement, it also holds a deeper meaning for us, as the fireplace signifies warmth within the family.
What's your favourite feature?
It has to be the wood panelling with intricate, gold trimmings. Not many homes sport these, and we're lucky to be one of the unique few.

We notice you do not have any television within your living room. Any reasons?
For entertainment, we opted for piped-in music in the living room area. We prefer family get-togethers to be full of meaningful chatter, instead of the lot of us getting distracted by what's on screen. However, we did allocate the television in another room.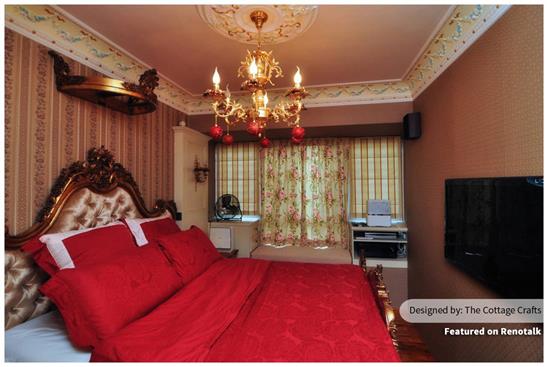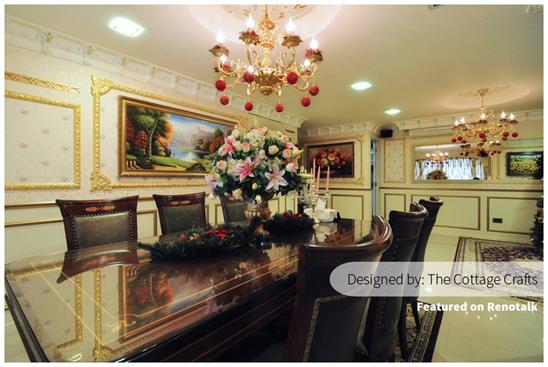 How can anyone miss the chandeliers present in the entire house? Tell us more.
The colonial style is not complete without chandeliers. They add instant drama to any space. Initially, we wanted to go all out and install alabaster hanging lights in our master bedroom but those were too huge, so we opted for these gorgeous gold ones instead.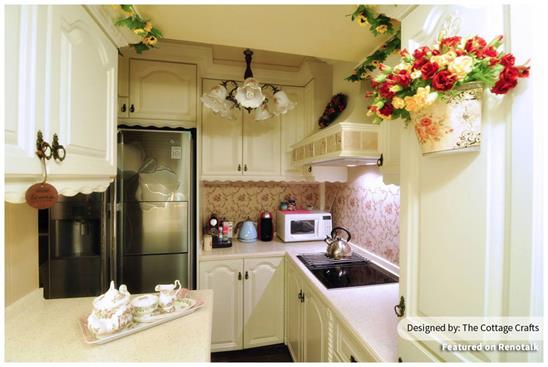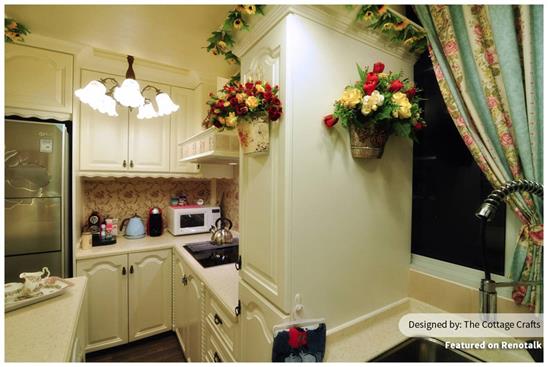 Even the bathroom is not spared from the royal treatment. What's the story here?
We feel the restrooms should not be neglected, as they are part of the house too. We picked pink for the ceiling to match the smattering of pink on the black mosaic wall tiles.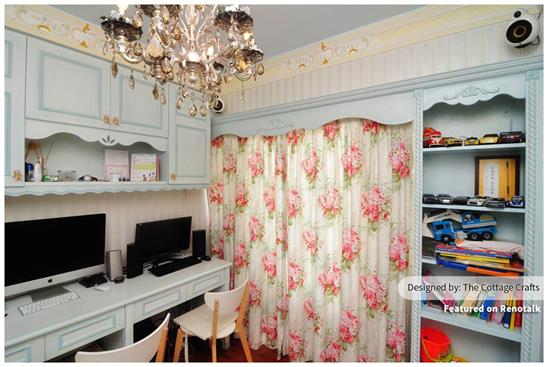 We love how the carpet grass adds an element of the outdoors into your space. Was that your intention?
We wanted to create a picnic-like atmosphere even though we live in a high-rise residence. The mix of the white lawn furniture and carpet grass hits the notes perfectly. In addition, the artificial turf provides a safe and comfortable 'playground' space for my children.
About The Cottage Crafts Pte Ltd
In an industry dominated by contemporary designs, The Cottage Crafts stands out. Specialising in an array of classical European styles and forms, this interior design agency caters to a niche set of audience who knows what they want. In fact, the company also houses beautifully crafted French furniture and home accessories – making them a one-stop shop for everything classic and colonial.
Since 2000, the company had remained steadfast to its singular standpoint, leading to its showcase in various local and international media, from magazines to newspapers. Their achievement lies in their four pillars of success, namely a passion for design, professional building capabilities, experience, and a love for classical art. Armed with experience and expertise, The Cottage Crafts is ready to provide you with a classical yet unique perspective to any space.

Relocation Sale happening at The Cottage Crafts
Starts 28 March 2014.
All floor displays are clearing at 30% to 50% OFF.


The Cottage Crafts Pte Ltd
No. 1100 Lower Delta Road, #01-03 EPL Building, Singapore 169 206.
Email : enquiry@thecottagecraft.com
Tel : +65 6336 7588 | Fax: +65 6337 2088
Request for quotes and we'll match you with a selection of Interior Designers!
Previous
Guide to the Standard HDB Household Shelter
Next
Vitamin C Infused Shower For Health and Beauty