6 Ideas to Transform Small Space into Large Storage
Interior Design & Decor
3524 views
3524 views
We all know the struggle of having too much stuff at home with nowhere to put it, cluttering up on any available flat surface.

This visual disarray can cause us to become stressed and unorganized. Not to mention that the higher cost of living simply means we have to adjust to making the best out of smaller spaces.

Fret not, we've got you covered as we are about to list down 6 innovative storage ideas that are going to help you maximize every inch of storage in areas you've never considered in this blog!
1. Floor-To-Ceiling Shelving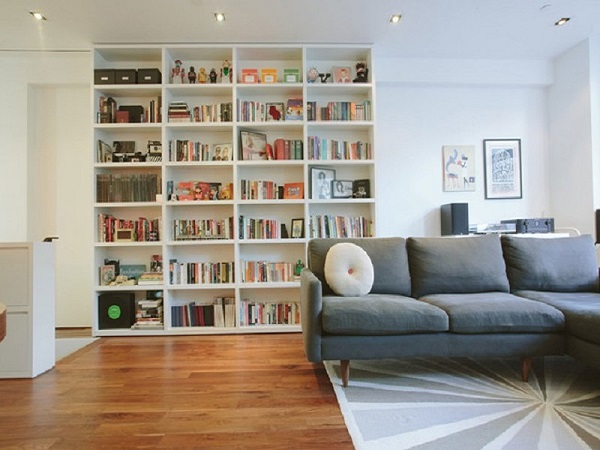 Image via houzz.com
Shelves are the
secret weapon
in your personal storage war. You can
get creative
as well.
While shelving can add storage, it can also be a place to add decorative items, creating a focal point in your room.
For example, a floor-to-ceiling shelving can be easily built and customized to complement your decor. If you are not skilled enough to build one, you may also find lots of shelving choices that will also complement your decor online.

2. Under-The-Bed Storage

Image via thehunt.com
Putting stuff under the bed is basically the easiest way to convert an unused space and add a whole area of storage to your bedroom.
For instance, creating bookshelves under the bed can eliminate stacks of books in all areas of your home. The books will be organized and easier to find.
You may also attach wheels to the back and two handles on one side. Lay it on its back, and you have an instant under-the-bed storage.

3. Under-The-Stairs Storage

Image via vickitruitt.com

Opt for fascinating built-ins or simply get creative with how you arrange furniture in that underutilized nook beneath the stairs!

The unused space under your stairs can become extra closet space with a pull-out coat rack and pull-out shelving.

A remodeler can safely create this extra storage for you while maintaining the structural integrity of the stairs. Now you can move all your rarely-used coats, boots, and shoes into this new storage area!
4. Fold-Down Table

Image via homedesignersuite.co

In many small rooms, it would be crazy to consider making space for a full-sized table. So find a fold-down table you can attach to the wall.

A fold-down table clears floor space in areas where space is limited. However, they usually look like a board on the wall when folded.

Therefore, this table becomes a positive focal point in the room when artwork is added to the underneath side of the table and the folding legs become part of the frame.

After all, the key idea here is to be collapsible! Things like a collapsible table and foldaway chairs are life-savers in modest city living.
5. Convertible, Double-Duty Furniture
Image via architecturaldigest.com

Furniture that can work in a variety of ways are a great fit for small-space storage. Thus, instead of settling on single-use pieces, consider adding furniture that can convert easily for use in another way.


For instance, a drop-leaf table can be a console, a desk, or an all-out dining room table depending on how you set it up. And two consoles, side-by-side, can be rotated to stand back-to-back for bar-height table seating.
 
6. Pegboard In The Kitchen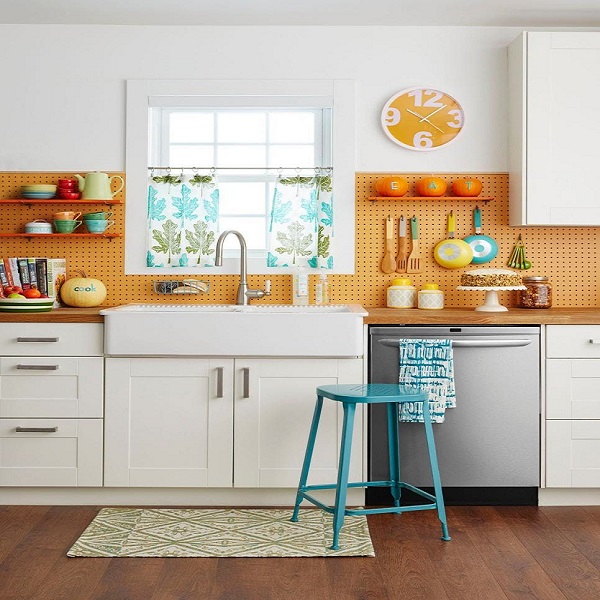 Image via pinterest.com

Get your kitchen clutter in order! A pegboard and some hooks is a great way to hang your pots and pans, open up space, and get your perfect kitchen layout.

Wall hung storage can be both useful and decorative if you minimize the visual impact of the actual storage containers by having them blend in with the surroundings.

For easy re-arranging, good looks, and an abundance of adjustable storage, consider a pegboard wall.

One of the revelations of living in a small home is that you need to be super smart about how you organize the space you do have.

Once you've read these small space storage secrets, it tends to have a ripple effect. You're going to de-clutter, donate those unused items, and make room for the things you really love.

Of course, we certainly hope this blog will come in handy and help make your home feel organized and stress-free, no matter the size of your home!
You might be interested in: 5 Ways To Live Big In A Small Space
Request for quotes and we'll match you with a selection of Interior Designers!
Previous
Japan Food Matsuri 2018: An Immersive Dining Experience
Next
4 Design Tips to Build a Yoga-Friendly Home