Smart and Inspiring Home Office Makeovers
Living & Lifestyle
7347 views
7347 views
Nothing shouts productivity quite like a good setup. Whether it's a well-organised home office, or a conducive study area, we bring you 6 of the best ways to do up your workspace. Go ahead, choose the one that best fits your needs and be inspired!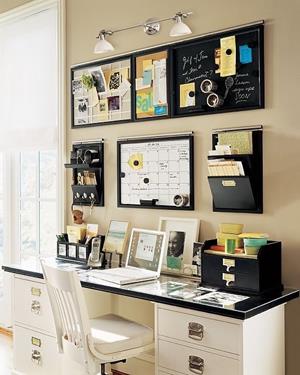 Customised Wall
If all you have is a wall where you can place your table, ensure you make full use of the wall. This keeps clutter off your desk – especially if you have a compact one to begin with. Personalise the space by combining a variety of notice boards, like magnetic and cork boards for example – helping to keep your notes, ideas and inspiration within view. Place them in picture frames and paint them to create a strong contrast against the wall. If you need more storage space, mount shelves on the wall instead. To keep things off the floor, install hooks on the wall for your bags.
Source: Indulgy

A Little Glam
Not sure what to do with the smallest room in the home? Turn it into a stylish home office. No, the home office doesn't have to look serious. Go for a soft, feminine feel with pastel hues, striped walls, a chandelier and even floral patterns. Rather than a wall-facing desk, this study also features an L-shaped table that faces the entrance. Perfect for a welcoming feel, and great for holding meetings.
Source: Pink Little Note Book
Family Space
So you're searching for home office ideas where the little ones can work on their projects too? A home office with a 'T' arrangement will do the trick. All you need are two regular sized tables and one longer one. The latter can be placed in the centre, perpendicular to the two smaller tables. The middle space is where you can place the printer and documents that you regularly need. Open shelves overhead and under-table drawers are additional storage options to keep things in order.
Source: Desk Layout Ideas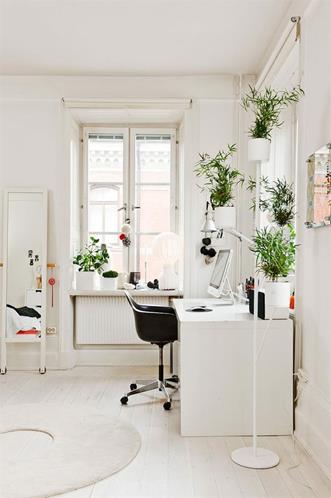 It's About Plants
Create a health-boosting study by incorporating plants in the design. The benefits of plants are plenty. They can clean out the air by reducing VOCs. Plants also help soothe frazzled minds by bringing a slice of nature into the built environment. Before you add plants, make sure you declutter your space first. Place plants at different heights. Design your home office mostly in white so that the green plants visually pop in the space. Use a floorstanding planter and hang them from the ceiling. Make room on your shelves for a pot or two. Look for low-maintenance plants, such as air plants and succulents, which require minimal watering. If natural light is lacking, make sure you choose indoor plants that do not require strong sunlight to thrive.
Source: Home Designing

Niche Study
Planning out a niche for your home office or study is a great solution in small homes. Fit the niche between wall storage units so that it is hidden from view. And if you're not neat by nature, consider customising bi-fold doors or installing curtains. This will allow you to close off the study when guests come around. Even in a small space, it's possible to have a mix of storage units, wall area for decoration or notes and even a compact lounge area.
Source: Modern Home Décor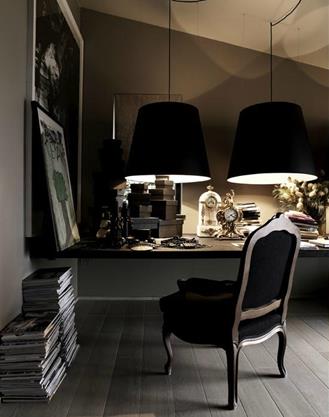 Dark and Masculine
Try as you might, all you could find is a dimly lit corner in your home for a home office. The next best thing is to embrace what's seemingly a weakness in the space. Turn it into a masculine study awash in grey and charcoal hues! You'll also need strong illumination to light up the space. So why not dress it up with oversized pendant lamps to give the space a unique character? A wall-mounted desk will free up the lower area for storage units while open shelves.
Source: Now and Then
Request for quotes and we'll match you with a selection of Interior Designers!
Previous
One Simple Way to Revamp ANY Space
Next
Make the Most out of Your Sound Systems!