SMEG SG | Technology with Style
Home Appliances & Tech
2456 views
2456 views
SMEG, a global brand that has been producing domestic appliances with the finest Italian designs for more than 70 years, with a particular focus on aesthetics, ergonomics and functionality.
Today Smeg, originally an acronym for Smalterie Metallurgiche Emiliane Guastalla indicating its initial activities in enamel work and metallurgy, has reached its third generation of entrepreneurs and represents an international group with direct subsidiaries and distributors in all five continents.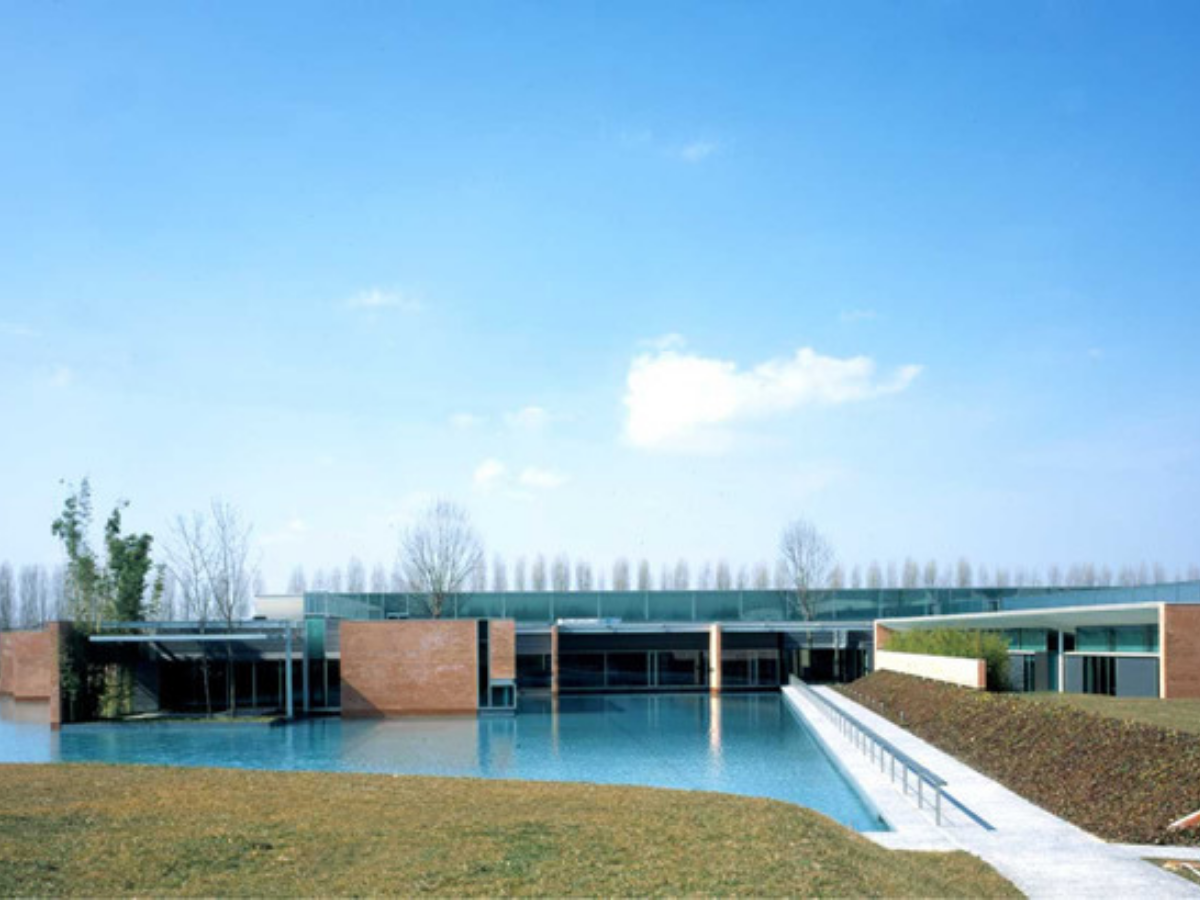 The Smeg group, thanks to a corporate culture which dictates that maximum emphasis be placed on product quality, technology and design, is consequently known all over the globe as one of the key representatives of "Made in Italy" standards.
Smeg Products - Aesthetically Pleasing, Innovatively Modern
Smeg has a wide range of products. From ovens to cookers, dishwashers and many more! Stay with us and we'll share with you some of the few amazing products by Smeg.
Smeg Oven - Smart Thinking Inside and Outside of the Box
The ever so evolving range of
aesthetically refined built-in ovens
from Smeg has progressed so much. Not only is it undeniably sleek looking, it offers peak performance across a range of functions and guaranteeing maximum flexibility of use with maximum safety.
On top of that, Smeg appliances are truly unique. Why do we say so? It combines different materials proficiently, such as stainless steel, glass and enamel. Also, Smeg ovens vary in terms of size, functions and cooking methods.
So, if you are planning to get one, get one that suits your cooking style preference. Electric models include pizza, convection, fan and pyrolytic ovens. Steam, microwave and combination ovens are also available, allowing you to handle any recipe and cook food perfectly.
Induction Hobs - Let style work for your kitchen


As an alternative to cooking with gas, Smeg offers a number of
induction hobs
which are a great way of
shortening cooking times
, accurately controlling temperatures and
minimising energy consumption
.
Energy efficiency is maximised as induction hobs only heats up the base of the pan and not the rest of the surface area, which stays cool. Cooking efficiency is thus 90%.
This hard-wearing glass offers excellent heat resistance as well as being easy to maintain: any splashes or spillages will not burn onto the hob top and can be easily wiped away.

Smeg's new induction hobs with intuitive sliding controls are the perfect choice for those who love contemporary style. Maximum flexibility is also guaranteed by 14 different cooking levels, allowing you to cook with greater precision, as well as offering accurate temperature control. All zones feature a power booster function, allowing each zone to work at full power for dishes requiring intense cooking, such as frying, or simply to bring water to the boil in the shortest possible time.
Also, Smeg's induction hobs with intuitive sliding controls also feature the Flexi4Zone system, which divides the hob into four areas which can be adjusted as required. It allows you to use multiple pans of various dimensions at the same time, while the Flexi-heat function allows you to move pans between three preset temperature zones, to quickly heat, cook or keep foodstuffs warm.

There's also the Perfect Heat function in some of the hobs, which keeps the pan heat constant during cooking, without the need to manually adjust the power level. Achieving maximum efficiency is also one of Smeg's focus. It achieves this in terms of power consumption, guaranteeing optimum hob performance while saving time and power, thanks to the Eco-logic option. What it does is it limits the power draw, and Eco-Off, whereby the zone shuts down before the timer sounds, making use of the residual heat.
SMEG Cooker - Leading style
The
Victoria range cookers
from Smeg have always managed to perfectly blend traditional aesthetics with unparalleled functionality. Inspired by the very first 'Elisabeth' model, these distincts ovens are
true design classic
, acting as the focal point in any kitchen.
To add to their already amazing vast array of cooker, Smeg introduces their TR90 90cm traditional dual fuel range cookers. The main allure of these outstanding cookers lays in the width it offers. If you don't already know it, 90cm's in a single cavity is a huge advantage when cooking.
With a total capacity of 126 litres, the cavity allows enough space for large family meals, such as roast dinners, in a single unit. The oven door holds a triple glazed layer of glass, retaining the maximum amount of heat. Other than that, the cooker boasts eight different cooking functions, including Smeg's Circulaire function. This function ensures that the heat in the oven is distributed evenly, and guarantees that flavours are not transferred between foods if you are cooking more than one dish in the oven. Finally, the easy clean enamel oven means maintenance of the cavity is as simple as it can be.
The 5 burner gas hob comes with a single rapid burner ring, as well as heavy duty cast iron pan stands. Complete with a wok ring and pan support reducer, the hob is also adaptable for LPG and TG. Below the main oven cavity is a 90cm wide storage draw, giving ample amount of space to store pots, pans and cooking utensils. The 1950s retro branding on the cookers upstand allows coordination with the other 50's style appliances, giving stylish continuity throughout the kitchen.
Refrigerator and Freezer that exudes style
Smeg's line of refrigerator and freezer
are super gorgeous. They have developed a considerable number of refrigerator and freezer models. These include the American-style side-by-side refrigerator, single and double door models and many more! All that features the latest technology to ensure top performance and high levels of energy efficiency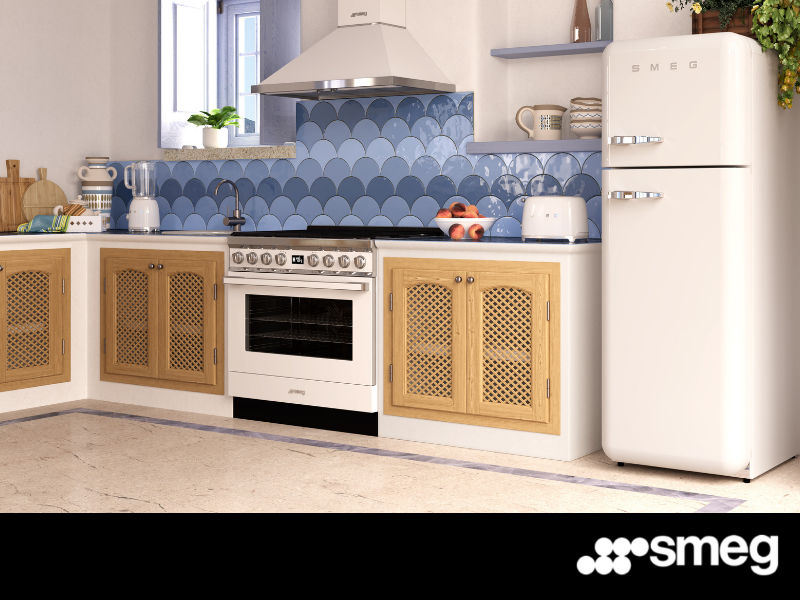 The FAB28 has a gross capacity of 256 litres and a four star freezer of 26 litres, both capacious and functional; the interior of the refrigerator has three adjustable glass shelves, one chrome wine rack, one fruit and vegetable drawer and one shelf covering the drawer.
The door contains further storage by way of two balcony compartments, a bottle shelf, and a double compartment with a lid and an egg holder. FAB28 refrigerators are extremely easy to clean thanks to the soft round design lines and the automatic defrost, a convenient and useful feature which potentially saves a lot of time. Its unmistakable design can be coordinated with other Smeg products with the same 50's retro style aesthetic.
The large spectrum of colours available with right- or left-hand hinges (on indent basis only), allows the kitchen to be customised according to different personal tastes.
Appliances that share the retro style as well are the Smeg's small domestic appliances! Symbolic objects, icons that transform the space that they occupy, the new 50's Retro Style small appliances recollect the past. They are capable of shaping everyday spaces, they breathe new life into old ways and preceding habits, such as is the way in art and memory.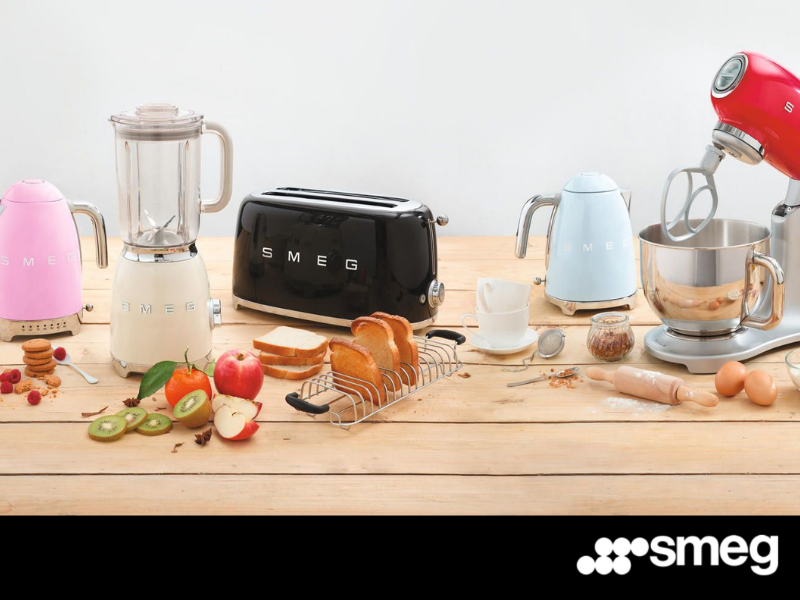 Curved and compact products, star characters of the kitchen, developed for people who want to dabble at being a chef, but not only. From the 2x2 toasters, to the standard or variable temperature kettles, to the blender and stand mixer, Smeg small domestic appliances, realized in collaboration with architects Matteo Bazzicalupo and Raffaella Mangiarotti from deepdesign, are tools that ensure excellent performance in all stages of food preparation, and have powerful personalities to match.
Smeg has developed products with the consumer in mind: their appliances consume up to 20% less energy than appliances in energy efficiency class A and guarantee professional performance even for less experienced chefs. If you are interested in Smeg amazing appliances, check them out at Smeg Singapore.
Also, if you would like to check their showroom, the details are as below.
9 Muthuraman Chetty Road, APS Building, Level 1
Singapore 238931.
Operating hours: Mondays to Fridays, 10am - 6pm.
Request for quotes and we'll match you with a selection of Interior Designers!
Previous
JIDA Designer Awards 2019 Finale – Gala Night Awards Ceremony | Interior Design Awards Malaysia
Next
Soaring Temperatures: Smart Ways to Escape the Heat