Keep Calm and Shop at Sony's New Store at Westgate!
Living & Lifestyle
2229 views
2229 views
November 1st saw not just the beginning of a new month, but also the opening of Sony Singapore's latest outlet at Westgate.

Step into lush greenery complete with little trees, looming leaves, and even tiny robotic butterflies at Sony@Westgate.
With its interior heavily inspired by parks, this new outlet creates a calming, relaxing environment for customers to rest in comfort while browsing and trying out Sony's extensive collection of cameras, video cameras, television sets, audio equipment, and advanced OLED home entertainment systems.
Image © Sony Electronics Singapore

So how did Sony decide to combine nature and technology to create this generously green environment for one of the biggest names in tech?

We spoke to Ms. Elena Teo, Assistant General Manager and Head for Customer Communication Marketing for Sony Singapore, on what sparked this unique design concept for the new outlet.
RenoTalk: It was mentioned that Sony's Westgate outlet is meant to have a calming effect on customers. What inspired the decision to use greens and parks/forests as a major part of the interior design, compared to blues and whites which may have similar calming effects? Why use forests and parks as inspiration?
Sony: The decision to create park/ nature theme for our new Sony Store, Westgate was an internal one after much discussion. The choice of materials and furnishings, nature colour scheme and the plant props add tangibility and texture to the overall look and feel of the store.
Perhaps more importantly is the way products are displayed which befits the overall park themed nature of the store- which aims to provide customers with a calm, relaxing environment to audition the products. For example, the BRAVIA display area features park benches as seats for families to admire the televisions and soundbars while music lovers can listen to new personal audio products like the WF-1000XM3 Truly Wireless Noise Cancelling earphones and NW-A100TPS Limited Edition 40th Anniversary Walkman player and be immersed in the nature surroundings.
And for digital imaging enthusiasts, the nature-feel allows them to test out the newest a6600 and A7RIV mirrorless cameras and feel inspired.
And as part of the new store's goal of connecting with customers from all walks of life, sports enthusiasts will be delighted to know that the nature theme of the store allows them to test the full range of sports MDR audio products in an environment where they would use them- thus enhancing their active lifestyle.
RenoTalk: Considering the unique mismatch of tech and terrain, what was the biggest JOY and biggest CHALLENGE of putting the interior together?
Sony: The biggest Joy was when we felt that we had successfully achieved our vision of creating a calm and relaxing environment for the store. As a Difficulty, we faced a challenge as to how we can merge the product displays with the overall nature theme of the store.
---
Here are two new tech products you can expect from the new store:
- Xperia 1 and Xperia 5 Smartphones (if you want to give yourself or a loved one a new phone this Christmas!)
- A6600 and A7RIV Mirrorless Cameras (for camera and vlogging enthusiasts seeking sharper visuals for their videos)
Image © RenoTalk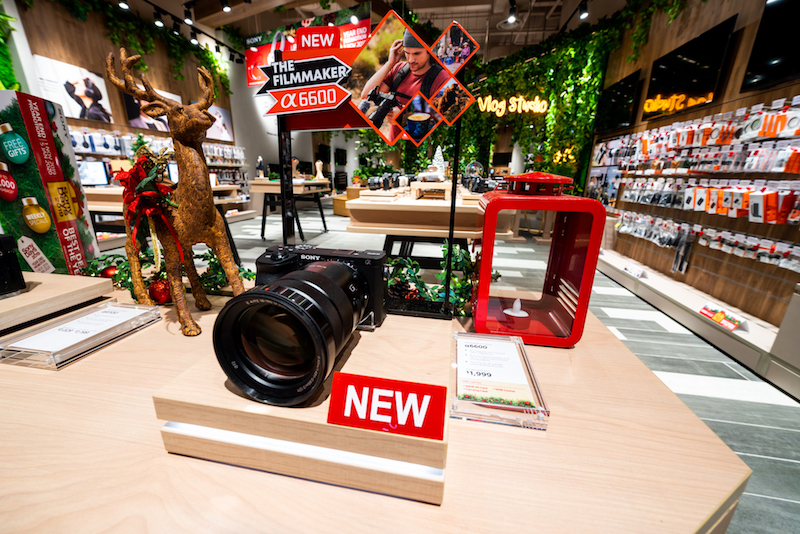 Image © Sony Electronics Singapore
And if you love vlogging, great news!

This new Westgate outlet comes with the VLOG STUDIO, which rotates its set-up for constantly Instagram-able shots. You can also check a wide range of vlogging equipment and digital imaging accessories. 
Not only that, you can use the VLOG STUDIO to practise and develop your video-taking skills against a vibrant backdrop. Product consultants will also be on hand to provide advice if needed.
If you are new to YouTube and vlogging, don't fret - there are starter kits available to kickstart your vlogging ventures!
Why not grab one kit to record, perhaps, your renovation journey?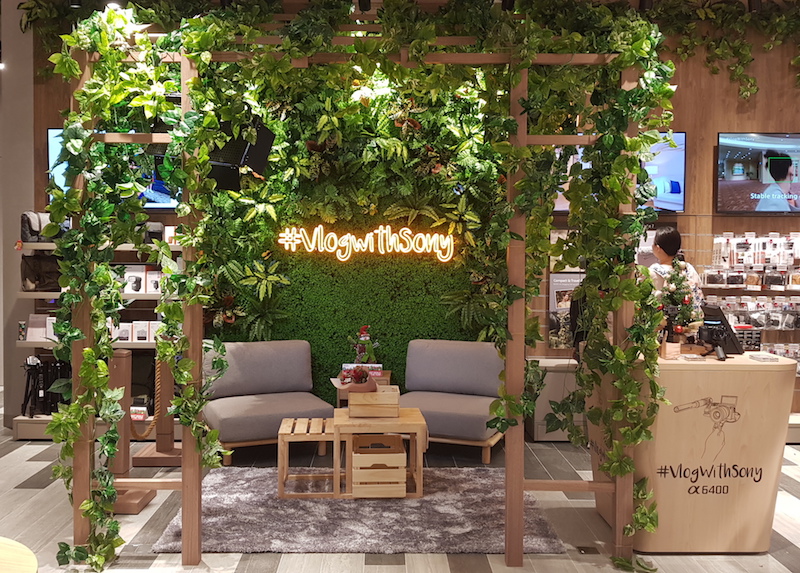 Image © RenoTalk

Image © RenoTalk
~
And to celebrate the Westgate outlet's opening, Sony has launched their Year End Promotion which will run from 1st November 2019 to 5th January 2020. Enjoy the most attractive deals on your favourite Sony products, cashback offers and many more!
Click here to find out more!
Check out Sony@Westgate at:
Address: 3 Gateway Drive, #01-39 Westgate, Singapore 608532
Opening Hours: 10:00am to 10:00pm daily
Hotline: +65 6261 0784
Request for quotes and we'll match you with a selection of Interior Designers!
Previous
The Wall Luxury from Samsung - More Than Just A Display!
Next
Kitchen Design Suggestions That You Can Use in Your Renovation