Stylish Space - Make An Entrance
Interior Design & Decor
15584 views
15584 views
Nothing spells glamorous quite like gold, glitter and everything glitzy. Revamped in a speedy span of one month, this terrace property made its royal debut in time for the homeowner's huge family reunion.
Who stays here
A bachelorette in her 30s
Space
A terrace property in Sembawang
Size
2230 sqf
When asked what she desired on her renovations wish list, Gladys listed down superlatives that defined luxury. "I love living in a beautiful house, and I wanted an extravagant style that looks far from ordinary," she articulates. Then, there's also another matter of utmost importance: the extremely tight deadline. Gladys wished to have her home remodeled within one month's time so she could host a family get-together in her newly renovated abode. Without further ado, Sam, her interior designer from NID Design Studio got down to business. 
All That Glitters
Spectacular in form, chandeliers make an effortlessly dazzling statement in any space. Instead of sticking to the ones found here, Sam went the extra mile by sourcing only for one-of-a-kind designs from across the world to adorn each of the room with its own bespoke lighting. Even Gladys couldn't pin down her favourite, as each design has its own appeal. 
To augment the air of opulence in Gladys' residence, Sam outfitted it with plush furniture, and illuminated it with both cove and down lights.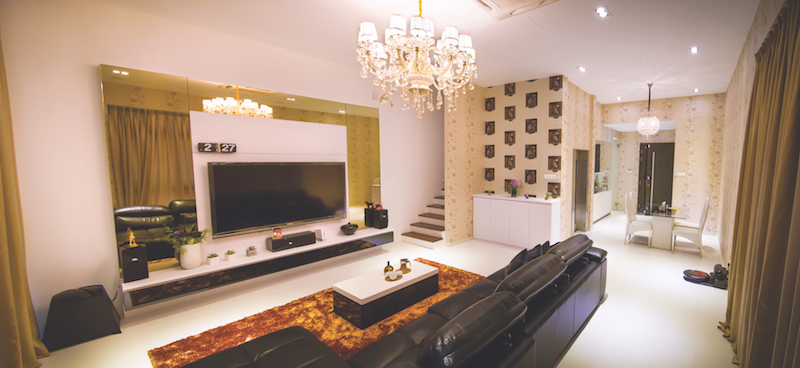 The reflective feature behind the television set was designed to dramatise the large scale of the living room, while reflecting the chandelier's glittering grandeur.

European Elegance
Sam also embellished the interior with ornately designed wallpaper evocative of the Victorian era – elevating Gladys' vast haven to new heights of splendour. The designer opted for neutral shades like cream, beige and gold, as he didn't want his client's home to appear overly gaudy. The result is resplendent.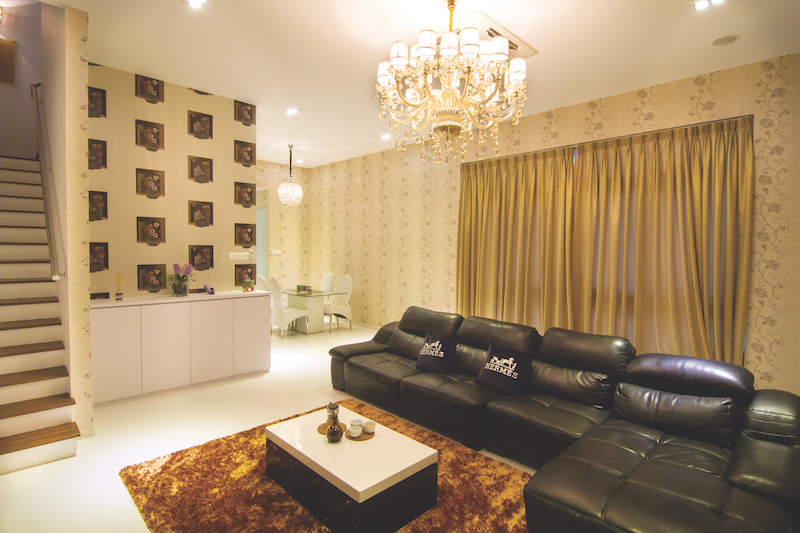 Fitted with opulence, this is undeniably a room that befits royalty.

A gorgeous lighting inspired by a widely recognised luxury label takes pride of place in Gladys' walk-in wardrobe. Not only does it brighten the area, it makes a show-stopping statement and a conversation starter.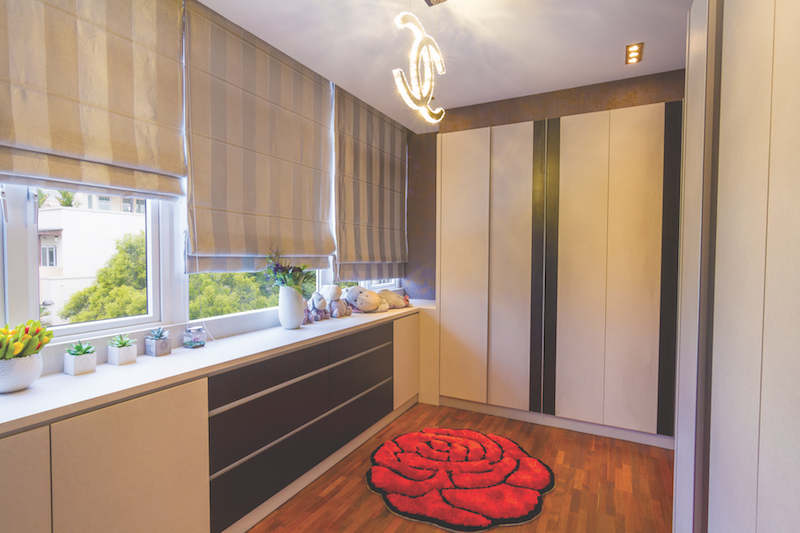 Sam dedicated an entire room to act as Gladys' walk-in wardrobe to ensure that her master bedroom is free from clutter – and purely about relaxation.




    
Nifty Ideas
Apart from his creativity, one of the many reasons Gladys enlisted Sam's help was  because she was impressed by his inexhaustible innovative ideas. "Not only did Sam successfully transform my home into a stunning space, he also made sure it is functional and serves my everyday needs," she says, complimenting the designer on his dedication to the project.
The inky black door was one of the many innovative ideas that Sam conjured up to make the sprawling space aesthetically pleasing. It hides an unsightly entrance that leads to the storeroom. 
Despite the fact that time was not on their side, the designer still managed to perform a renovation miracle. Three entire floors of the house as well as the basement were remodeled and sculpted to perfection – a big feat indeed for a project of this scale.
 A stunning panoramic view awaits Gladys atop her outdoor roof area. 
Request for quotes and we'll match you with a selection of Interior Designers!
Previous
Stylish Space - The Show Must Go On