Stylish Space - Sweet Dreams Are Made of These
Interior Design & Decor
22946 views
22946 views
An undiscovered dream to run his own café spurred the homeowner to fashion an interior in its very likeness.
Who stays here
A bachelor
Space
A 4A HDB apartment in Choa Chu Kang
Size
Approximately 1300 sqf
Colourful, cosy and reminiscent of a quirky café, this quaint home is a far cry from the quintessential bachelor's pad. It is, however, indubitably made for someone who loves to play host – which makes it perfect for its homeowner, Aeden Tang. "This was originally a family home with a dated design. Now that I'm living here on my own, I thought my house and I could benefit from a new lease of life," explains Aeden on why he decided on an extensive renovation for the apartment. After watching countless home makeover shows on television and seeing each and every stunning transformation, he resolved to make the change. Aeden then roped in both Ivan and Justin from Ideal Design Interior to help him turn his dreams of owning a café-style home into a reality.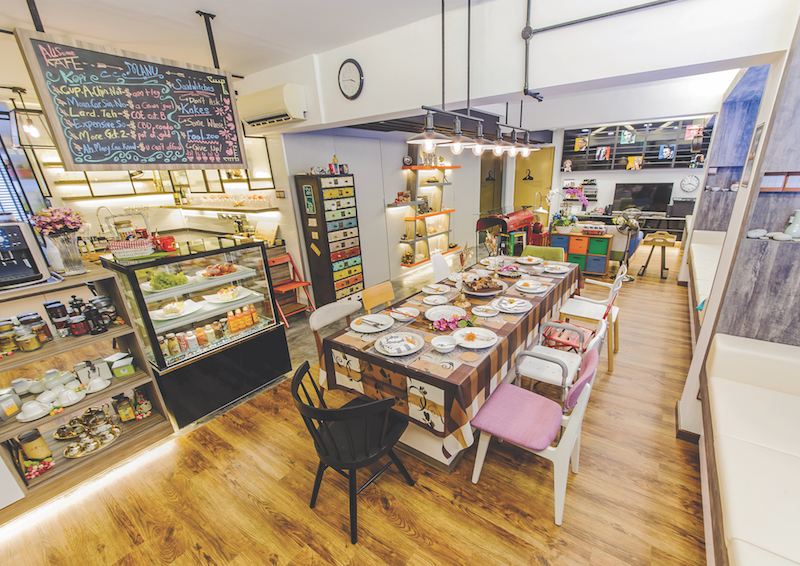 Most cafés have one thing in common: they make use of chalkboard surfaces to scribble down the menu. Like these coffee houses, Aeden's eclectic home also boasts a chiller and display shelves. 

Bistro Heaven
"Working with Aeden was easy, as he already had a clear vision of what he wanted right from the start," says Ivan. "However, we had to plan the space around the apartment's floor plan and that wasn't easy especially for a HDB flat," continues the designer.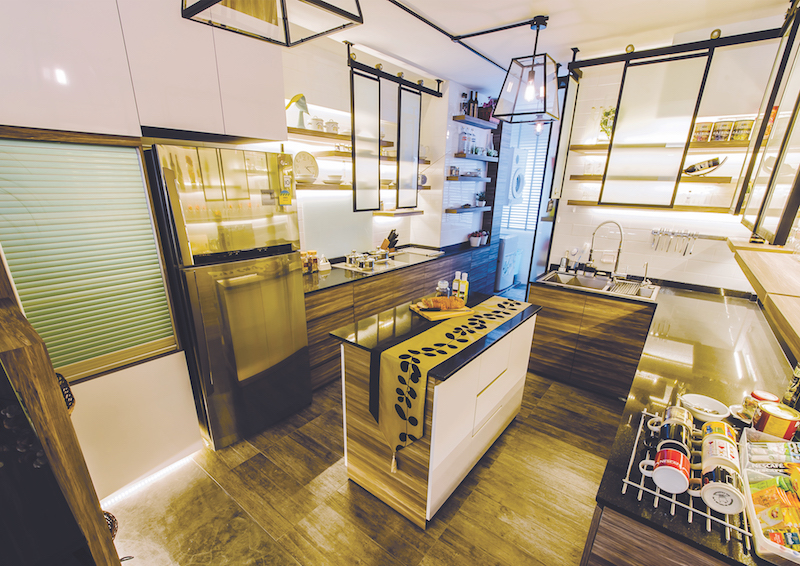 One of the bedroom's walls was hacked to make way for the long dining table and to allocate more space for the kitchen.  Aeden also loved the designers' proposal to make use of the wall at the far end of the room, and turn it into a bookcase. It wouldn't be a café if there weren't books and magazines, would it?
Eclectic Haven
Aeden loves entertaining, and frequently has guests coming over to unwind at his pad. The three daybeds by the window, a multi-coloured fabric sofa and a dining area with ten mismatched chairs make hosting a breeze, as there are more than sufficient seats for them.
"It's always amusing to see guests 'fight' over who gets first dibs on their seat of choice," chuckles Aeden, pointing out the mismatched chairs. In fact, chairs are not the only conversation starters here in his humble abode. Showcase pieces vie for attention at every nook of the space, from an unusual bright red tractor-head coffee table at the living room and the row of pendant lights over the dining table, to the food chiller and a chalkboard signage in the kitchen.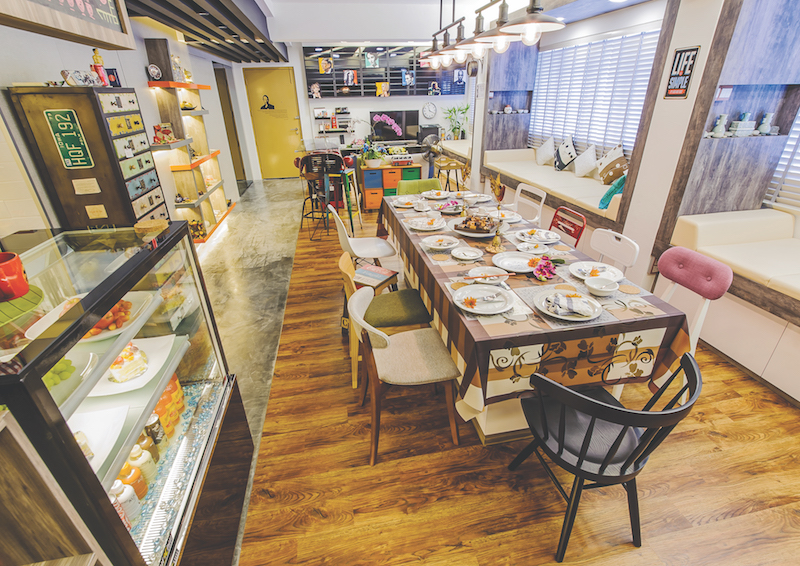 Instead of walls, floorings demarcate the zones between the kitchen and the living area. Comfy bay windows invite his houseguests to unwind with a view of the outdoors.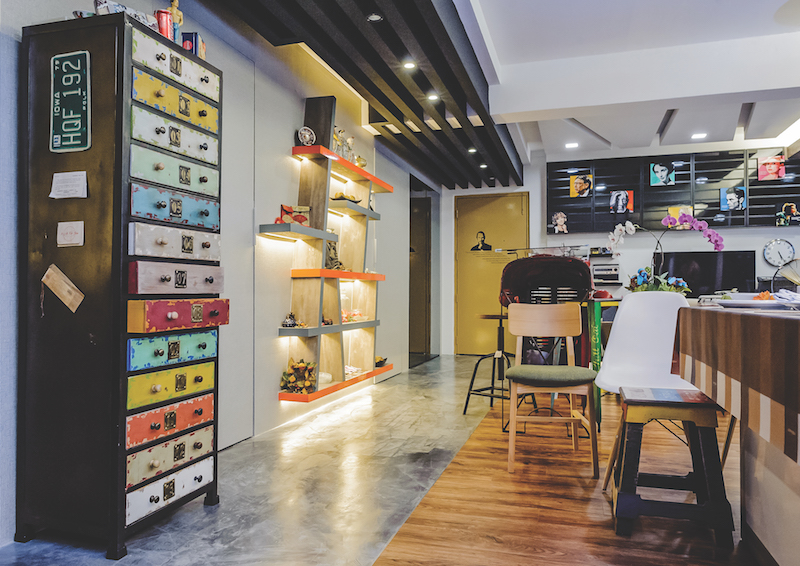 A multi-drawer cabinet made from recycled wood and metal keeps his odds and ends together, while panels that mimic ceiling rafters is an attempt to steer away from conventional false ceilings.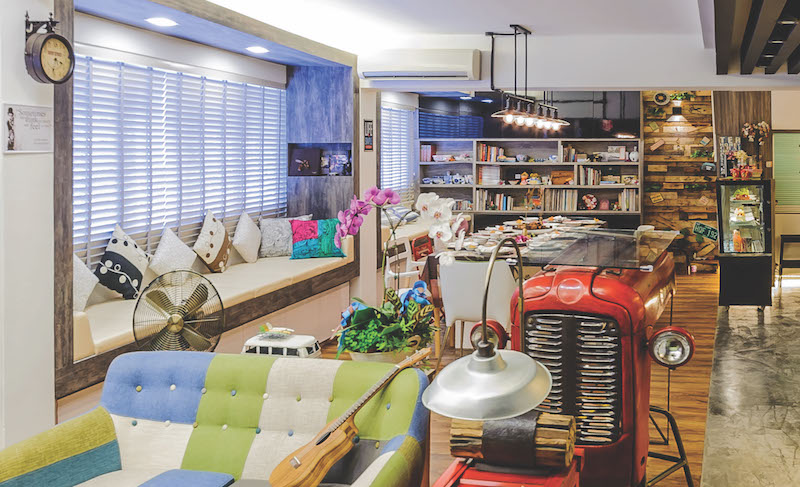 Aeden wouldn't be able to fit a dining table large enough for an entire horde of hungry friends if it weren't for the extra space created by hacking down a bedroom wall. 

Rustic Charm
Warm wood tones count towards creating a look that's rustic perfection. Since Aeden welcomes guests over on a regular basis and timber requires maintenance, the designers suggested alternatives. They decked the living and dining area as well as all of the bedrooms with vinyl flooring, a type of tile that bears resemblance to natural products like wood or stone, but is easier to upkeep.
"The most enjoyable part of the renovations was when the lights first arrived," exclaims Aeden. From down lights and cove lighting to pendant lamps and under-cabinet lighting, these luminaries help to offset the rugged look of raw surfaces like concrete and wooden details dominant in the space.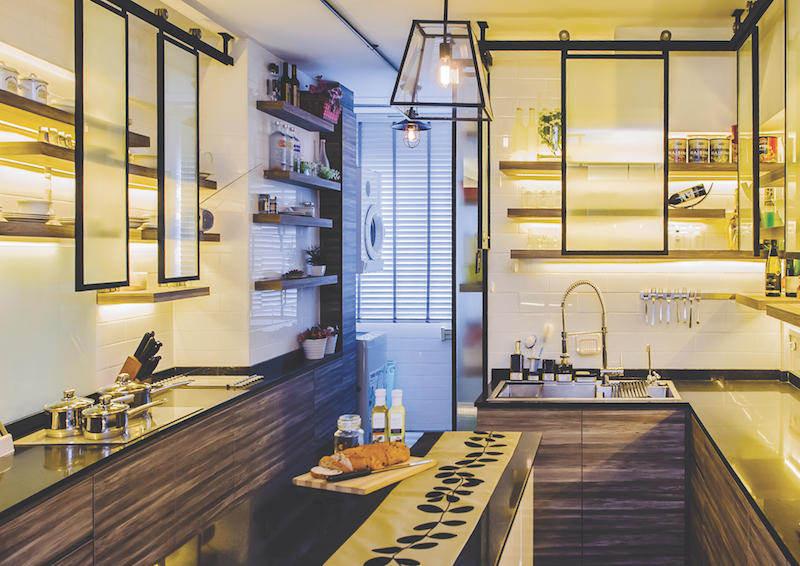 As the makeover was an extreme one, Aeden admitted to feeling the pressure at certain stages of the journey. "Nevertheless, going through the feat and attaining the home of my dreams is an achievement that I am proud of," he says. "Life is short. I believe you should not hesitate to live your dreams!"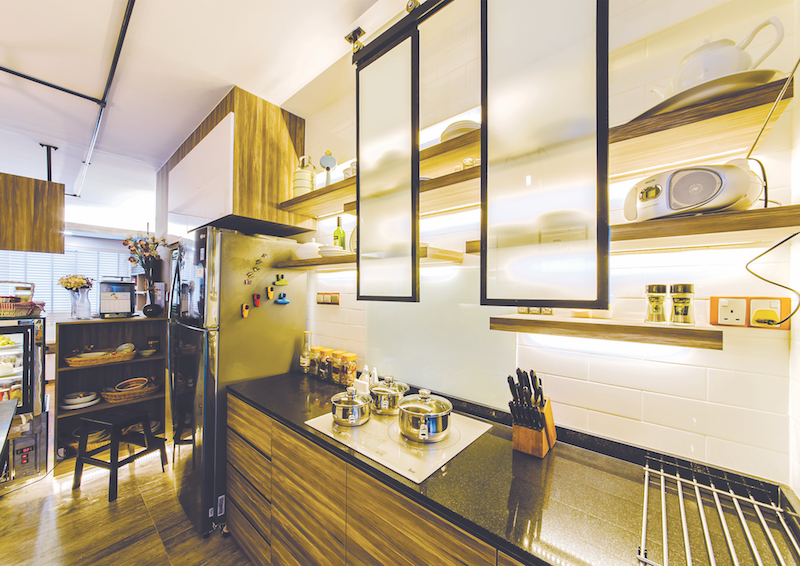 Sporting a design that was inspired and sourced from the World Wide Web, Aeden's kitchen is out of the ordinary and unlike the standard kitchen cabinet designs found here. "The open concept with metal glass panels as doors is not for everyone though, as it wouldn't be suitable for someone who cooks frequently," he advises.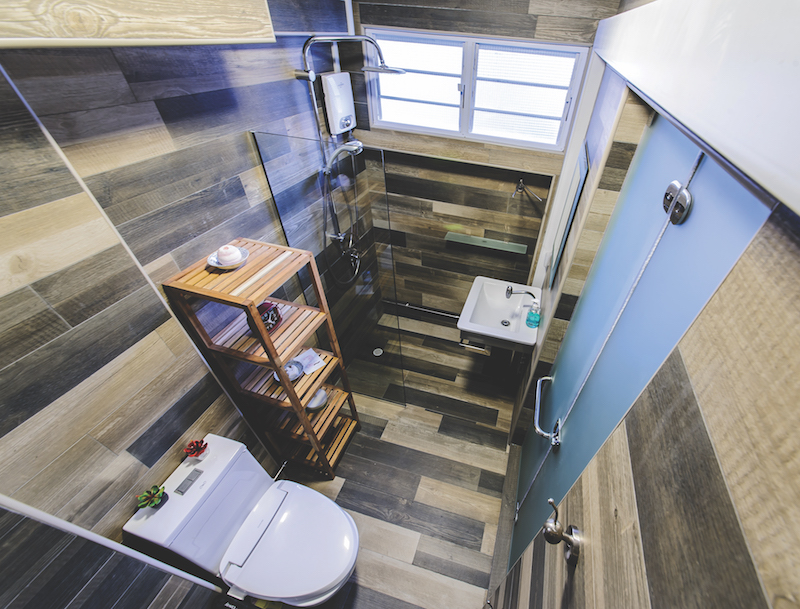 The home's rustic charm continues in the bathroom with homogenous floor and wall tiles in a woodgrain pattern. 

Request for quotes and we'll match you with a selection of Interior Designers!
Previous
Objet d'Art - Circle of Life
Next
Stylish Space - The Show Must Go On