The Drinkworks drinkmaker is my bartender.
Home Appliances & Tech
742 views
742 views
But first, cocktail?

RenoTalk Editor    
Warning Advisory: ALCOHOL ABUSE CAN LEAD TO LIFELONG EFFECTS 
Charged your evenings with authentic cocktails without the fuss and the queue and the waiting thanks to The Drinkworks Machine. The brainchild behind this 'hey-why-didn't-I-think-of-that' invention is between, Keurig Dr Pepper and Anheuser-Busch InBev.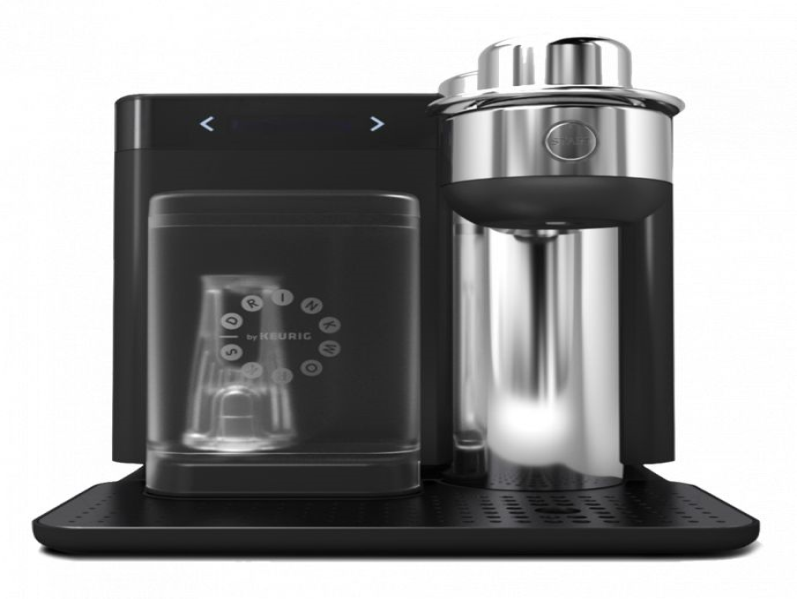 Drinkworks Drinkmaker – Image via: Drinkworks  
Keurig Dr Pepper is a leading coffee and beverage company in North America. Formed in 2018, and as declared most saporific in their website, they have leadership positions in soft drinks, speciality coffee and tea, water, juice and juice drinks and mixers, and they market the numero uno single-serve coffee brewing system in the United States. Together with a unique distribution system and a wide range of hot and cold beverages, they are able to meet any consumer need.  
Image via: Keurig Dr Pepper  
Anheuser-Busch InBev dream is to 'Bring People Together for a Better World'. They are building a company to last, brewing beer and building brands that will continue to bring people together for the next 100 years and beyond. With centuries of brewing history, they have seen countless new friendships, connections and experiences built on a shared love of beer. With well over 500 brands and countless beer varieties, they take great pride in every ounce of beer produced.  
Image via: ABInDev  
Fix Up One Please


The two companies created the Drinkworks machine which was an imitation of Keurig's well-known
coffee maker
. Instead of coffee, the Drinkworks™ drinkmaker prepares cocktail at home using proprietary Drinkworks™ Pods.
Keurig and Anheuser-Busch are hoping they can remake the success of coffee pods, but with premixed cocktails and beer instead. Drinkworks made its debut last November in St. Louis, Missouri, and as stated in its website, there are plans to introduce the drinkmaker to Florida and California.  
Image via: Drinkworks  
Each cocktail is made each time consistently using a Pod-specified mix of chilled water and carbonation, and each pod has about a shot of alcohol, plus flavourings. A variety of Drinkworks™ Pod Collections include classic and speciality cocktail offerings, leading beer brands like Beck's, and Stella Artois, and other signature mixers like margarita and Long Island iced tea.
Inside every Drinkworks Pod contains the specific spirit required with high-quality liquor and natural flavours, precisely measured and poured in the Pod. Users of the appliance have to fill the machine with water and also purchase a CO2 tank in order to make it work.
Together with the Drinkworks App – an easy-to-use platform – users can learn how to unbox and set up the drinkmaker, purchase more pods, and monitor cleaning status. Users can plug in the drinkmaker, download the Drinkworks app and follow the in-app and on-screen instructions and depending on the drink of choice; it will be ready between 30-60 seconds. Clink Clink!  
Image via: Drinkworks    
According to Drinkworks CEO Nathaniel Davis, Drinkworks' most significant feat is getting the drinks cold enough that you wouldn't necessarily need ice. The appliance utilises the current Quick Cool KOLD Technology to chill drinks, but it does not add any ice nor will it shake up a martini for you.
The appliance is designed in a way that they cannot be opened by hand, a feature which will avoid accidental consumption by children. With this feature, enjoying quality drinks at home, both old favourites and discoveries, has never been more comfortable.  
Reinventing Countertop




The Drinkworks™ drinkmaker will be an impressive machine to sit on a typical
countertop
. It is a relatively
compact
appliance spotting a pleasant
modern design
suitable for people who like to
host
. Maybe it is for those who have always wanted to create excellent cocktails for friends but do not have the energy to mix drinks for everyone.
It is perhaps a new way to elevate dinner with family or late nights with friends. Maybe it is for those who do not like the fact that bartending takes them away from the party. This countertop reinvention would shine in an actual party. Of course, it will not be able to make every drink imaginable, but with the right combination of spirits and mixers, you can create a cocktail of your own.  


Can I get another one, please?




It is just me, but every time I think of a cocktail, this will pop up in my head –
Tequila!
Part of the magic in a cocktail lies in the labour that goes into making it and the
showy part
of its presentation. But hey, the Drinkworks™ drinkmaker makes for a cool albeit
robotic
addition to an apartment.
A machine popping out a premixed cocktail from a pod might not do much for you but;
- if you are determined to host a party with cocktails;
- do not care if it is a machine mixing up your drinks;
- not fussy about the presentation;
Then the Drinkworks™ drinkmaker will be a sufficient personal bartender.
Wassail the party away with guests as your bartender keeps the drinks coming. Discover and revel, a remarkable night in with friends and family, while enjoying the limitless possibilities of single-serve craft cocktails, beer and wine, all at the touch of a button.
Request for quotes and we'll match you with a selection of Interior Designers!
Previous
What Your Home Might Look like in The Years 2020, 2030... And Beyond!
Next
Top 5 Smart Homes Around the World