These 8 Renovation Budget Hacks Will Save You A Lot Of Money
Interior Design & Decor
5693 views
5693 views
Many new homeowners have the misconception that the more expensive a renovation project is, the better it looks. But after seeing so many beautiful homes that were designed on a budget, we beg to differ. It doesn't matter if you're living in a BTO, resale flat, condominium, or landed property. As long as you plan ahead, a fabulous abode can still be born out of a tight financial plan.
You must be wondering how some Singaporeans manage to achieve their dream home without burning a hole in their pockets. Good news – the following infograph reveals 8 renovation budget hacks that will ensure you end up with a superb interior design with as little as possible!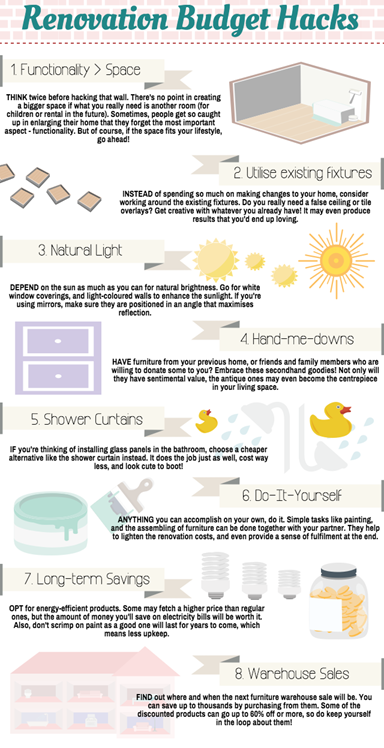 By author.
Spread the word to your friends! Share this super useful infograph with other future homeowners by clicking on the 'Share' buttons at the side!
Request for quotes and we'll match you with a selection of Interior Designers!
Previous
This Condominium In Bishan Is Every Minimalist's Dream
Next
6 Ways To Create A Sci-Fi Inspired Home