These Dreamy Pastel Homes Will Leave You Wanting More
Interior Design & Decor
1985 views
1985 views
There's no escaping pastel hell: it's been in our clothes since the Eighties and has since moved on to conquer items such as hair, food, stationery, accessories and Instagram filters. And it's reached the final frontier-our homes. But really, what is there to be disliked about pastel? Despite being soft and muted, pastel can look incredibly energizing when done right. The power of the almighty pastel lies in its transformational power; in its ability to uplift, to lighten the mood of any interior décor.
Sweet Dreams In Pastel
The soothing blue tones of the bedroom's pastel walls, coupled with the warm lighting and the dreamy, gradient-style pillow and bedsheet is a serial Instagammer's dream. If this bedroom's bluesy vibes don't lull you into a satisfied sleep, then nothing will.
Designer: Starry Homestead
Pastel By The Ocean
Sadly, not all of us can live near the beach, but that doesn't mean we cannot bring it home! Looking at this very home is a soothing act in itself, as we allow the all-engulfing pastel aquamarine waves to wash over us and our senses.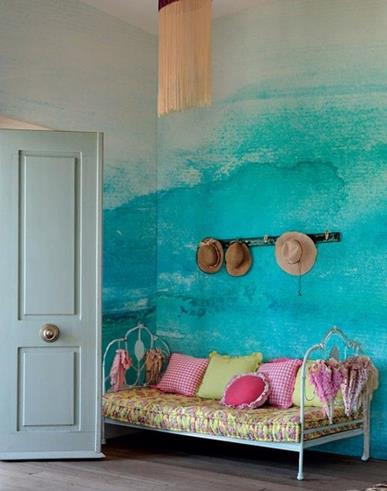 Designer: Natural Wonders For Contemporary Homes
The Only Shade Of Grey
Before it was cool to wear this colour in your hair, pastel grey was already taking over the walls of homes in Singapore. In this case, the faded pastel shade compliments the idiosyncratic elements on the display shelf by firstly acting as a grounded contrast to the items, and by highlighting their unique characteristics.
Designer: NID
Chess In Pastel
This cupboard screams pastel heaven with its chess-like arrangements of pastel grey, blacks and yellows, and is a welcome change from the bluish undertones of the surrounding wall.
Designer: Cozy Ideas
Pastel Purgatory
"Is there any escape from millennial pink?" You say, after seeing everything from ice-cream to whole restaurants draped in the dreaded colour. Short answer? No. Long answer? Embrace the trend wholeheartedly, like this bedroom has. The bubblegum pink hues of this room emanate a vibe of tranquil energy.
Desisgner: In Interior
Request for quotes and we'll match you with a selection of Interior Designers!
Previous
5 Magical Monochrome Designs That Will Make You Jealous
Next
Get A Luxury Marble Look Without Burning A Hole In Your Pocket