THIS 5 ROOM HDB FLAT HAS A REALLY UNIQUE FOCAL POINT
Interior Design & Decor
13163 views
13163 views
As important as aesthetics are, homeowners Zhong Xun and his wife, Shu Juan, acknowledge that creating an abode which not only looks visually pleasing but feels absolutely comfortable to live in is completely essential. Together with Vincent from Design 4 Space, the trio worked towards building a Scandinavian-themed home of the couple's dreams.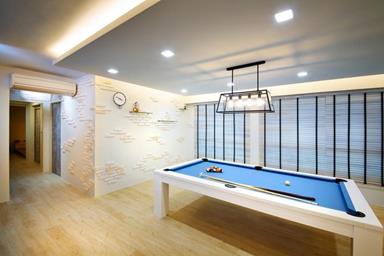 DOING AWAY WITH THE LIVING ROOM
Despite the simplistic nature of Scandinavian interiors, Zhong Xun and his wife aren't the type to settle for ordinary designs, and have chosen to add a rather unique element to their home's set-up. What was supposed to be their living room is now occupied solely by a large blue and white pool table, one regularly utilised by the couple.


"Although we came up with the idea because my wife and I love playing pool, we're also hoping guests can use the game to interact with one another when they come over. We don't want them to be restricted to sitting around watching TV."


Their television and sofa set sit in one of the spare rooms instead, the space snug and intimate. Date nights are now spent huddled together in this cosy setting as the couple enjoy quality time together. Handpicked from overseas, their TV console is a representation of both the Scandinavian and industrial vibes their home carries.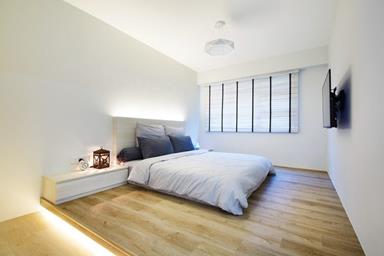 TWO BECOME ONE
The master bedroom and study have been combined to form a larger master suite, with no boundaries separating both sections. When scouting for interior ideas, Zhong Xun noticed many Scandinavian-themed homes contain floor-to-ceiling bookshelves with ladders, thus deciding to imitate the idea.


TONING IT DOWN
Simple designs can still speak volumes. Although the kitchen and dining area are relatively toned down, they add an elegant touch to the entire abode. The couple had been so enamoured with the dining set that thay absolutely had to purchase it, and Vincent proceeded to select a set of lights that matched the ensemble.
A COLLABORATIVE EFFORT
Working with Vincent has been a pleasurable experience for both Zhong Xun and Shu Juan. Going into the project the couple had rough concepts of what they wanted, but it was Vincent who continuously helped enhance tthose ideas. Their favourite aspect of the house, the brick wall situated in the communal area, was also a suggestion on Vincent's part.
"Whenever there were hiccups along the way, Vincent was always prompt to rectify the problem and answer any queries we had. He's really responsible and constantly replied within 24 hours."


Request for quotes and we'll match you with a selection of Interior Designers!
Previous
3 Commercial Renovation Projects Too Cool Not to Look At
Next
HERE'S HOW TO CREATE THE PERFECT SCANDINAVIAN HOME (PART 1)