This BTO flat In Tampines is Traditional, Yet Modern
Interior Design & Decor
9794 views
9794 views
At a time when most homeowners are rolling back the details for an understated look, this three-room BTO flat belonging to a newly married couple in their 30s seems almost too defiant for its own good. Bursting with traditional Chinese architecture, the space is as intricate as anyone could ever hope for. The challenge for design firm Weiken.com? Baking the oriental elements into the modern décor and lessening their impact on the flat's limited space.
Adjusting the colours
When the idea for a Chinese-inspired home was first mooted, the fear was that sticking with original Chinese-style furnishings – which are usually associated with dark wood – could make the space overly gloomy. Instead, a neutral colour scheme was chosen. The reinvented palette creates a brighter and breezier-looking home and gives it an inviting ambience without sacrificing the unique style of the oriental decorations.
Opening up a closed space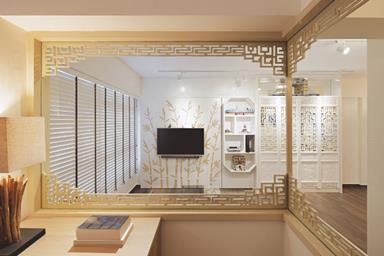 The keystone of the home is undoubtedly the living room. To endow the space with an expansive courtyard-like look, parts of the wall hiding the adjacent room were hacked. In its place: glass windows framed by Chinese-influenced buttresses. A bamboo mural etched into a wall in the living room doesn't just transform it into an exquisite feature – it also adds to the soothing vibe.
Door language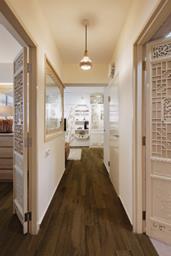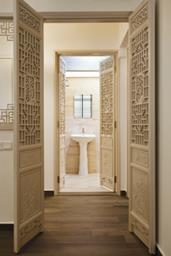 Guarding each room and the storage cabinet near the entrance of the home is a set of patterned doors sporting chinoiserie embossments. The motifs, featuring carvings of the plum blossom, the orchid, the bamboo and the chrysanthemum, carry significant weight in Chinese culture. Known as The Four Gentlemen (or the Four Noble Ones), they're used in Chinese art to embody the unfolding of each season.
Not forgotten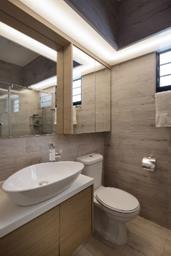 Although the Chinese influences fade as we transit into the couple's private spaces, the newlyweds say that they never stopped making sure that these areas continue to sing from the same hymn sheet as the rest of the home. The master bedroom, buoyed by a modern platform bed and a timeless interior, exudes the same graceful charm, while the kitchen and bathroom, draped in wooden hues, calms the soul.
---
Looking for more inspiration? Head over to our Reno T-blog chat to be enamoured with the renovation journeys of our forum members.
Request for quotes and we'll match you with a selection of Interior Designers!
Previous
Nothing Straightforward About This BTO Flat In Sengkang
Next
Designing With A Heart