This Condominium In Bishan Is Every Minimalist's Dream
Interior Design & Decor
3793 views
3793 views
White is a colour that represents purity, and is often associated with cleanliness, so it's no wonder many homeowners like to explore the use of this shade in their renovation project. When done right, it emanates a delicate, almost ethereal atmosphere that immediately puts anyone's mind at ease.
We found a condominium that embraces this interior style, and even manages to weave in the element of marble into its design. Together with the varying white hues, the abode takes the minimalist theme to an ultra stylish level.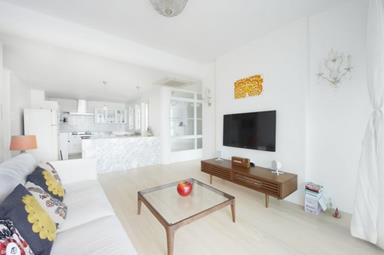 As white is largely used in this residence, it serves as a focal point for the entire space. It also melds the walls with the ceiling, which creates a canvas-like background for the home. The soft furnishings stand out in a subtle manner, and their colours make for a refreshing visual change in the living room.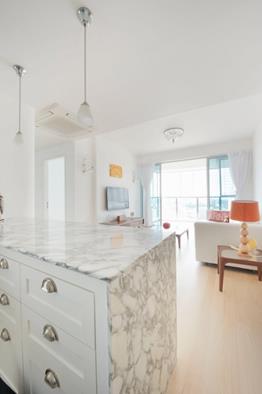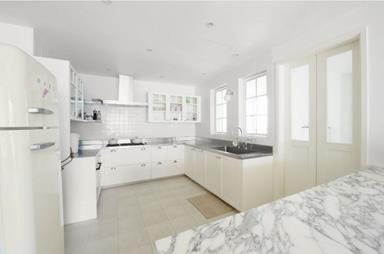 Looking immaculate with ivory-coloured cabinets and furniture, the spacious kitchen feels welcoming to even the most undomesticated cook. The marble countertop provides the area with a touch of grandeur, and blends the open kitchen and living room together to form a more fluid appearance.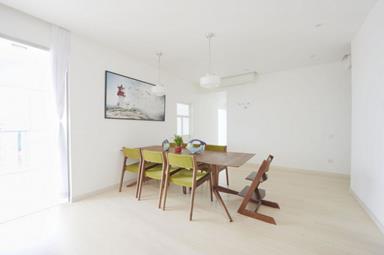 Another good thing about a milky interior is that it easily highlights the quirky furniture in an area. It doesn't take much for these furnishings to look distinctive, and the contrasting colours add life to the dining room while remaining subtle at the same time.
Resembling a cloud, the master bedroom features a dreamy ambience with its fluffy bed and clean design. The floor-to-ceiling curtains lengthen the room, and open up to a marble window bay area – granting it a classy edge.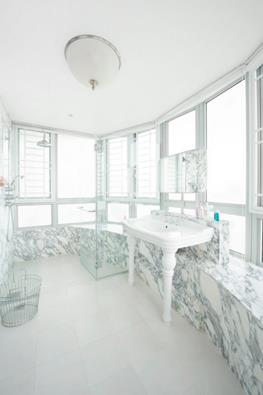 Our favourite part of the condominium has to be its bathroom. The marble details continue into this gorgeous space, and are complemented by the rest of its uncomplicated appearance. A clear glass panel separates the basin and the shower room, which also helps to bring both spots together.
The other lavatory is nothing short of stunning as well. A standalone bathtub fills the space under the window, making it ideal for long, relaxing bubble baths. While it doesn't have white walls like the rest of the dwelling, the beige tiles here grant the area a softer feel.
---
Project by Renozone Interior Design House
Request for quotes and we'll match you with a selection of Interior Designers!
Previous
Renovation Story: A Dreamy Scandinavian 4-Room HDB Resale Flat
Next
These 8 Renovation Budget Hacks Will Save You A Lot Of Money