This Family Won A Floor Makeover And You Won't Believe What It Went Through
8406 views
8406 views
Imagine winning something worth more than a thousand dollars. Anyone would be over the moon when receiving such good news, so you can probably understand how the Tan family felt when they found out that they were the winners of a floor makeover from Bona.
What made it even better was that they were in serious need of it. "Over the years, the wooden floors in our three bedrooms have accumulated many unsightly dents, scratches, and holes," Pauline, lady of the house expresses as she points out the problem areas.
Before
During the inspection stage, we also spotted 'pop-ups' and discolouration, and anyone who sees them would probably be skeptical about the transformation. Can their wooden floors really see a new lease of life?
The floor-sanding win came at the right time for their 7 year-old condominium unit, but it wasn't even the best part for the Tan family.
"I was so surprised to find out that we didn't need to find a temporary place to stay in throughout the renovation. It's amazing that the process can take place with my whole family still here!" Pauline says in delight. So with the help of Mr.Ng and his team from TimberPlus and Bona's products, we began the two-day floor renewal.
Are you ready to see the complete transformation their timber floors went through?
A common misconception most homeowners have is that sanding is a dusty and smelly process. But as you have just seen, with the right products and people, it is in fact fuss-free and super clean!
Even Pauline's daughters were surprised at how easy and painless the floor restoration was. "It feels so brand new! We cannot wait to invite friends over to show it off," Jocasta, Pauline's 16-year-old daughter, announces happily.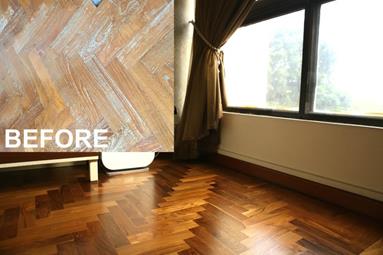 After - like brand new!
To maintain the beauty of wooden floors, Bona offers different types of topcoats. While Pauline chose a Matt coating for hers, there is also a glossy finish for people who prefer the shine.
Thumbs up for the excellent work!
At the end of the floor makeover, Pauline was presented with a free Bona Spray Mop that ensures effortless cleaning in the future. What's more is that the product is effective without using too much water and chemicals, so the Tan family can have beautiful wooden floors for years to come!
For more information:
View the full range of Bona's products here.
Tel +65 6377 1158
Fax +65 6377 0277
Email: [email protected] //
Request for quotes and we'll match you with a selection of Interior Designers!
Previous
5 Super Cool Ways To Craft A More Personal Home
Next
This Industrial Themed BTO Will Make Your Head Turn