This Home Is Made Up Of Several Interior Styles Fused Together
Interior Design & Decor
4289 views
4289 views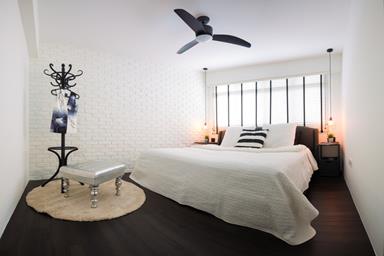 Welcome to the world of Maximalism – something you get when you fuse multiple renovation styles into a single home. No idea what we're talking about? Endy, interior expert from The Wooden Platform will open your eyes to this less-explored renovation theme.
While the minimalist interior design is a favourite amongst many Singaporean homeowners, little is known about its alter ego – the Maximalist. Adopting this uncommon style into their new pad is married couple Stez and Alexis, who are lovers of all things bold and won't settle for less.


Maxing Out On Style
Visually arresting in every corner, it is almost a challenge to put a finger on this BTO flat's interior theme. The cement floor suggests industrial, but the furnishings scream modern eclecticism. "As artistic people, the pair came to me with lots of ideas in mind. Quirky, Manhattan-style, Baroque – they named it all. They even had vintage, hand-me-down furniture from Alexis's grandparents that they were excited to spruce up their pad with," the interior designer talks about their initial meeting.
From the position of the bed to the placement of the brick wall, Endy
provided plenty of suggestions that resulted in this ultra inviting nest.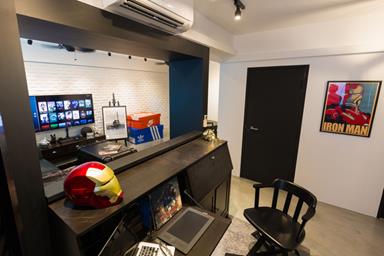 Parked behind the special built-in seats is the homeowners' work area.



Coolest bar on the block – what you're looking at is a sewing
machine-converted bar inspired by an IKEA hack Alexis saw online.


Your eyes aren't playing tricks on you; these shoeboxes are indeed larger than life.
The head-turning features are actually DIY shoe cabinets hand-painted by the couple and Endy.


"A Maximalist-themed home is not about throwing together a bunch of outstanding prints and expecting them to look amazing. It's about picking their best bits and melding them into a single design that represent who the homeowners are," the interior professional points out wisely.
The residence isn't just all about outward appearance. Impressed at the interior designer's planning of space, Stez commended, "Despite our multiple requests, Endy still managed to create such a functional home for us."


Calm In The Chaos
Amidst the homespun pandemonium, the pair still finds comfort and calm in their personal spaces. As an action figure enthusiast, the most important thing for Stez was to have something grand that showcases them. "In order to do justice to his beloved collection, I built floor-to-ceiling cabinets that exhibit the toys perfectly. The glass panels are a few inches away from the internal shelves, providing the display with an aquarium effect," the professional describes his design concept.
For Alexis, a stylish and practical kitchen was what she had always dreamt of since her days of cooking with her grandmother. The chef of the house sang nothing but praises about the kitchen layout, giving compliments to its chic appearance as well as its storage systems. Although she had wanted barn doors originally, Endy suggested a better alternative in the end that didn't reduce vertical space.


Thoroughly pleased with the black and white Peranakan flooring,
Alexis says, "I wanted a darker edge to the usually bright Peranakan
style, so I'm really glad Endy found suitable tiles for me."

As she couldn't bear to part with her vintage piano, Alexis had the ingenious idea
of refurbishing it into a dresser with the help of a furniture-restoration company.


"I've always adored black and white Colonial houses, so Endy recreated the look by installing Louver doors made of black aluminum for the rooms," Alexis talks about the interior designer's concept.
Initially worried that their existing furniture would not fit into the interior design, Stez mentions gratefully, "It's fantastic how Endy managed to incorporate so many different types of prints and furnishings into our abode and still make it look like one. It is a renovation style that's unique to my wife and I, and we couldn't be happier with it."
Request for quotes and we'll match you with a selection of Interior Designers!
Previous
If You Love LINE FRIENDS You'll Love This Hotel
Next
A Quick Guide To Condominium Renovation