This Industrial Themed BTO Will Make Your Head Turn
Interior Design & Decor
8505 views
8505 views
Industrial spaces are all the rage right now, their clean and sleek outlook attracting more and more home owners. This house at Punggol has headed in that direction too, and they've pulled it off really well, and here's why.
1. The Little Room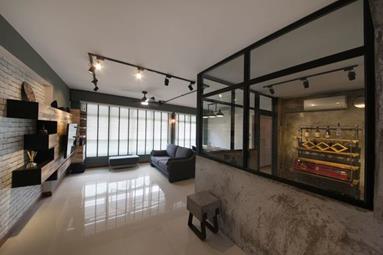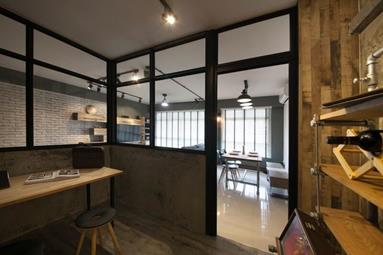 Probably our favourite part of the house, the cellar is completely filled with a concrete effect taking up the entire wall (on the inside and outside). It's a lovely idea to put their wines on display in a room that's half filled with glass, the area serving as a space for guests to drink and chat but they won't feel isolated from what's going on outside.
What's more, it's a cozy area to get work done, since there's a table situated in the room accompanied by chairs. It's a small and quiet space where focus seems to be possible as well.
2. Various Textures
The walk into the living room itself contains a mixture of textures. There's the painted wall, which is a lovely shade of grey, and then there are wooden panels and brick textures as well. The mix gives the living room a really great lift, as well as makes it more dynamic.
The colour scheme fits really well, all three parts blending harmoniously. Overall the rustic take on this is really well done, and it is one of the strongest and points of the house which stands out the most.
3. Concrete Walls
We know we mentioned it earlier, but we really have an obsession with these concrete looking walls. It's a lovely element for Scandinavian or industrial themed homes, and can even be used as a feature wall.
If you wish to swiftly adapt this idea into your home, all you have to do is actually paint your current walls with a concrete effect, and voila you basically creating a focal point without too much hassle.
4. Open Space And Its Elements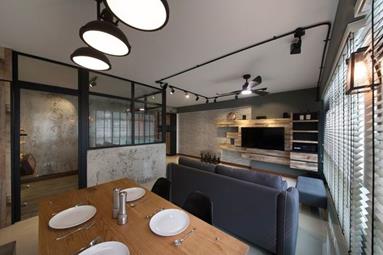 We love the living and dining room areas because of the open space concept, there are no walls in between making the area look so much bigger. The furniture all blends together really well too, with materials sticking to the rustic theme and colours that work perfectly when placed side by side.
We've got a thing for the way they've done their lighting too, keeping it a constant colour throughout the house, it's tastefully done, since they've selected minimalistic lights which are still statement enough to stand out.
This home is a perfect example of an industrial themed home, and we really can't seem to stop ogling. If you're planning to work towards this kind of direction for your own house, perhaps these images might serve as inspiration.
---
Photo Credit: Homestead Pte Ltd
Request for quotes and we'll match you with a selection of Interior Designers!
Previous
This Family Won A Floor Makeover And You Won't Believe What It Went Through
Next
Outrageous Halloween Decorations That Will Scare Your Guests (Part 1)