This Smart Home EC Is The Next Big Thing For Singaporeans
Singapore Property - Real Estate
4341 views
4341 views
You may not know it yet, but what you're about to read is the future of Singaporean households. Just like how smart phones revolutionised the world, the time has come for smart homes to shine. Brace yourselves; we are talking about an Executive Condominium that has intelligent home systems built into all its units.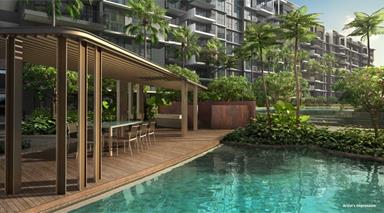 Aptly named The Visionaire, this project by Qingjian Realty is the first EC in Singapore to ride on the Smart Nation wave. With machinery guiding us through every step of growth, it's almost like we are living in an era dreamt up by our forefathers.
"This is the start of something big. 10 years ago, surfing the net through a smart phone was a luxury, but look at how accessible it is now. As Singapore moves towards becoming a Smart Nation, The Visionaire's aim is to bring a higher standard of living to homeowners by integrating technology into all aspects of everyday life," Mr Li Jun, General Manager of Qingjian describes.
What's So Smart About It?
The units will come with 10 Smart built-in home systems that will make everyday activities smoother, and enable homeowners to enjoy a holistic lifestyle. They'll be able to glide from work to leisure effortlessly with the "hiLife" Interactive Application that lets users access the home control center even when they are outside.
Partnering up with Samsung on this exciting venture, Li Jun expresses, "We want to incorporate premium home technology systems in the apartments, which is why Samsung was an obvious choice for us."
The 10 Built-in Smart Home Systems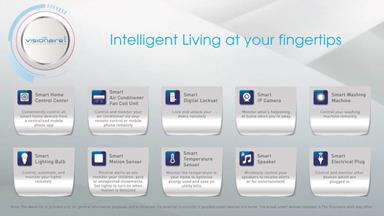 With these devices, homeowners will be able to live with a peace of mind. Positioned outside the entrance, the smart IP camera and digital lockset will not only ensure safety in the household, but also come in handy for unlocking the door remotely.
Even chores will become a breeze due to the added convenience. Fresh laundry is just a few clicks away with the "hiLife" app – simply set the cycle on while you're at the office, then breathe in the scent of clean clothes when you arrive home!
It's Not Your Typical EC
Show unit of The Visionaire's 3-bedroom CoSpace unit
Show unit of The Visionaire's 3-bedroom CoSpace unit
Besides the Smart features, some of the units in The Visionaire will come with a CoSpace layout that maximises space planning. The unique design allows buyers to reconstruct the home to suit their lifestyle needs. Depending on the individual, one can use it as a study, nursery, or even a mini wine cellar.
For People Who Want A Classic Layout
Show unit of The Visionaire's 3-bedroom unit
Who Knows What The Future Will Bring?
A demonstration of Qingjian Realty's Home of the Future exhibit, which includes a Mirror TV in the bathroom. (Please note that this feature is not offered in The Visionaire)
The showroom at Wellington Circle also features an exhibit that depicts what QingJian's vision is for the future. Imagine brushing your teeth in the morning while catching up on the news, or sleeping on a bed that recognises your heart rate and breathing patterns. Many fresh concepts and ideas await us, so we'll just have to wait and see what else the future brings!
Showflat VVIP Preview Date: 8th April – 17th April 2016
Balloting & Booking Day: 23rd April 2016
Expected date of TOP: 1st October 2018
---
Visit http://www.thevisionaire-ec.com.sg/ to find out more!
Request for quotes and we'll match you with a selection of Interior Designers!
Previous
Top 10 Home Hygiene Myths You Probably Still Believe
Next
7 Unique Ideas For The Perfect Balcony