Top 10 Insanely Luxurious Bathrooms in the World
Interior Design & Decor
16536 views
16536 views
Crazy or over-the-top, the people who own these bathrooms definitely went all out to get the bathrooms of their dreams. With extra water outlets, colour-changing tiles, and more extreme (or extremely amazing) bathroom features – these 10 insane bathrooms are sure to blow your mind, and the water bills up too.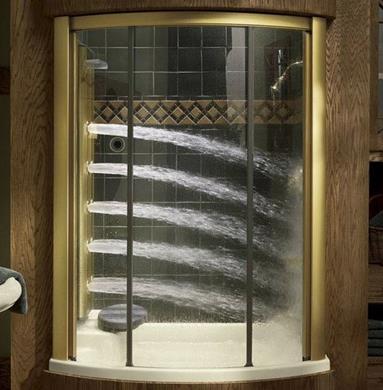 Apart from the almost too ordinary fixed shower head at the front, this bathroom features 10 extra water outlets, coupled with a marble seat. Whoever's in the shower can sit, and relax with everyday back massages thanks to the water pressure from behind. How's that for the ultimate indulgence?!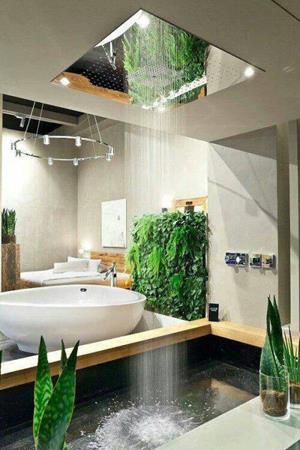 This open concept bedroom/bathroom features not 1, but 2 bathtubs. One of them even showcases a rain shower with water flowing from the high mirrored ceiling. The resort-styled space also incorporated greenery around, making it a splendid escape exuding both luxury and serenity.
Forget all you know about shower heads and every other ordinary bathroom. This one takes it a notch further with a cascading waterfall shower. No need to head to your condo pool to enjoy the deluge of waterfall pounding on your shoulders, when you can simply head to the bathroom with your very own waterfall!
WHOA at these heat-sensitive, colour-changing tiles. Imagine bathing in this bathroom, enjoying the iridescence of the changing colours around you as you bathe. It's dreamy, a little trippy, and definitely makes for a fun everyday experience.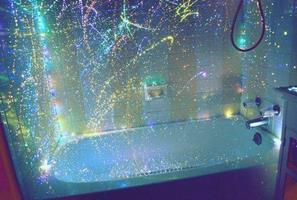 Another dreamy setup, this bathroom features some crazy optical lighting that makes you feel like you're bathing in the galaxy among the stars. An intimate dreamscape, bathtime will never be the same again in this insanely gorgeous space.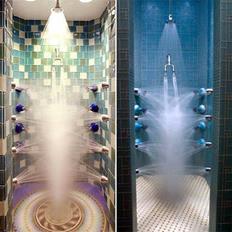 Honestly, our jaws dropped when we saw the number of water outlets in these bathrooms. With 9 on each side, and 3 on top, there's a grand total of 12 outlets releasing water everytime someone takes a shower. Comparing that to our shabby single shower heads, this means their water bills must be at least 12 times more expensive!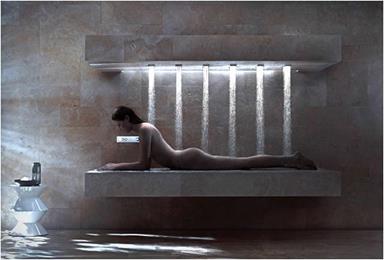 Are we dreaming, or is lying down while taking a shower totally socially acceptable now? This sweet bathroom is the stuff of fantasies, and is going on our bucket list of 'things to try before we die' (if we ever have the opportunity to) for sure.
A rain shower and glowing neon lights – this bathroom will surely transport you to ethereal otherworlds everytime you take a shower. Perfect for the artists and the dreamers, or even those who simply want something spectacular in their home.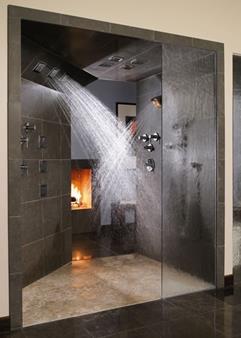 Ever heard of the quote "Save water, shower together."? For the romantic couple who loves shower time together, how about this bathroom built for two? Enjoy some intimate quality time as you shower, without fighting over the shower head!
Finally, the open bathroom with an exquisite ocean view fit for a king. How about pampering yourself with a soak in this amazing tub, complete with a rain shower? What a delightfully designed space, apart from potential privacy issues. (Who are we kidding? Someone who can afford this gorgeous residence, can probably afford the entire island too.)
---
Photo Credits: Imgur
Request for quotes and we'll match you with a selection of Interior Designers!
Previous
The Cheat Sheet to Stylish Shelf Display (6 Easy Tips!)
Next
Find the Perfect Oven to Bring Out the Chef in You