Top Flooring Types for Your Home
43643 views
43643 views
Your choice of flooring enhances the look and feel, and even the value, of the home. We introduce to you the popular flooring options in Singapore.
Wood Flooring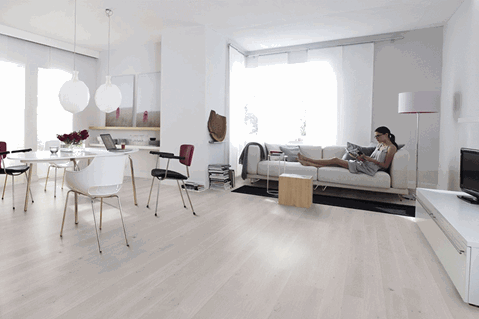 Wood flooring not only feels great underfoot, but it is also beautiful. In Singapore, the most commonly used wood flooring is teak wood, loved for its rich hue that adds warmth to the home. These days, however, many wood types, such as cherry, oak and birch, are available. Moreover, while short parquet strips are popular, now wood flooring is also available in long strips. These add a different appeal to the home and are also typically more expensive. Be mindful that wood types vary in hardness. Soft woods are prone to denting and would require more care. If you're unsure, ask about the Janka hardness score, a standard test that determines the wood type's resistance to denting. Wood flooring, however, can be refinished and resanded to look like new.
Price Range: from $8 to $20 upwards per square foot.
The Good: Warmth, beauty and add value to property value
The Bad: Relatively high cost and requires care depending on wood hardness
The Bottomline: Soft flooring type compared to others, so it's ideal for families with young children.

Tile Flooring
Many homeowners love tiles for their low maintenance needs and durability. Tiles also come in different shapes, sizes, colours and textures. You can now find tiles that mimic wood flooring or even cement screed, so you can get the look you want without worrying about maintenance. Make sure to look for tiles that are coloured through the tile body instead of only on the surface. In the event of scratches or chips, the imperfections will be less obvious. Some homeowners may shy away from tile flooring because of the white grout lines, which may get dirty over time. To counter this issue, get creative by having grout lines in colour. Or ask your contractor to reduce the size of the grout lines.
Price Range: $6 to $30 upwards per square foot.
The Good: Wide range of design options and sizes. Typically stain and scratch resistant
The Bad: Price ranges widely, so it requires attentiveness to quality. Grout lines can get stained over time
The Bottomline: Affordable flooring option that offers plenty of room for creativity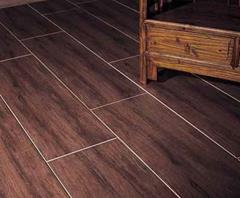 Marble Flooring
Having been used in architecture and interiors for centuries, the appeal of marble flooring is timeless. The smooth stone surface in white and the grey veins can dramatically change the look of the interior. Marble flooring also comes in various colours, such as black or brown, and slabs of various dimensions. The price rises as the slab size gets larger. Many also love marble because it's easy to maintain and is a premium flooring type that increases the value of the home.
Price Range: $15 to $200 upwards per square foot.
The Good: Adds sense of luxury and value to property. Relatively easy to maintain
The Bad: Costly. Stains may occur
The Bottomline: Lasting flooring that is worth the investment if budget allows
Laminate Flooring
Considered a cheaper flooring type, laminate flooring has risen in popularity for many reasons. It gives the look of wood flooring without the hassle of maintenance. However, laminate flooring should not be installed in a moisture-prone area because warping may occur. Quality laminate flooring is manufactured to resist scratches, stains and colour fading. This makes laminate flooring ideal for high traffic areas like the living area.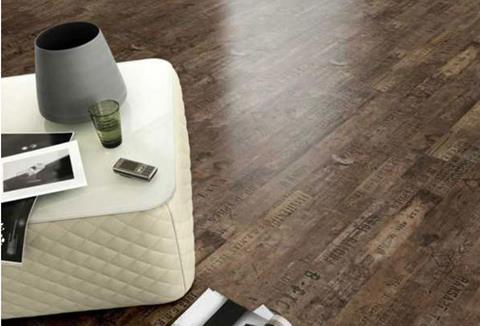 Price Range: $2.80 to $6 upwards per square foot.
The Good: Fast and easy to install and maintain. One of the most affordable flooring types
The Bad: Might have a hollow feel. Tendency to warp when in contact with water
The Bottomline: Affordable flooring that requires low maintenance
Cement Screed Flooring
While it's a hit for industrial-style homes, cement screed flooring is highly versatile and can be adopted for other interior design styles. With cement screed flooring, there's plenty of room for creativity. From even, matte surfaces to cement screed surfaces with dramatic tonality, you can go further by adding grooves or metal inlays to your flooring to jazz things up. The appeal in cement screed flooring is the finish that changes as it ages. However, cracks are expected to occur over time and this is part of its charm. Note that doing away with traditional flooring and employing cement screed flooring in the home requires an experienced contractor to get the job right.
Price Range: $3 upwards. Dependent on expertise of contractor and complexity of project
The Good: Offers room for personal creativity and expression. Easy to maintain
The Bad: Cracks, chips and colour changes may occur
The Bottomline: Changes to the surface are to be expected, so it's not for those who prefer their flooring to look unchanged
Request for quotes and we'll match you with a selection of Interior Designers!
Previous
Advance 3D Panel: Truly Customise Your Walls And Furniture
Next
Avoiding Termite Infestation At Home