Unique (And Outright Gorgeous) Themes For Your Home
Interior Design & Decor
4379 views
4379 views
Recently purchased a home but have no clue how to go about decorating it? Racking your brains over renovation ideas, unable to satisfyingly settle on one? Fret not, because we have rounded up a few stunning themes, all equally modern and upbeat to the core.
1. Vintage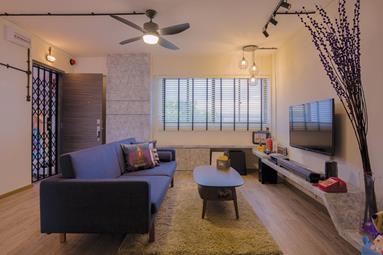 Credit: Renozone Interior Design
They always say "out with the old", but we beg to differ. Stealing inspiration from old school classics, while adding your own modern twist, can sometimes produce better results than you'd think. Starting with the ingenious idea of a vintage grilled gate, it sets off an appropriate atmosphere the moment you step in.
Credit: Renozone Interior Design
Adding vintage looking pieces such as rattan chairs, or display items such as rotary dial phones and colorful tiffin carriers, help the overall effect tremendously. What's magical with this particular home is the pullback with modern colours, particularly bright green and purple, accompanied by a set of modern lighting, giving the area a more current outlook.
2. Scandinavian
Credit: Inzz Studio
Understated yet functional; the basic principles behind good Scandinavian design. Known best for its simplicity, Scandinavian themed homes are often minimally decorated, usually filled with pieces which go easy on the eye. In this day and age, where less is definitely more, the Scandinavian feel of an apartment not only leaves your abode refreshingly spacious, but keeps it sleek too.
Credit: Inzz Studio
If you could, opt for a clean colour palette; we'd advise a majority of white with a mix-in of several light grey elements. Invest in a selection of unique wooden furniture too, because the material is going to pop beautifully against the plain backdrop.
3. Industrial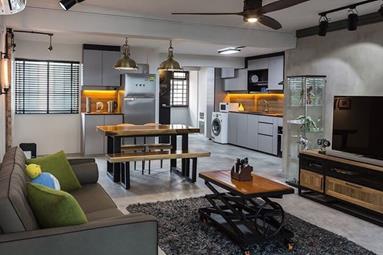 Credit: NID Design Studio
Frankly, an industrial theme once seemed like such a gaudy idea, but in this current era all that metal looks marvelous when pieced together, the entire house doused in various shades of silver. We highly recommend concrete floors throughout the entire space; it brings out the industrial feel better than any other element.
Credit: NID Design Studio
Invest in a metallic fridge, coupled with metallic kitchen counters, before topping it off with metallic ceiling lamps for an added effect. If you'd like to prevent a metallic overkill, add in several shades of grey in terms of furniture; which should of course be made out of other materials. Introduce hints of wooden pieces as well, for a break from the silver and grey clutter.
4. White Washed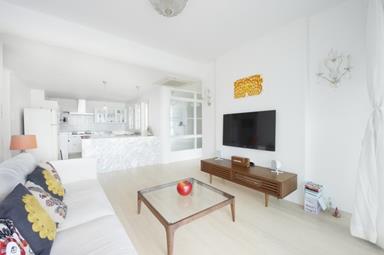 Credit: Renozone Interior Design
We know white produces the most spacious feel, but we also never quite know how to play with it to ensure it doesn't come off too plain or dull. Now of course everything you throw in can't just be white based, it isn't that simple. Experiment with various materials and textures, but make sure they all blend in with your initial white washed theme.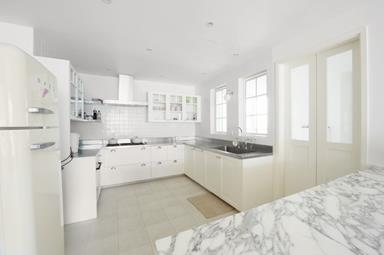 Credit: Renozone Interior Design
Marbling is an excellent example. It retains the clean outlook you're going for, yet creates a classy vibe within your home setting. Chalk up some wooden furniture as well, but we advise you not to mix shades, because sticking to a single shade of wood allows the theme to stay consistent and as clean as possible. For finishing touches, fill the space up with hints of bright or light colours.
5. Café Themed
Credit: Ideal Design Interior
We'd like to end off on a bit of an adventurous note, so our last theme for the day is highly unconventional. If you're quite the café hopper or huge foodie, with an intense desire to be a chef, then this extreme food themed apartment may be just right for you.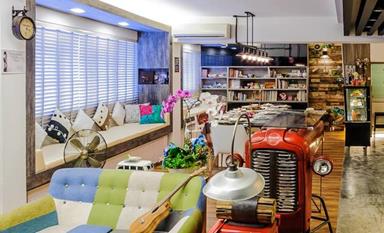 Credit: Ideal Design Interior
Decked in an array of colorful kitchen furniture, right down to a gigantic menu board and lighted food displays, the area replicates the setting of a quirky café. Drawers litter the area in an assortment of colour, which livens up the place. Add mismatched chairs and wacky furniture into the mix, and you've got quite an incredible café setting.
These homes each have their personal flair and character, all seemingly a pleasure to live in. From the minimalistic to the crazed, they act as inspirations for all those who may have incredible or out-of-this-world home ideas but are afraid to push through. These glorious homes have proven that if you dare to dream it, do it, because your idea may land you the perfect looking abode.
Request for quotes and we'll match you with a selection of Interior Designers!
Previous
Interior Designer Tells Us About What Goes On Behind The Scenes
Next
Top 3 Trends We Can't Keep Our Minds Off