Vitamin C Infused Shower For Health and Beauty
Living & Lifestyle
7769 views
7769 views
Did you know that the MGM Grand Hotel at Las Vegas offers a Vitamin C Shower System in its Stay Well rooms? We investigate the benefits of bathing in this vitamin-infused water.
We've all heard rave reviews of Vitamin C before. This power-packed vitamin contains antioxidant properties that help support the body's immune system as well as reduce the severity of cold symptoms. It is also an important factor in collagen production. While taking it orally or topically is the norm, whoever heard of showering in it?
Fact is, the water that comes from our tap may be clean and free of bacteria, but it still contains traces of chlorine as this chemical is used to disinfect the public water system. With the frequency at which majority of the general populace comes in contact with water, whether it's taking a shower or doing chores like washing the dishes and cooking, it is of no surprise that there are reports that claim that household residents are exposed to the adverse effects of chlorine for up to 100 times more than the medically recommended amount.
Maybe you don't notice this much after a shower, but do you realise how your skin gets particularly dry and flaky after taking a swim in a public pool? Not only is chlorine aggravating to skin, it can also cause brittle locks and other issues when absorbed into the body.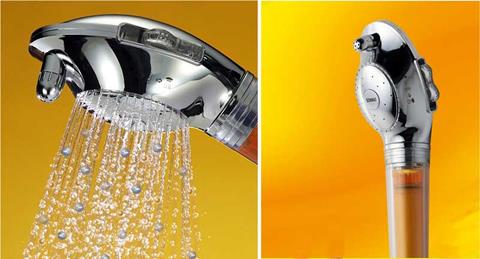 Neutralizing Effect

You can, of course, opt for a chlorine filter fitted into your shower head or tap. However, you can also do it the natural way with the Sonaki Vitamin C Hand Shower. This ingenious gadget gets to the heart of the issue by releasing Vitamin C through a filter – so chlorine is instantly neutralized as soon as water flows out. What you experience is chlorine-free water that has a lighter and silky feel. Soap and shampoo suds lather easily, while skin feels softer as moisturisers are able to penetrate skin more effectively.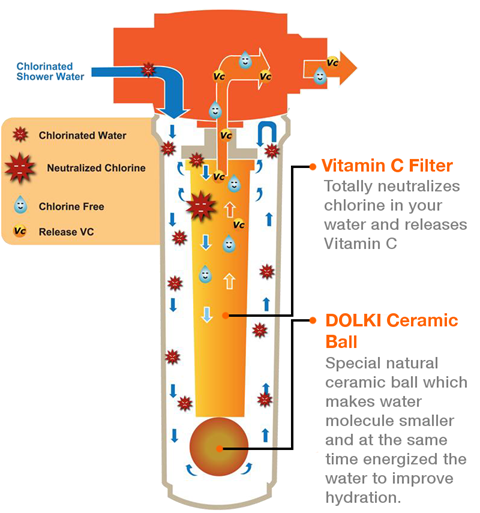 The Vita Clean Filter features a special ceramic ball made of Far Infrared (FIR) materials. It helps to reduce water's surface tension, which is why the water that flows out after this filtering system feels softer and silkier.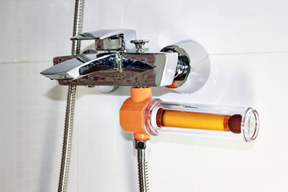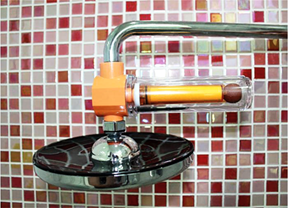 Chlorine-free Water Everywhere
The best apart about the Sonaki Vitamin C Hand Shower is that it's not restricted to the hand shower. The filter can even be installed on rainshower systems and basins too!




Choose from the array of hand showers that best suit your preference. (Left to right) The Donut and Waffle ones boast an adjustable spray angle and a water saving function; the Dolphin is fitted with three spray patterns for you to choose from; while the Rain releases a powerful yet misty spray of water for an invigorating experience.
Benefits:
Removes 99.9% of chlorine & chloramines, saves water up to 50%, meets the de-chlorinating requirements of the EPA's Clean Water Act. It is also environmentally safe and contains nutrients that is essential for health.
Finest quality food grade vitamin C filter cartridge with see through housing

- Per vitamin C cartridge equivalent to 500 oranges
- Replaceable cartridge filter up to 10,000 litres (Approximately 2 months)
- Easy to install & use
- Uses 6 patented technologies
- No artificial aroma OR scent

For natural beauty care:

- Beneficial for skin & hair
- Good for sensitive and damaged skin (eczema), damaged hair & scalp
- Reduces chlorine-caused dandruff
For baby care:
- Protects baby's sensitive from chlorine
For pets:

- Ideal for fish aquariums – no need to age tap water
- Protects pets' skin and hair from chlorine & chloramines
Made in Korea

Request for quotes and we'll match you with a selection of Interior Designers!
Previous
Singaporean couple renovates their HDB home into a European Museum
Next
Luxury Homes in Singapore - Nic & Wes Builders