What Does the Colour of Your Home Say About You?
Interior Design & Decor
4639 views
4639 views
Fiery red, melancholic blue and unfussy white. Colours don't just make your home come alive – they define the identity of each room as well. But do you know that colours also reveal your personality and affect your mood more than you'd dare to imagine? Use our guide to match and amplify your psyche and ensure that you don't bring down the house (literally!) with an ill-fitting palette.
Red, Orange & Yellow - for energy
These luminous colours are well-suited for effervescent homeowners who enjoy having guests over and being the life of the party. Red sends your vital signs racing, stimulating excitement and appetite, while orange and yellow fire up mental activity to make conversations more intuitive. Put together, these colours lend more energy to gatherings. Because of their brightness, they also tend to leap out and fill the eye, making a room feel more intimate, if overwhelming for those seeking calmness.
Pale to Medium Blue & Green - for relaxation
If you view your home as more of a sanctuary than a hive of activity, these creamy colours become easier to appreciate. According to studies, people tend to associate blue with the sky and the sea, while green is perceived as the field. In other words, these colours exude the soothing effects of nature. Soft colours also reflect light instead of absorbing it, making your space look airier and rescuing you from the 'walled-in' feel of a smaller room.
White, Gray & Beige - for unobtrusiveness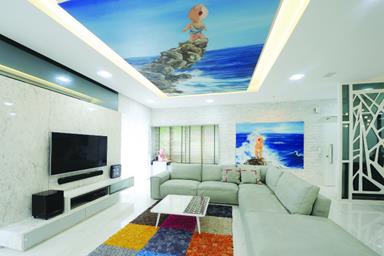 Neutral colours represent a route for those who prefer to let their furniture and accessories do the talking. Local thespian Mark Lee, whose abode we visited in Issue #2 of the Renotalk magazine, for example, is happy to let the murals of Chinese artist Wu Qiong take centre stage and imbue his home with "strength and courage". Neutral hues are also timeless – great if you feel that repainting your home every few years is less practical than it's worth.
Purple, Violet & Lavender - for glamour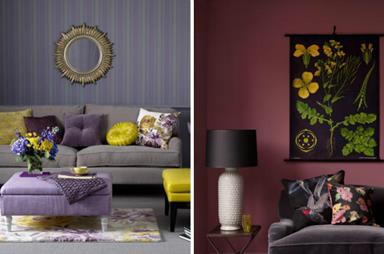 Photos: realsimple.com
For those who don't mind being a little showy, purple and its associated shades are unique colours to pop your space with. Because it doesn't occur in nature as commonly as other colours do, purple looks to impart an air of exclusivity and glamour to your home. In spaces where architectural interest is lacking, purple can work wonders in minimising plainness. Like red, orange and yellow, purple is an imposing colour, closing you in and creating a sense of snugness.
Black - for expression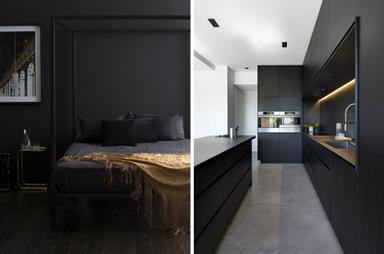 Photos: we-are-scout.com (left), leibal.com (right)
Black is oft-used with other colours to add sophistication to the décor, but it works just as well on its own. A bedroom that's draped in black, for example, leaves a scent of mystery and seduction, while a kitchen with clean black countertops and cabinets cuts a sign of discipline and elite-ness. Because black is such a deeply expressive colour, it's best suited for homeowners who aren't shy to flaunt their ideals. Black absorbs light, so it's better used in a big room or open space.
Try it!
Use colours to divide your home into different activity zones. Your living room can be coloured in red, orange and yellow to signify its purpose as a place for welcoming guests, while your bedroom can be coloured in pale to medium blue and green to denote it as a space for relaxation.
Read related: 7 Colour Combinations You'll Fall In Love With

Request for quotes and we'll match you with a selection of Interior Designers!
Previous
Living Well with Smart Wall Protection
Next
6 Reasons We Love This Modern BTO Flat In Punggol