What Is Your Sleeping Position?
Living & Lifestyle
6081 views
6081 views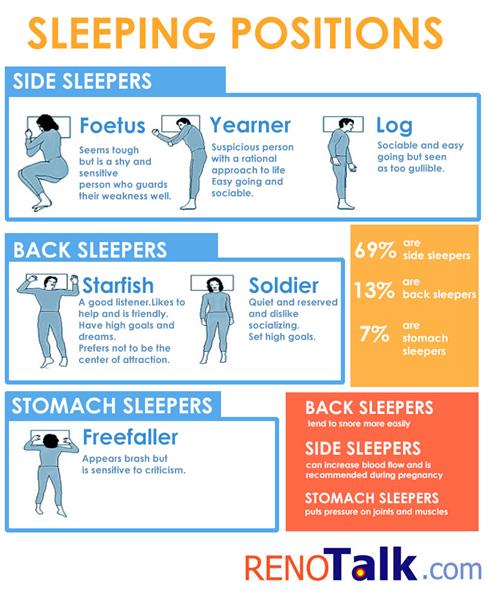 Research shows that there is a relationship between sleeping positions and their personalities. Let us decode your sleeping style.

Foetal sleepers are the most common with 41% of the 1000 in the research study group. This group are people generally who look tough on the outside but soft on the inside. More women tend to adopt this position. Bent knees and a curved back and neck can lead to arthritic pain so putting a pillow between your legs can help correct the bad posture in this position.

Stomach sleepers are the least common in the research group but there are people who fall asleep in this position experiencing joints and muscle aches as it makes it difficult for the sleeper to achieve a neutral spine position. Research shows stomach sleepers appear to be brash but they are unable to cope with personal criticism.

Does sleeping on side causes wrinkles? Myth or fact? It is said that pressure on one side of the face can lead to wrinkles. These wrinkles are usually referred to as sleep lines.

Back sleepers account for the most snorers. People who sleep on their back tends to snore more easily compared to the rest of the sleeping positions. Turning snorers on their sides will reduce snoring incidents but back sleeping provides neutral posture and helps prevent acid reflux by keeping the head elevated above the stomach.


Try sleeping on our 100% pure latex mattress and wake up feeling refreshed to face the day's challenges!






Related article: Pillows : Ensuring a good night sleep

Related videos:


Request for quotes and we'll match you with a selection of Interior Designers!
Previous
Pillows : Ensuring A Good Night Sleep
Next
Home decor trends for 2014