You Won't Believe This Visually Striking Home Belongs In Singapore
Interior Design & Decor
2559 views
2559 views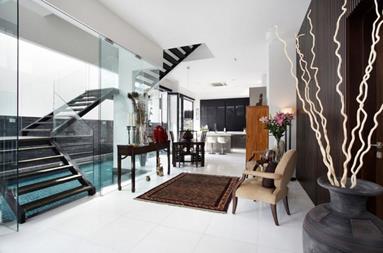 Looking straight out of a magazine spread, this home project by Artrend Design is certainly a head-turner inside and out. Borrowing ideas from the East and a little from nature, the interior professionals crafted a residence that fuses many concepts to produce an identity of its own.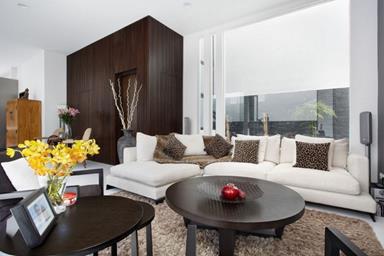 The L-shaped couch provides a more comfortable seating arrangement, with leopard-printed accents that look especially outstanding against the neutral tones from surrounding furnishings.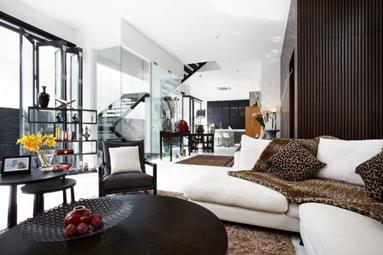 Glass walls take up an entire side of the living area, and come in the form of sliding and folding doors that give the home a more varied look. They also help to invite light into the space, and grant the interior an airy ambience. Besides looking elegant, the glass elements create a 'floating' appearance for the stairway feature, and further highlight the black steps that lead up to the second floor.
The homeowners' beloved curios pepper the perimeter of their dwelling, with a structured display shelf in the corner that showcases their most cherished possessions.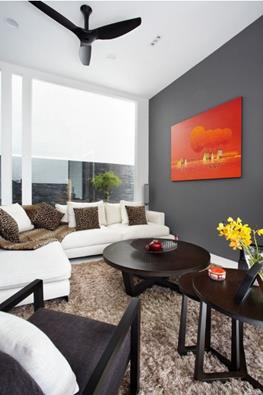 Haiku fans not only look sleek, they are energy efficient, and better in keeping a cool temperature as compared to traditional fans.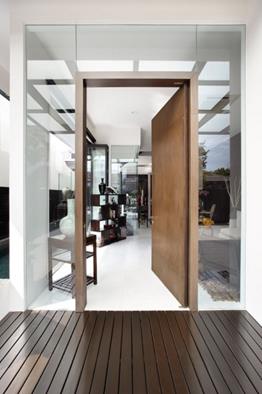 A minimalist entryway does the trick in opening up the home.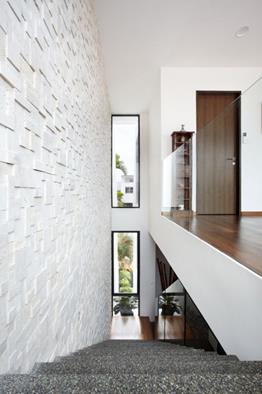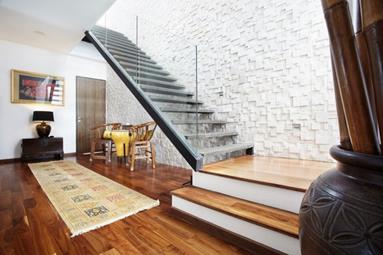 The textured white wall lends a hand in creating a visual play, and is the perfect backdrop for the furniture in this room.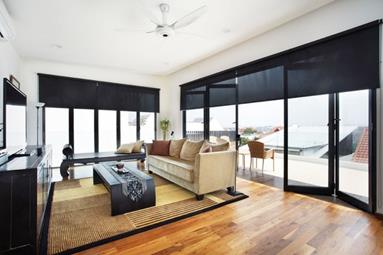 A recreational area takes up the top floor, and come with a large balcony that makes it an ideal spot for the homeowners to hold parties at. Complementing the layout are an oriental-inspired daybed and coffee table, which bring in a level of Zen to the room.
The ensuite bathroom includes an adjoining walk-in-wardrobe so that the homeowners can get ready in comfort.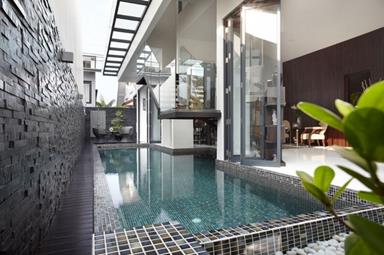 Who wouldn't want to relax here with a cup of tea and a peaceful view of the waters? The protruding stairs give the building a more interesting, levelled appearance.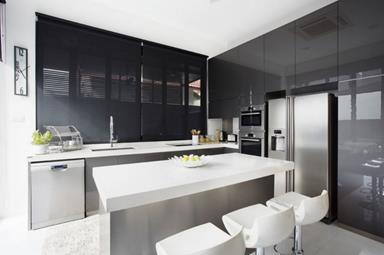 The open-concept kitchen uses a monochromatic colour palette and features an island that encourages a sociable vibe. It also doubles as a breakfast table for the homeowners where they can eat and read the papers in the morning.
---
Project by Artrend Design Pte Ltd
Request for quotes and we'll match you with a selection of Interior Designers!
Previous
5 Things We Love About This Waterfront Waves Home
Next
5 Home Trends Singaporeans Are Into