10 Brilliant Ideas Just In Time for Your Upcoming BTO Renovation
Interior Design & Decor
83822 views
83822 views
If you're about to get your keys or have already gotten your keys – congratulations (!) and listen up. (Yes, we're looking at you, Punggol Waterway Terraces and Waterway Banks, Hougang Capeview and Dew Court residents.)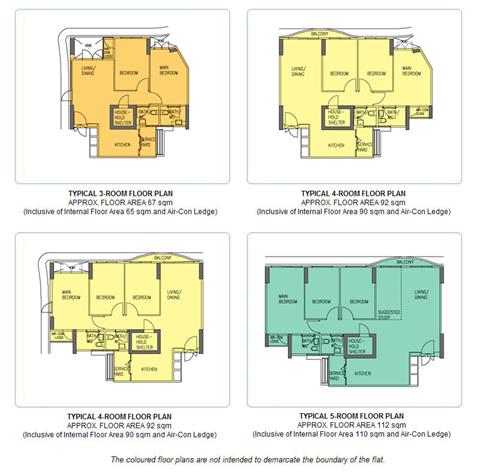 Photo: Punggol Waterway Terraces Floor Plan
These 10 brilliant renovation ideas will help you understand exactly what you can do with your space; and even help you to transform your existing floor plan into something not only spectacular, but spacious to boot!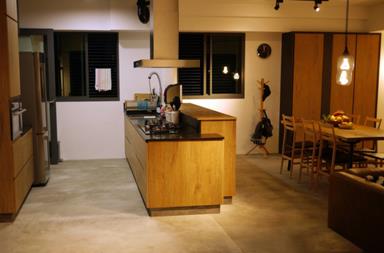 1. Create an Open Concept
One effective and widely known way to renovate your BTO for a spacious open look? Create an open concept by knocking down walls in various parts of your home to enlarge spaces or make them multi-functional. Do note that structural entities like load bearing walls, beams, columns and floor slabs cannot be hacked or removed. Make sure to find out what you can't touch before looking into your desired floor plan for an open concept home.
2. Transform your Spaces with Movable Walls
HDB flats as we all know, are getting smaller as the years go by. The best way to make the most out of our small-ish BTO flats is to create rooms suitable for many different purposes. To do that, divide and transform your spaces with movable walls that enable you to, for example, open up and enlarge your living area for entertaining; or even mount your TV on a rotating portion of the wall that lets you get in solid TV time from either the living room, or your bedroom.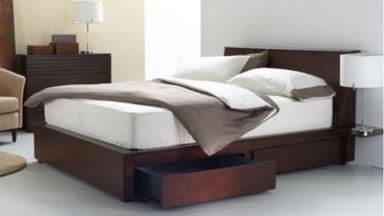 3. Decorate and Furnish for Double Duty
In everything you buy, look for multiple uses. Stools that provide stylish seating options, beds with hidden storage, and even wardrobes with hidden dressers too!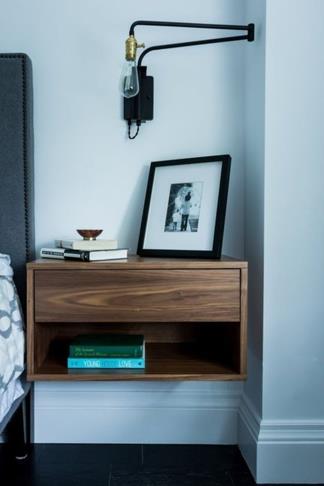 4. Use Your Vertical Space
Fully utilize every inch of of your BTO flat by getting creative with your vertical space. Add bookshelves in the corners of your living room, shelves in the shallow area behind your door if available, or mount your nightstands AND lamps on the walls beside your bed. Apart from giving you more storage space, depending on where these vertical elements are implemented – they may also serve as great focal points that help to uniquely pull your space together.
Related Articles: 6 Ways To Turn Your Bedroom Into A Personal Sanctuary
5. Play with Different Levels within a Room
If you're tired of the standard bed, why not create a built-in platform for your bed of any desired (appropriate) height. Again, get creative and discuss possibilities with your interior designer. Create deep storage drawers for storing bulky items, or even build a slide out study table into the platform, the possibilities are truly endless.
6. Paint it Right
Small homes have a tendency to come off as dark and suffocating. Avoid this by keeping your home light and airy with the right colours. According to interior design experts, one trick you may use is to pick a single hue for the entire space. For example, light blue with a hint of grey will counteract the lack of natural light, while the complimentary colours will give the illusion of a larger space.
Related Article: How to Choose Paint Colours
7. Hide Your Bed
If you really, REALLY, want to go all out for a spacious apartment, do as the New Yorkers do, and use the popular NYC apartment renovation trick by hiding your bed. Using a Murphy bed will allow you to remove the bed and at the same time, help to increase the space and functionality of your room.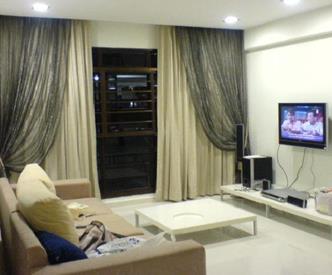 8. Drape Down
Create the illusion of height by simply using floor to ceiling curtains. Let your curtains drape onto the floor, and layer them for a more detailed look. If you want your room to look more open, use light coloured drapes. Finally, top it off with decorative curtain rods, knobs and beautiful curtain tiebacks.
9. Scale it Down
If you haven't yet been to the Trick Eye Museum exhibit in Singapore, you definitely should. When you want to make something appear smaller visually, use something bigger. If you want to make something look bigger visually, use something smaller. Case in point, if you have a small space, use smaller pieces (sofas, tables, etc) that fit the scale of your flat so your space feels bigger.
10. Sliding doors
Last but not least, sliding doors are a great alternative for wardrobes, bathrooms, and doors to different rooms in the home – as they require less space compared to swing-out doors. One really cool sliding door option you may look into, check out how barn doors were used!
Photo Credits: 1. H20 Interior Renovation; 2. Left Free; 3. Harvey Norman; 4. Apartment Therapy; 5. Apartment Therapy; 6. Rootnh; 7. Motivo Interiors; 8. Singapore Brides; 9. RWSentosablog; 10. Buzzfeed
Request for quotes and we'll match you with a selection of Interior Designers!
Previous
What You Totally Need to Look For When Buying a Water Heater
Next
10 Facts You Absolutely Need to Know about Singapore's Newest Airport