The 3rd Annual SIDA Awards | A Whimsical Event
Interior Design & Decor
1015 views
1015 views
Halls opened to a 'Whimsical' theme, Music cues the Dialogue, enters Designers and Guests to the 3rd Annual SIDA Awards
Image Credits – Ministry of Communications and Information (MCI)
The 3rd annual SIDA Awards was held in the South Beach Ballroom of the JW Marriott Singapore on Friday 8th March 2019. Organised as a part of the Singapore Design Week, the Society of Interior Designers (Singapore) SIDS Gala Dinner, honoured recipients of the SIDA Awards 2018/2019. In attendance were also SIDS distinguished global and regional counterparts.
For three years, the Singapore Interior Design Awards (SIDA) has reached out to the international design communities to create a global networking platform for designers to connect in the exchange of ideas. Invitees to the Gala Dinner saw this as an opportune time to network and interact with professionals from other parts of the designing fraternity.
Opening Act
As guests began to settle on their seats in the 'Whimsical'-themed halls of the ballroom, the President of Society of Interior Designers-Singapore, Professor Ong Sheng Keat, started the evening's programme with a poignant speech.
Image Credits – Society of Interior Designers (Singapore) (SIDS)

Keeping with the theme in mind, Prof. Ong delivered his speech in a theatrical-scriptlike fashion, one that is complete with Acts and Scenes, further adding to the dramatic aura of his messages. In Act 1 Scene 1, he notes the identity crisis Singapore Interior Designers are facing, and he reasoned that only a powerful force could rectify this situation.
This was seen in Act 1 Scene 2 when Prof. Ong elaborated the role of the powerful force that is – the Society of Interior Designers. From its inception in 1994, the non-profit organisation has the solemn duty to promote the creativity and professionalism of the Singapore Interior Designers while maintaining their relevancy in the ever-evolving world.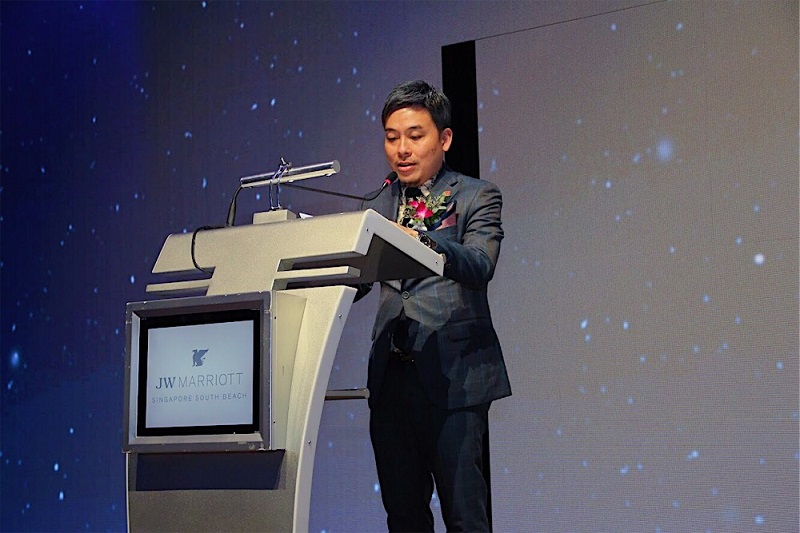 Image Credits to Renotalk
In Act 2 Scene 1, Prof. Ong went on to showcase about the yearly programs which SIDS has in store. There are three major annual events, namely; the SIDA Awards ceremony and gala, the World Interiors Day (WID) celebration – SIDFest, and a biannual event, 'Equip & Dine'.
Alongside this, are other monthly events that include courses and various activity involving industry partners and vendors. Through these initiatives, SIDS wishes to elevate the professional standards of those in the industry.

Act 2 Scene 2 had Prof. Ong listing out these initiatives. A slew of industry-related accreditations and systems are in the pipelines, and these will be supplemented with newly-proposed collaboration between existing and future partners.
The primary key to making all this possible is via education and Prof. Ong was proud to share that the building bricks of a very first, 'Student Chapter' has taken place. These students which are made up from different Singapore design institutions had elected their first batch of student leaders.
VVIPs in attendance. Image Credits to Renotalk
It is all about good relationships and efforts in forging ties. Especially so, with China and the Chinese speaking design industry. In Act 3 Scene 1, Prof. Ong was proud to announce that SIDS has grown into a credible force judging from the recognition it has received from interior designers and architects in countries, such as China, HongKong, Macau, Taiwan and many more.
Prof. Ong pointed out that selected members will get to exhibit their works and conduct lectures in one of these Chinese cities. This move will open doors for further collaborations with designers and developers who are currently plying their trade in those cities.
Image Credits – Singapore Interior Design Awards (SIDA)
The pinnacle act comes in Act 5 Scene 1. Prof. Ong paid tributes to all the individuals who had made this occasion a possibility. Notably, those volunteers who remained hardworking and steadfast in building up the stature of SIDS. Not forgetting partners such as, CEMS, RenoTalk, Luxx Newhouse, and others who stayed by SIDS side all these years.
It was a fitting end to this opening act as Prof. Ong, concluded his speech with a quote from the famous bard, William Shakespeare,
"The meaning of life is to find your gift. The purpose of life is to give it away."
Awards Galore
We spent a majority of our lives indoors, be that at home, work, or play and interior designers are the drivers in creating these spaces for us. This is an arduous and noble profession and winning the SIDA award will be an essential milestone for interior designers to pursue greater heights.
The design awards are split into four categories; SIDA, SIDA CONCEPT, SIDA Luminary Awards, and SIDS Recognition Awards (SRA). Prof. Ong explained in Act 4 Scene 1 of his speech that, SIDA and SIDA CONCEPT categories, are awarded to designers with the best-built works and conceptual works.
While the SRA category was created for vendors, who are regarded as the best in their respective fields.
Submissions for all awards are put through a rigorous selection process conducted by a panel of distinguished local and international judges.
Together, they possessed specialized knowledge in creativity and design and had accumulated vast experiences as practitioners in the international interior design scene. This astute practice will only ensure the stature and integrity of the awards are kept to the highest standards.
Image Credits – RenoTalk
Adieu…
As congratulatory messages and sounds of glasses clinking filled the hall, Singapore Interior Design Awards 2018 draw to a close. This was a night to adopt the design for creativity while raising professional design standards and drive demand for well-designed products and services.
It was also a night where the objective to raise the profile and recognition of excellent interior designs were met. This is not a farewell, but instead, a resounding end to a fruitful night.
Congratulations to all winners and hope everyone had a fantastic 'Whimsical' Nite!
Image Credits – RenoTalk
Request for quotes and we'll match you with a selection of Interior Designers!
Previous
Amperado | Your Ultimate Luxury Indulgence
Next
10 Space-Saving Furniture Pieces from the #extraIKEAcatalogue