6 Cartoon Characters' Bedrooms That We Want
Interior Design & Decor
5270 views
5270 views
No matter our age, we will always love cartoons. There is something about the power of animation that pulls us from this world and into another, entering an entirely different realm of colour, sound, and life.
Sometimes, when we are watching our favourite cartoons, a scene pops up featuring a memorable place. We may have pointed at the screen then and said to ourselves, "I wish my room looks like that!"
We at RenoTalk also love our cartoons (well, at least this writer does), so we researched binge-watched some of today's beloved cartoons to pull up six snazzy rooms to inspire your next makeover!
1. Bee's Bedroom from Bee and Puppycat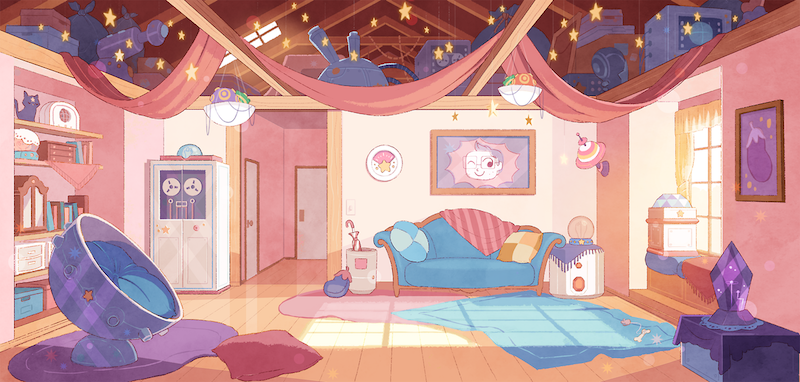 Image © Bee and Puppycat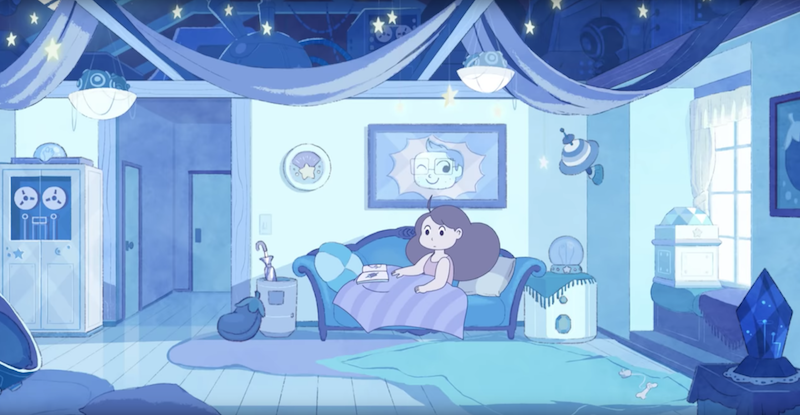 Image © Bee and Puppycat, Episode 1, 'Food'
Why We Love It: No matter day or night, Bee's bedroom is a visual treat of galaxy-inspired tones. Oranges, pinks, and yellows adorn her walls during the day, while the night bathes them in soft shades of blue and lavender.
The space-inspired trinkets (the round chair, the hanging stars, the crystal lamp, etc) and the ceiling drapes add an out-of-this-world vibe to the bedroom, with the pockets of built-in storage making the area more liveable. The bay window adds extra space for both storage and lounging.
Plus, Bee sleeps on the sofa. Lounge in the day, rest in the night. Sofa beds are truly the in-things today.
Getting The Look: For this bedroom's daytime look, oranges, pinks, and yellows are your best friends. If you love the room's night-time look, go for lavender, cyan, turquoise, and ultramarine — light shades of purple and blue.
Hanging stars — be they paper ones or glow-in-the-dark — from the ceiling will make a nice DIY touch. If you can afford it, install a few bars or planks across your ceiling, then drape a long piece of cloth across them for that 'hanging' effect.
Having a bay window is optional, but why pass up the extra storage-cum-relaxation-perch? If you have no need for a bay window, you can just throw in a few pieces of novelty furniture, like Bee's round chair, to complete the look.
And yes, get a sofa bed. Extra points if your sofa bed comes with storage.
2. Steven's Bedroom from Steven Universe
Image © Steven Universe
Why We Love It: Steven's bedroom is the epitome of relaxation, especially since he spends most of the day fighting corrupted gemesque aliens.
It has a low-lying platform bed he can just jump into after a long day, his own television set and gaming console parked in front of it, posters of his favourite things on the walls, and a full-length window with a majestic view of the beach right outside his home.
It also has just enough storage all around to keep his prized possessions, from the open shelving behind his bed to the classic drawers next to his window.
Coupled with its warm sepia colour palette, Steven's room is definitely the perfect space for chilling out, no matter the circumstances.
Getting The Look: Give your room a warm, relaxing feel by painting it with muted yellows and light browns. Adding wooden patterns to the floor (perhaps through vinyl flooring or laminates) will amp up that rustic-resort feel.
Minimalism and storage space are key here; Steven made his bedroom his ultimate den without the need for too much stuff. Keep your floor bare as much as possible, with just the essentials — your bed, your storage systems, and one or two items from your leisure. Utilise the rest of the space for storage, like swapping out your headboard for open shelving or going for a platform bed with storage solutions underneath.
Large full-length windows will make your room feel spacious and grant you a great view outside, but if you are unable to afford them, a big window overlooking a relaxing scene will do just fine.
If you can afford a loft to put this lovely bedroom in, good for you!
3. Twilight Sparkle's Bedroom at Golden Oaks Library from My Little Pony: Friendship is Magic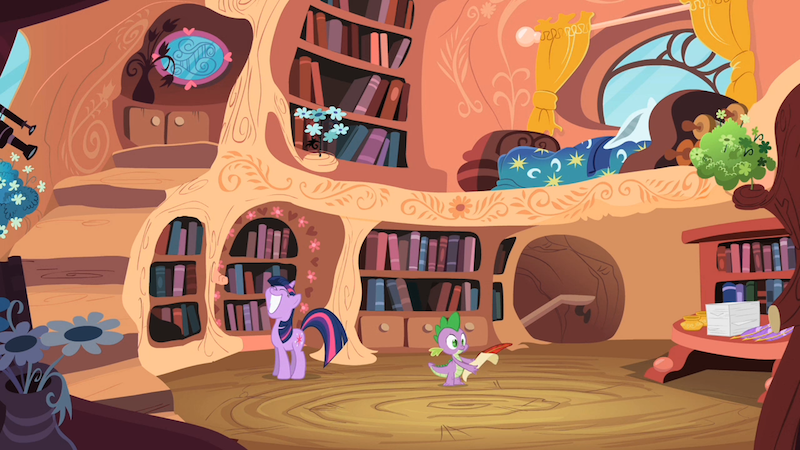 Image © My Little Pony: Friendship is Magic, Season 2 Ep 3 'Lesson Zero'
Why We Love It: The books, they're everywhere! If you are a bibliophile like our favourite alicorn princess Twilight Sparkle, this cosy space can be both a bedroom and a reading nook for your personal escapades to different worlds.
Also, despite the size of the room (unless you count the rest of Golden Oaks Library as part of it), the light, warm colour scheme makes it feel both spacious and welcoming.
To top it all off, considering Golden Oaks Library was inside a tree, the swirling floral and tree trunk patterns on the walls give off a nostalgic fairytale vibe.
Getting The Look: Bookshelves, quite obviously, are the staple of Twilight's room. Go for open bookshelves to display your books, and let their spines add pops of colour to your room. Get a big open bookshelf and put it in front of your bed, then have a few small storage systems under your bed or on the other side of your room.
As for colours, Twilight's bedroom has a similar colour palette to Bee's bedroom — pinks, yellows, oranges, and browns. Get a wooden bedframe in mahogany or chestnut shades, and park your bed by a window the same way Twilight did for hers.
Paint or stick those tree trunk or floral motifs on your walls to top it all off.
While Twilight's library bedroom is a loft area just like Steven's bedroom, you can do without the loft if you are satisfied with being surrounded by your favourite books and lounging on your cosy bed by the window after a long day.
Let's just hope your bedroom will not meet the same fate as this quaint library bedroom in the climax of Season 4 (Google for spoilers!).
4. Ruby Gloom's Bedroom from Ruby Gloom
Image © Ruby Gloom, Season 2 Episode 8 'Deja Vu, Again'
Why We Love It: Call it 'creepy-cute', 'kawaii-creepy', 'loli goth', 'goth baby', 'goth princess', or whatever you like.
Ruby Gloom's bedroom combines both the gloom and glee of Ruby and her equally eccentric friends. Not only is this room perfect for looking out the window on a cool, rainy day (kudos to that gigantic heart-shaped window and the fact it is perpetually stormy where Ruby lives), its muted pink wallpaper and vintage furniture are reminiscent of days gone by and spooky tales of fairytales gone dark.
Not only that, the Venus flytrap and creeping plants with their vines add a Halloween-ish spark of green to this adorably creepy space.
Getting The Look: Mix muted pinks and magentas with dark shades of green or turquoise to match the colours of Ruby's bedroom. If you want to go further with your walls, you can get matching wallpaper with Baroque or Victorian patterns.
Use vintage or old Victorian photo frames to display your favourite images, whether they are photos of your family and friends, or perhaps of your favourite K-Pop group. To make your room feel more spacious, use just one wall to display your frames.
If you are unable to afford a four-poster bed, put your bed against a wall and suspend a huge piece of cloth over it via some string and ceiling hooks. Built-in furniture is optional here; opt for standalone vintage carpentry, and single planks attached to the walls as open shelving.
If you have a green thumb, you can add a few hanging or standing plants to give your room that spark.
5. Wirt's Bedroom from Over The Garden Wall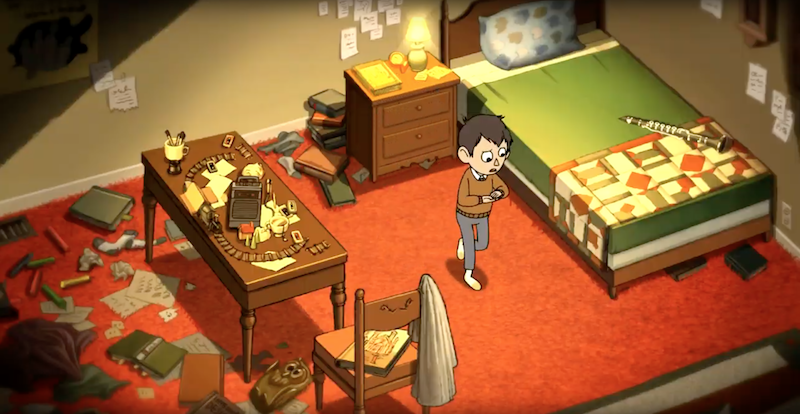 Image © Over The Garden Wall, Episode 9 'Into The Unknown'
Why We Love It: It's simple, vintage, and a place of solace, especially for our anxious teenage hero Wirt. While it is small, it has the essentials — a bed and a working area.
While clutter may not work in most spaces, Wirt's books on the floor, notes on the walls, and stuff on his table give us an insight into his mind as the more logical albeit paranoid and pessimistic sibling of the show's protagonist duo. As some research points out, clutter means creativity and intellect at work.
Not only that, the vintage carpentry, the green bed sheets, and carpeted floor remind us of old English bedrooms nestled amidst cold winters in the 80s and 90s.
Getting The Look: Greens, varying shades of brown, and reds are the colours to work with here. Think 'getting warm on a cold night', making sure your colours complement one another without being too bold. Throw in a patterned floor rug to make it extra warm.
Like with Ruby Gloom's bedroom, vintage furniture will give your room a mysterious, nostalgic feel. Go for the basics if your room is small enough — a bed and enough carpentry to form a study or work area. You may invest in a few storage solutions to keep your things, but you can also stack your books up along the walls, a little like how Wirt keeps his books.
If you prefer dim lighting and you are certain your eyes will be unaffected, install just one ceiling lamp in your room, with perhaps a smaller one on your bedside table. Not only will you evoke that broody, mysterious vibe, you may also be able to shave a fair bit off your electricity bills.
6. Dipper and Mabel's Bedroom from Gravity Falls
Image © Gravity Falls, Season 1 Episode 1 'Tourist Trap'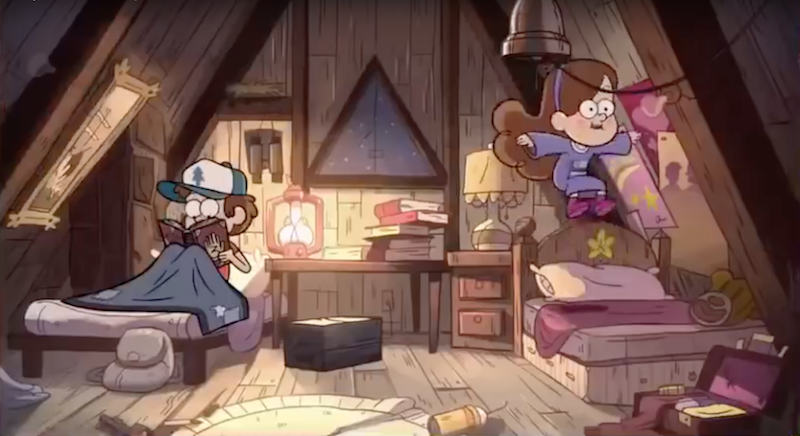 Image © Gravity Falls, Season 1 Episode 1 'Tourist Trap'

Why We Love It: The twins had to share this small room, but that did not stop them from expressing themselves through decorating their personal sleeping areas.
While the twins' personalities differ greatly, they could still put up the things that represent them above and around their beds. It is thus easy to tell which twin enjoys reading ancient history and which one loves unicorns.
Plus, the room has a view to the mystery-filled forest of Gravity Falls, so you do not need a huge window or many windows to get such views. On top of that, the room's location in an old wooden building gives it a nice rustic cabin-in-the-woods feel, which is the perfect vibe for a mystery-themed show.
Getting The Look: This is a great room for sharemates, so all you have to do is get two bed frames, put them opposite each other, and then put a window and a low cabinet between them.
No need to compromise on individuality here; like with Dipper and Mabel, the walls and floors are the canvas to express oneself. Invest in pegboards, corkboards, or wall displays for you and your roommate to pin up the things that represent the both of you, so that you can show off who you are without stepping too much into your roommate's personal space.
To get the cabin-in-the-woods look, experiment with dark or greyish wooden patterns, whether they be wallpaper, laminates, or vinyl flooring. Hanging ceiling lamps will add an old-world charm to the room.
Who are your favourite cartoon characters? Found any bedrooms from cartoons that you like? Feel free to share them with us!
Request for quotes and we'll match you with a selection of Interior Designers!
Previous
Geek Bedroom, Geek Ideas
Next
Themed Rooms: Movie Night!