8 Incredibly Unique BTO Flats for Your Renovation Inspiration
Interior Design & Decor
76179 views
76179 views
Want some fresh BTO renovation inspiration? We scoured our forum today and found these spectacular Singaporean homes oozing creativity, originality and innovation. Especially if you're into lofts, take a look at the amazing bedrooms below that show you exactly how you can achieve that cool loft look – even with the low HDB/BTO ceilings.
Thank you Renotalkers for sharing your beautiful homes!
1. Innovative Loft Bedroom
Building an innovative unit in the room where functionality meets design has helped to save so much space, while providing many uses from a place to sleep and catch movies, storage and even a study area.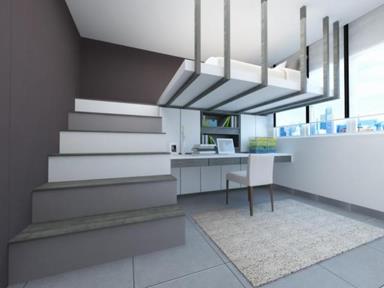 2. Airy Loft Bedroom
Well hello New York! – was our first thought when we saw this particular photo of Renotalker TheKairas' bedroom. Despite the low ceiling, vertical lines extending upwards from the bed help to visually heighten the space, while its design makes it look like the bed is simply floating in mid-air. With the cement screed tones and textures, structured lines and airy windows, this truly looks nothing like a Singaporean bedroom.
3. Twin-Sharing Bedroom
We picked this photo out of Interior Design firm, Inzz Studio's portfolio and wow. What a marvelous way to divide a bedroom for two! Building loft beds on each side of the room, with a staircase in between doubling as access to the beds and a room divider; as well as individual workspaces below each loft bed – this is one ingenius setup.
4. Bay Windows Bed
We once wrote an article about "What to Do with Your Bay Windows". Well, here's another idea – convert it into a raised platform bed with ample storage. Another space-saving trick that will give your bedroom an interesting design element while keeping your room clutter-free with the additional storage space.
5. Raised Platform Bed
How about a simpler version of the 'Bay Bed'? Simply place it on a raised platform with slide-out drawers below so you can easily access your items. Additionally, check out the cool feature where a side table was built into the design. Place your laptop there for movies in bed, a lamp or your favourite book – this is a great way to cut down on excess furniture in your room.
6. Unusual TV Placement
Some people don't like the idea of having the TV being a main element in the room. Instead, they prefer the option of keeping it away when not in use, so the 'TV-less' space can encourage better communication and interaction between people. One thing you can consider if you're one of these people, is placing your TV in your wardrobe like the homeowners above. There's also no need for a TV console, when your wardrobe's drawers can quite simply be utilised as a built-in TV console.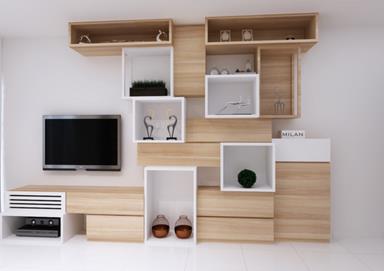 7. Storage Feature Wall
Feature walls have been a huge trend for some time now. Instead of the usual brick walls, accent walls and such that don't do anything else but make your home look pretty – how about using your storage very creatively, and turning them into a really cool feature on the wall? Playing with different shapes and sizes of storage boxes have given this home a distinctly unique look, while providing great use.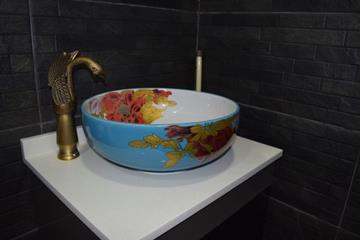 8. Unexpected Fittings
If you want to give any space an added extraordinary oomph, be bold like G_luv_M and go for the coolest, unexpected fittings. Mixing it up like experienced designers, the trendy couple introduced this pair of colourful antique tap and sink in the black and white bathroom. This helped to create a pleasant little surprise that ensures their home stands out.
---
Photo Credits: 1. Rachel; 2. TheKairas; 3. Inzz Studio; 4. Inzz Studio; 5. Zenarc; 6. Ariffinaldo; 7. Rachel; 8. G_luv_M;
Request for quotes and we'll match you with a selection of Interior Designers!
Previous
7 Outstanding Ways to Tile Your New BTO Flat
Next
15 Chinese Customs for Moving into Your New BTO Flat