A Few Advantages of Renovation Contractors over an Interior Designers
Interior Design & Decor
2205 views
2205 views
A lot's been said about the advantages that interior designers offer over renovation contractors. But there has to be a reason why contractors remain popular! This article is an attempt to make sense of things

So here's a pointer or two to justify the status quo. Knowing the ups and downs of both professionals is helpful, and that's the purpose of this article!
1. Renovation contractors charge 20% to 50% less

The biggest advantage that contractors offer pricing - a big, whopping 20 to 50 percent less.

By omitting the planning phase, contractors are able to take on several projects at a time, which translates nicely into superior economies of scale and lower price.

Be sure to check out their credentials, though, as the skill and knowledge of contractors can vary greatly (what you really want are general contractors, the guys who have the experience and capabilities of handling entire construction projects from the ground up).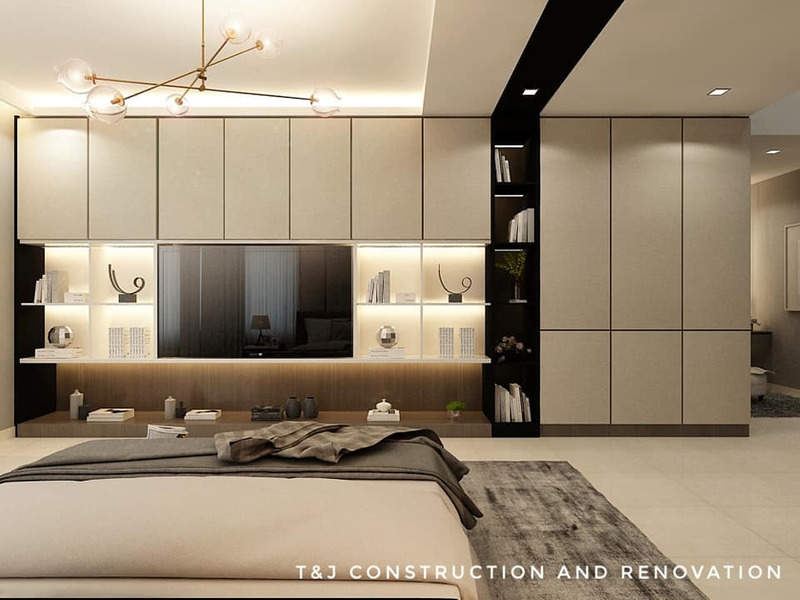 For 20%-50% less money and good direction, a reliable renovation contractor is capable of delivering some truly amazing results. Design and image courtesy of T&J Construction and Renovation, renovation contractor Johor Bahru.
2. Familiarity with their work equals quicker, better results with fewer errors.

Familiarity breeds competence, and not straying from the usual formula means they are good at what they do. This means fewer errors, quicker work and lower cost.
Also, renovation contractors are not mindless automatons that build dungeons from hell if not told exactly what to do. They just need a little direction: here's an interior design idea to get you started.
After all, an interior designer really is a glorified contractor. You'll be surprised by what they can come up with.
A stylish lighted ceiling; design and image courtesy of W ONE STOP Renovation, a known reliable contractor in Johor Bahru.
3. Interior designers do not necessarily save you time

One of the key advantages that interior designers offer is the high level of autonomy they take on. In a perfect world, this should free clients of all responsibility associated with the renovation project. But things don't always go smoothly.

Like what the "resource curse" does to resource-rich countries do, the high prices that interior designers command make clients feel entitled to the best - a situation that could delay an entire project indefinitely and send it spiralling into development hell.

The moral of the story: if you (the client) have a clear idea of what the final result should look like then you're probably better off heading straight to a contractor.
3. The renovation contractor does not ask questions
Renovation contractors do what they're told, which isn't always a bad thing.
For one, they'd have no inclination to push an idea that's not yours down your throat. Artsy types are notorious for having strong opinions, and the businessman among them to cut cost.
The interior designer from hell. Image courtesy of Pixabay.com

Whatever the motive, I wouldn't be surprised if they tried to convince their clients to shove their ideas aside in favour of accepting what they have in mind (usually their specialty design) with the goal of simplifying the planning phase
Which, incidentally, is what they're paid to do, after all. Another trophy to show off in their list of achievements (a.k.a. portfolio).
Giving your contact details to your designer could also open the flood gates to a torrent of "helpful suggestions" - all in an effort to get you to change your mind to suit their needs. Never mind what you want. And to think that you agreed to pay them for this...
____________________________
Find a reliable renovation contractor in Johor Bahru and get personalized quotations for your renovation project today.
____________________________
Worried about getting cheated by your contractor? Listen to both sides of story and learn more about the relational dynamics between contractors and homeowners.
Request for quotes and we'll match you with a selection of Interior Designers!
Previous
Home Living Innovation You Need Now
Next
Wearable Tech For The Smart Home