Tips On How To Design A Home With Dogs In Mind
Interior Design & Decor
3086 views
3086 views
Designing A Dog-Friendly Home - Who Let The Dogs IN?

As pet owners, we strive to provide only the best for our furry and non-furry friends. We pamper our companions with decadent treats and spoil them with our undivided attention. And we adore them as though they are part of our own family.

Thus, it's no surprise that a majority of homeowners prefer to have their pets living with them in the house. In particular, dog owners have long had this conundrum weighing on their conscience.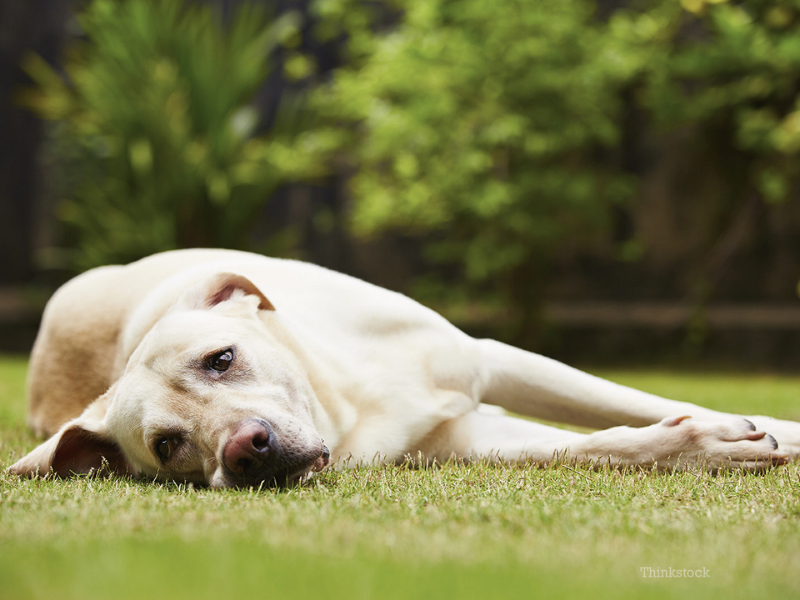 Image via pethealthnetwork.com
Do I leave my
buddy
outside in the
blazing hot sun
or
cold rain
? I don't have a
yard
, will keeping my
dog
inside be a problem? Or will my
canine companion
destroy my
living room
while I'm at work?
Image via housebeautiful.com
Instead of
banishing
your
furry friend
to the yard, we'd suggest decorating your
living spaces
with your
dogs'
needs in mind.
Dog-friendly
, more specifically
pet-friendly
decorating has become a
full-blown trend
in recent memory.
Home furnishing for dogs come in almost any colour, sizes, and styles. From covert to chic style, you'll be spoilt for choice. Though, it's up to you to keep Fido house-trained.

In this article, we've compiled tips on how to design your home to accommodate living with your canine compatriots.

The Basics Of A Dog-Friendly Home
Image via topdogtips.com
This doesn't only apply to
dogs
but to all
pets
in general. Similar to how you'd
baby-proof
a home,
dog owners
should take precautions to ensure the comfort of any
four-legged family members
. Comfort aside, these steps are also to ensure that your
dogs
will not go about
destroying
your
home
.
To that end, there are a number of basic things to look at when designing a home with dogs in mind.

Durable Flooring For Your Active Dogs
Images via carpetsandbeds.com, animalwellnessmagazine.com, effectcup.com
On top of our list,
durable flooring
is an absolute necessity when you have
dogs
in the house.
We'd suggest opting for hard surfaces such as bare flooring. But do not misunderstand, "bare" doesn't mean it has to be boring. Painted concrete can look great, with the added advantage of being durable. And brick or terrazzo will work just as well. Moreover, concrete flooring is also cooler during hot weather, which is a boon to our furry buddies.

Image via citymag.co
Hardwood flooring
is also a great option for your
dog-friendly
home.
Hardwood flooring
such as
laminate
and
oak
are easy to
clean
up and add a
warm glow
to a room. Though, we'd remind you that they're susceptible to
scratching
and
stains
if not treated properly.
Image via builddirect.com
Alternatively, ceramic tile is also an excellent choice of flooring. It's easy to clean and is resistant to any stains your dogs can dish out. Ceramic tiles are also toe-nail proof, and it makes a room look sleek and elegant. Similar to bare flooring, ceramic tiles also offer furry dogs a cool place to nap on.
However, we'd suggest avoiding porous materials such as marble and natural stones. Reason being, they aren't as pet-proof as other hard surfaces.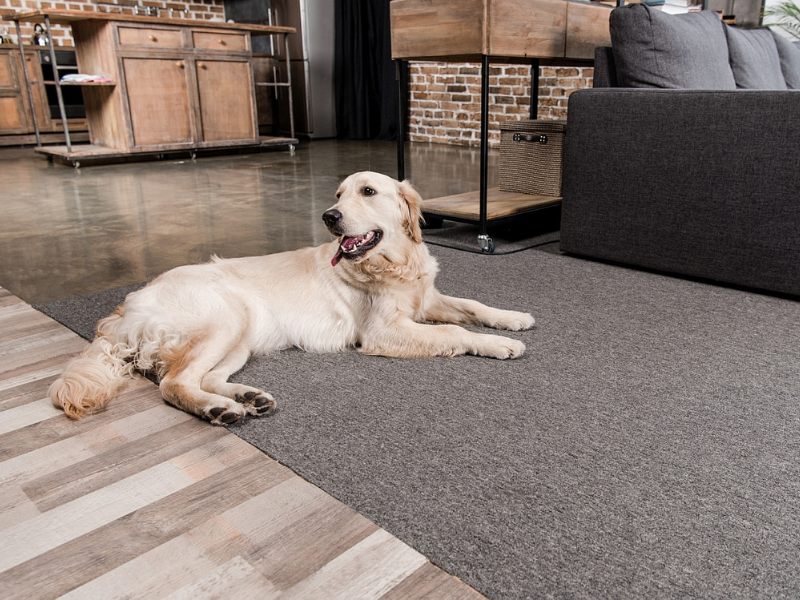 Image via k9ofmine.com
Bonus Tip: Slip-proof rugs are a great addition to any room frequented by your dogs. They look great and will protect your hardwood floors from scratches.
Carpets In A House With Dogs: Yay or Nay?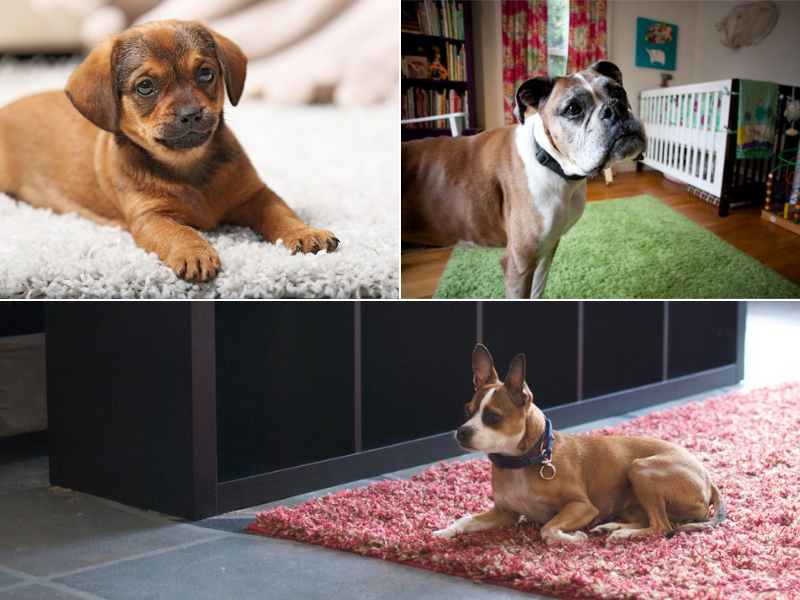 Images via mashable.com, hgtv.com, k9ofmine.com
While we're on the subject of
rugs
, we'd recommend skipping
wall-to-wall carpeting
if you want your
dogs
in the house.
Carpets
are generally a bad idea as they absorb
odours
,
trap pet hair
, and
soak up stains
like a sponge. Plus,
dogs
can easily
destroy
and
unravel
your precious
carpets
while they move about.
On the flip side, having some carpeting at home can also be beneficial to your pets. Carpeting is a safer option for your dogs because it offers a non-slip surface for moving about, perfect for older dogs. Also, carpet is a good choice for your own sanity as it absorbs sound from the clicking of claws on a hard surface.

Images via nymag.com, thesprucepets.com
In terms of looks, you're also better off skipping
light tone carpeting
. Instead, go for
darker earth tones
or
multi-colour patterns
to mask your dog's shedding. We'd even recommend using
carpets
that match the
colour
of your
dog's fur
. This way, your
dog's fur
will be more
hidden
and less of an
eye-sore
.
So, if you must have carpets in your home, choose a stain-resistant low-pile carpet. This makes it so that it's easier to clean up accidents. Also, avoid continuous loop carpeting that can unravel when caught by your dog's toe-nail. Additionally, try to install an antimicrobial, moisture-resistant pad to ensure long term durability.

Fashionable Furnishing Fitting For Your Canines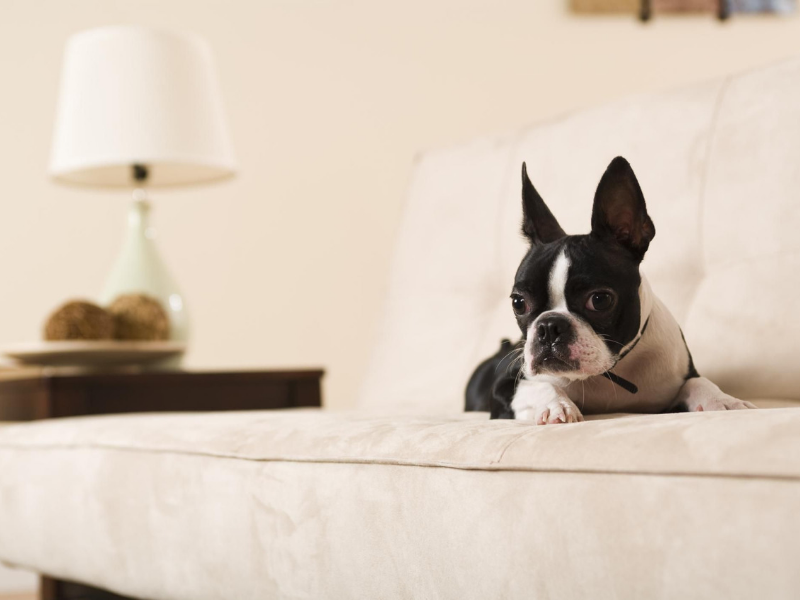 Images via thespruce.com
In a similar vein, choosing the appropriate
furnishing
is paramount to reduce your
clean up work
. In particular, choosing the right
upholstery fabrics
will make your life with your canine friend easier.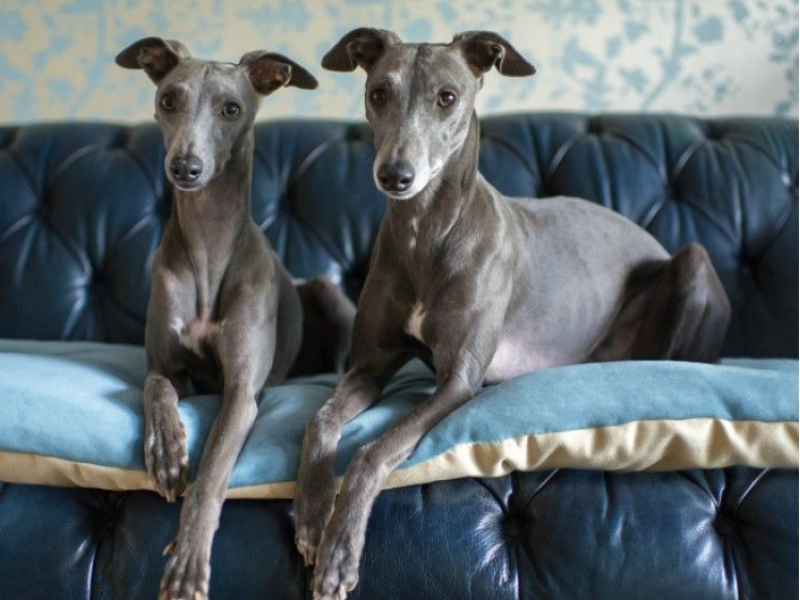 Image via thecountrystyle.co.uk
Avoid buying
chairs
and
sofas
covered in
velvet
or
chenille
as they can attract
pet hair
. Also,
delicate fabrics
can be ruined by pets rather easily while
tweed
can be a nightmare to
clean
.
Denim, canvas, and synthetic materials are the best options when it comes to easy-to-clean upholstery. These materials are resistant to stains, moisture, and odours that your dogs bring.

Images via sofasbysaxon.com, medium.com, hgtv.com
Leather
is also a good choice for any
dog owner's
furniture due to its
durable
and
easy-to-clean
nature. But
leather
is not
indestructible
, it can be
punctured
and
damaged
by claws. And these holes aren't easily repaired either. Furthermore,
leather
can also be
scratched
so you have to prepare yourself for this inevitability.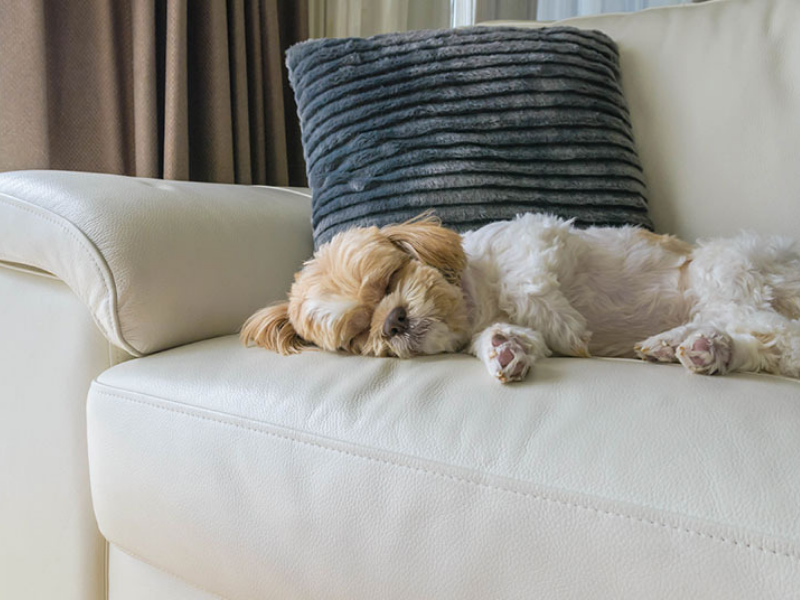 Image via chelseacleaning.co.za
As we've established before, choosing
fur-toned upholstery
is an excellent choice to hide
dog hairs
. And adding
accent pillows
in
washable fabrics
will do wonders to the
aesthetics
of your furnishing.
Otherwise, choosing tightly woven upholstery fabrics with patterns will also work well here. Opt for textures and darker colours that help camouflage stains and dog hair. And most importantly, ensure that your fabrics can be slipped off and washed at a moment's notice.

Lastly, the "no furniture" rule is an option if you can train your dogs. But if that doesn't work then placing throws on your cushions and chairs will help a lot.

Bonus Tip: Washable fabrics isn't limited to your upholstery and cushions. If your dogs sleep with you, protect your mattress by covering it with a thick pad. Use cotton bedsheets in a similar colour to your dogs. And duvet covers work particularly well here.

Lay Off The Wallpaper, Painted Walls Are The Way To Go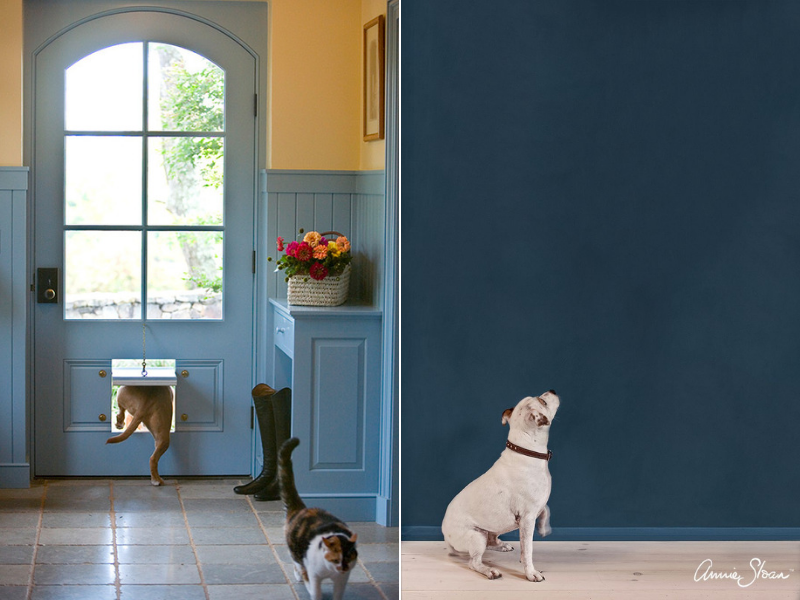 Images via traditionalhome.com, anniesloan.com
Pets
, like
kids
, are incapable of considering the
consequences
of their
actions
.
Dogs
can do a number of things to
damage
your
walls
, whether intentional or not.
They like to rub up against it as they pass by, sometimes accidentally ripping your
wallpapers
. And
dogs
with
jowls
can dirty a wall with
drool
by shaking their heads.
While unintentional, the fact still remains, your dogs are capable of damaging your wallpaper.
So if you're keen on adding patterns to your walls, we'd recommend skipping wallpapers and opt for stencils. Save your favourite wallpapers for rooms that your dogs don't frequent often.
Image via akc.org
Don't like
wallpapers
or
stencilled patterns
?
Paint
your walls in
beautiful solid colours
and keep
paper towels
at the ready to wipe away
slime
. A
semi-gloss finish
is a great choice for rooms that see a lot of activity with your dogs. And a
satin-
or
eggshell-finish
makes for an
elegant
look for
living areas
. If you like a
matte finish
, make sure that you choose a
washable flat paint
.
Create An Animal Room Near an Entry
Images via traditionalhome.com, boredpanda.com, decoist.com
At times, we need our own
private space
to unwind and rest, and our
pets
are no different.
Dogs
like their own
dens
as much as we love our own
rooms
.
For the privileged, it's not uncommon to dedicate an entire room to your furry friend(s). Think of it as your dog's own bedroom, playroom, and sanctuary rolled into one. Your dog will be super ecstatic at the prospect of having somewhere to lay down for the night. Though, we can't guarantee that he/she will stay put once a thunderstorm comes. Bring on the snuggles!

As far as room layout goes, you'd definitely want your dog's room to be near an entrance. This way, your dog won't track dirt and mud throughout your house after a day of frolicking in the yard. In other words, you could have your dog's room act as mudroom that stops grime at the door. Accordingly, keep an old towel handy for wiping muddy paws clean before your dogs have a chance to track dirt through the house.

Also, flooring and walling that's easy to clean should be in place for your dog's room. Any delicate furnishing should be stitched from a stain-resistant fabric. Wall hooks will help keep leashes tangle-free. And also include a cabinet or cupboard to store your pet supplies.

Image via traditionalhome.com
If you don't have enough space then a simple
dog bed
will do just as well. There are a variety of dog beds out there, from those with washable fabrics to those catering to dogs that love to chew. Renowned pet blog Bone and Yarn recommends these dog beds for chewers.
You can place your
dog's bed
anywhere in the house. For instance, beside your bed, in the kitchen, beneath cabinetry, under a window seat, and so on.
Final Word
Dogs are Man's best friends. And as our best friends, don't they deserve to have all the love and comfort we can afford them? One way of showing our love for our pets is to accommodate their living habits to ensure a healthy environment for both pet and owner.

While some options may lack the finesse that homeowners crave, the pet-friendly home movement is still going strong. Now, who says you can't have a fabulous home while owning a dog?

Request for quotes and we'll match you with a selection of Interior Designers!
Previous
4 Interior Design Tips for a More Energy Efficient Home
Next
Interior Designer vs Contractor - How are they Different?