Top 8 Themed Bedroom Designs Your Teenager Will Love
Interior Design & Decor
1878 views
1878 views
Has your teenager outgrown their bedroom that you last decorated when they were a kid of eight years old? Or, your teenager may be going through a "new year new me" phase. And, want to transform themselves in all ways including their bedroom.

Whatever the case, a good bedroom redecoration is due every few years. Or, simply whenever you feel you need one if you have the disposable finances.


So, parents, naturally you're obliged as the breadwinner to redecorate or revamp your teenager's room. But, you find yourself at a block because you lived your teenage years decades ago!


If you're out of ideas on how to give your teenager a themed bedroom design revamp, worry not. Here are 8 top themed bedroom designs suitable for any teenager.
1. Vogue, Edgy Fashion Inpired Theme
Is your teenager a little vogue fashionista? Or, simply just into fashion? So, think luxe! Deck out their bedroom with clean gold or brass applique furniture. Be it with a lamp, side table, bed frame, or mirror.
Add solids, stripes or chevron pattern for an edgy look. For colors, opt for neutrals like black, grey, white, and some touches of soft pink.
Fur is big in the fashion theme so try adding a faux fur rug or throw blanket into your teenager's room. It creates an instant cozy look for the room. Knits and velvet can add the same coziness and fashion feel.
Incorporate sequins too for added glam. Texture mixing is important to achieve that fashion theme.
Add a lot of art. Hang portraits of style icons. Karl Lagerfeld, Coco Chanel, Anna Wintour, and maybe Jackie Kennedy if timeless elegance is your teenager's thing. Framed design sketches and a cloth swatch board are also very fashion related art pieces. Or make a famous fashion brands collage board.
2. Vibrant and Electrically Colored Theme
Is your teenager a real vibrant character? Then show it in their room. Go for a vibrant colors theme for your lively teenager.
Keep bright colors going through the room. Corals, turquoise, pinks, yellows, or whichever are your teenager's favorite colors. The most popular colors in a vibrant room are corals and blues.
Match and balance them with neutral white base furniture pieces. Try not to go overboard. Keep the vibrant apparent but not overpowering. So, have your main furniture neutral but accessories vibrantly colored. For example, a vibrant desk chair, duvet and pillows, rugs, or art/ decor to go with your white base furniture.
3. Pretty in Pink Theme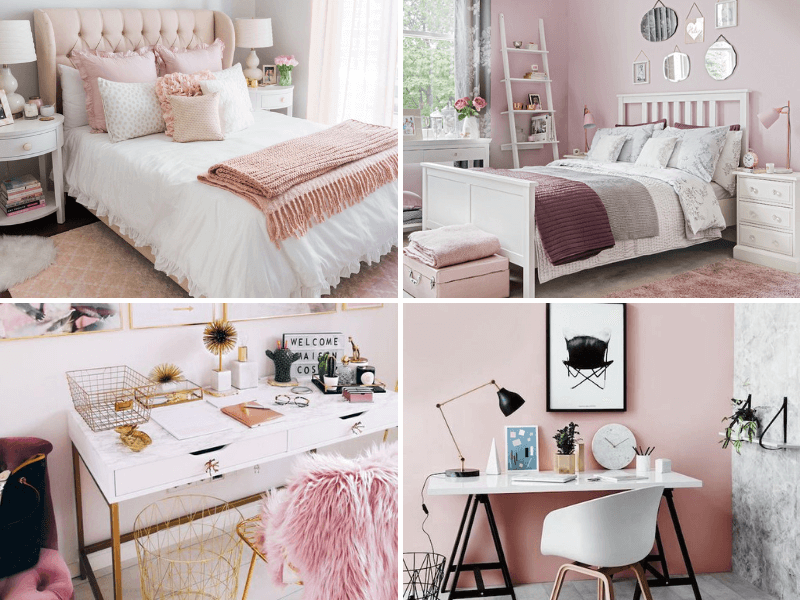 Is your teenager very feminine and soft? Give your teenager a feminine den. Opt for soft pinks, greys, whites, and soft golds for a blush romantic room. For the most feminine looking materials, go for furs, fringe, knits and chiffons.
Floral motif adds a very feminine touch to any room. You really just have to mix and match your pinks, whites, and greys and voila! There is no shortage of feminine romantic room inspiration on the net.
4. Sports Center Fridays Theme


If your teenager is really into sports, turn their room into a sports haven. Incorporate their favorite sport into the decor. Use their equipment as decor, and hang portraits of their sports idols and favorite teams.
One cool way to pull off the sports themed room is to get a sports-themed mural for your teenager's room. There are plenty of sports-themed furniture pieces and decor online to pull off the theme.

Your teenager is into football? Need ideas? Try getting them a football-shaped lounge chair, football pitch rug, and framed autographed jerseys for decor.
5. Minimalist and Mature Teenager Theme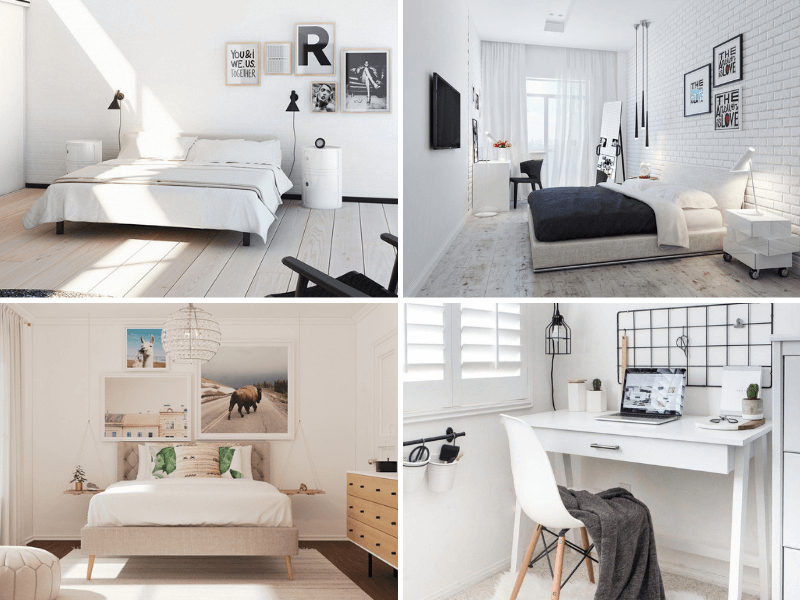 If your teenager has maybe outgrown themes, opt for something simple and more adult. Make their room a mature minimalist or Scandinavian design theme. When you opt for this, chances are an update isn't due anytime soon as probably won't quickly outgrow it.
The minimalist theme is all the rage nowadays so it won't be hard to recreate. It may also work in your favor when it comes to cleaning your teenager's room. As it's generally less cluttered and filled.
6. Nature/ Landscape Lover's Dream Theme
Is your teenager a nature enthusiast? Then great! Show it through their room with a flora and fauna nature theme. Incorporate a lot of greenery and plants be it in patterns, decor, or furniture. It doesn't have to green literally. Have it clean and white with touches of greenery.
Nothing screams nature like rattan furniture. Bamboo, wood, and repurposed material are cheaper and easier to find alternatives that will do the job as well. Try to put in a rattan chair, side table, or maybe even a lamp.
Hang lots of nature art. Anything from landscapes, plants, flowers, animals, and jungle pictures or paintings. The nature theme is such a great theme to show off your teenager's eclectic earth-loving spirit.
7. Musical Hipster Theme
You probably know already, teenagers love their music. Be it as a hobby, pastime or therapeutic escape. Some teenagers have a deeper passion for music than others. If your teenager loves music, then make their personal space all about it.
Think music hall of fame. Hang framed records, autographed posters or portraits of their favorite musicians. You can even hang musical instruments like an electric guitar. If hanging an actual instrument is a little too hard, have the instrument painted onto the walls.
Have you seen how The Hard Rock hotel is decorated? Try to recreate that. Want more music into the room? Try music sheet wallpaper or a music inspired mural in the room. Or, have an accent wall covered in your teenager's favorite album covers.
8. Laid Back Boho Chic Theme
Teenagers are very care-free individuals. So, why not make their rooms as equally laid back with a boho themed room. Boho is such a popular theme that is here to stay. It even is an in trend for 2019.
Maybe get a crystal piece for your teenager's room. It's great for eliminating bad energy and looks great as decor. Incorporate and mix fabric patterns. Try incorporating a bit of macrame and knit. Or, have an accent wall covered in a boho patterned tapestry.
Cover their bed in a boho bedspread. Try a mandala patterned duvet, knitted throw blanket and lots of mixed patterned throw pillows. Top it off with a dreamcatcher above their headboard.
A hammock is a very boho room piece. Get one in your teenager's room and I'm sure they'd spend a majority of their time on it.
Just make sure you freely play with your colors, patterns, and accessories.
So, ultimately have fun when you're decorating your teenagers room. Have them involved because who know's their taste better right? You can turn it into a family parent-child project that'll bring you closer at the same time.
All the best in giving your teenager the best themed design bedroom!
Request for quotes and we'll match you with a selection of Interior Designers!
Previous
Kid-Friendly Entertainment Rooms You Need
Next
How To Create The Perfect Playroom For Your Kids