Apartment Design Ideas for Young Couples
Interior Design & Decor
2937 views
2937 views
Moving in together with your other half can be exciting. In the meantime, it is also stressful considering you just started out in your career and had to tighten your belt to rent or buy your first apartment.

But that doesn't necessarily mean you should compromise with the designs of your new home. While it might just be a tiny rented place, it is also one you would gradually love and appreciate as it represents your design preferences and personalities.
No matter how small your home or how limited your budget, there's simply no reason to hesitate to create your dream couple apartment. Read on and check out some wonderful apartment design ideas for young couples in this blog!
Living Room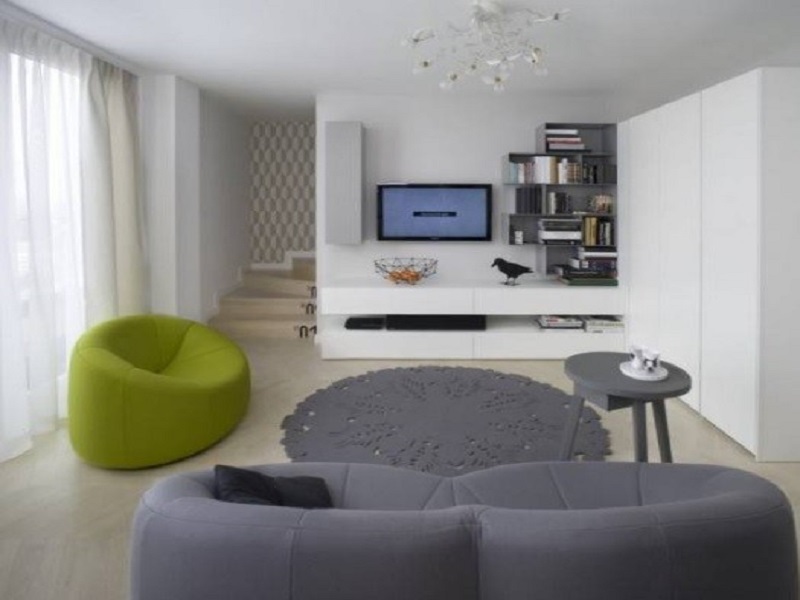 Small living room design (Image via lushome.com)
An ideal living room of a small apartment should be fresh, airy and bright. As such, a light interior decorating color schemes such as whites and greens should be used to make small spaces appear larger.
Light gray color tones are another gorgeous alternatives. Black and crispy white decorating creates beautiful contrasts that energize the living room. Colorful accents declutter modern interiors and balance decor in neutral colors.
Urban industrial living room (Image via modernoctopus.com)
Meanwhile, the living room should be cleverly arranged with eclectic furniture and decorations. They accentuate a stylish atmosphere and give an artistic touch to the beautiful home interiors.
The simplicity and elegance, combined with creative accents in optimistic and relaxing colors, can make for wonderful day areas and give a modernistic feeling to the small living room.
Bedroom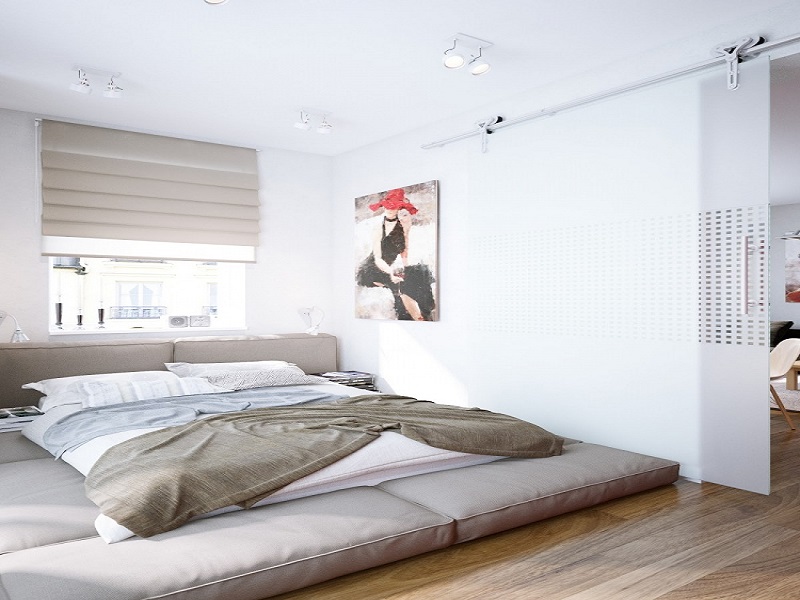 Comfortable small bedroom (Image via modernoctopus.com)

The light and simple color scheme can be similarly applied like how you decorate your living room. It works like a charm and turns your bedroom into a lush and breezy space.
In addition, the bed is placed directly underneath the window, so it can bask in the splendid morning sunlight, as if to make sure you wake up to yet another beautiful day every day.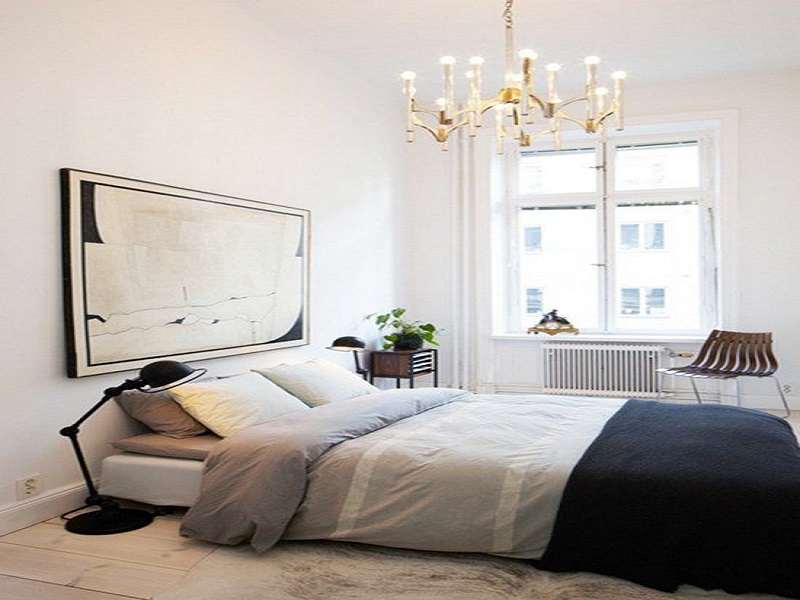 Scandinavian-style bedroom (Image via modernoctopus.com)
You may also take advantage of modern lighting elements to give your small bedroom a Scandinavian look. For instance, the desk lamp-like fixture on each side of the bed is just perfect for those lazy evenings curled up with your favourite novel. The romantic chandelier thats hangs above the bed reminds you and your partner that each night can be special.
Romantic bedroom design (Image via modernoctopus.com)
Alternatively, you may go after the white and dark brown, with dashes of red of this bedroom design. They simply mean to remind you how sweet life together can be. To make it even better, the canopy, with the overhanging wreath of LED lights, gives you a dreamy view of a starry night sky.
Kitchen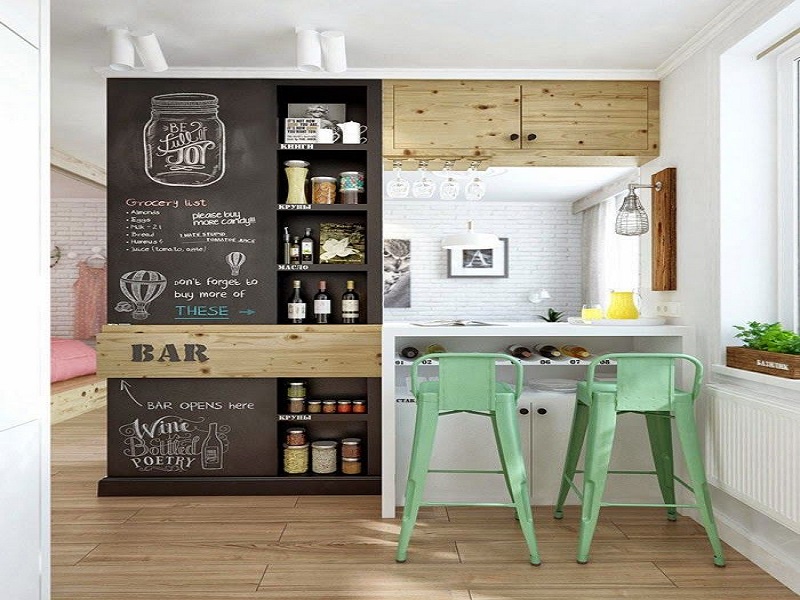 Creative urban kitchen design (Image via modernoctopus.com)

When you're young and in love, everything is a source of creativity and inspiration. This open kitchen is designed with a small home in mind, and it is fresh enough to belong in an urban young couple apartment.
The bright color scheme offers a clean and contemporary look, allowing you to spend quality time together with your other half in the kitchen. What's more, the blend of typography and a chalkboard wall potentially sets up a canvas for all your projects, designs and ideas.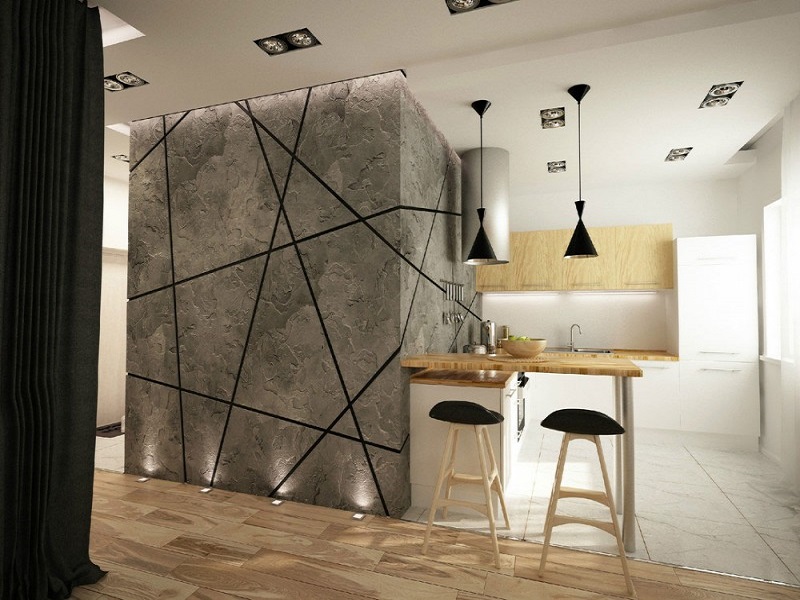 Minimalist kitchen design (Image via modernoctopus.com)
This sleek and modern kitchen is elegantly spectacular due to its use of white, black, and gray color palette. These hues are complemented by luminous tones of mixed wood. It is a fully functional kitchen containing all the appliances a young couple would need to turn every meal into a feast.
Bathroom
White and blue bathroom with wooden vanity (Image via decoist.com)
Bathroom is where you will get a refreshing bath after a day of hard work. However, an inelegant bathroom can almost instantly ruin your and your partner's day. That is exactly why you need a bathroom which is as cheerful as your modest living room and the rest of light-filled modern apartment.

Therefore, in order to make sure your bathroom feels relaxing and efficient, white and blue are no doubt the most popular color choices for an apartment bathroom. The idea of a blue and white bathroom imitates a luxurious spa-style setting and this give the small bathroom a relaxing visual appeal.
Refreshing tiny bathroom in blue and white (Image via decoist.com)
For example, you can either choose the lighter shade of blue as the primary color in the bathroom and let white take a backseat, or you can paint it white and use brilliant pops of blue as smart accents. Altogether, you can be sure that the duo works for a variety of styles - from coastal and beach to Scandinavian and minimal.
While a young couple apartment is usually small, the design ideas featured in this article prove that it doesn't have to be cramped, cluttered, or lack in the style department. In fact, it doesn't even have to be expensive to be memorable.
Since most young people live in small apartment, the design ideas we gather above are some you can easily apply to any space regardless of its size. Modern interior design ideas are great for adding a fresh feel to existing homes. Bright and stylish, they make the small spaces look spacious, airy and creative.
After all, tiny apartments are just perfect for young couples who are living on a budget. So, the next time you want to decorate your bedroom, living room, kitchen, or bathroom in your couple apartment, review these design ideas for some inspiration. They guarantee to create dynamic interior design and decor for a contemporary lifestyle.
If you like this article, you might find the following interesting too:
Request for quotes and we'll match you with a selection of Interior Designers!
Previous
IKEA's Space-Saving Solutions for Your Dream HDB
Next
DiDio Engineering Slab by Luxx Newhouse: The Ingenious, Stunning Innovation