Top 10 Predictions for Furniture in 2019
Interior Design & Decor
1645 views
1645 views
A new year has just been ushered in and everyone feels it's an apt time for "out with the old, in with the new". Are you looking to add some new flair to your home with a little revamp? Or looking for a total overhaul?

Keep reading. This article covers all the hot furniture trend predictions for the new year. Be able to revamp your home the right way while staying in trend.
Here are 10 of the hottest furniture predictions in 2019.
1. FEMININE/BLUSH TONED BIG FURNITURE PIECES
2019 furniture predictions see a surge in femininity channeled through pops of blush tones in decor. Blush, dusty pink and bronze are in. Don't overdo the bronze though. We mean to leave overdone bronze this new year along with rose gold.
Dashes of soft pinks in warm cozy rooms break up the expanses of warm neutrality to update them. Blush is the new go-to neutral. It marries well with greys and neutrals to add an air of tranquility. Combined with bolds, it steps back to shine the bold.
Blush chairs, sofas, and lounge chairs in a maximalist minimal room are what we see rising in 2019.
2. SUSTAINABLE, HANDMADE, HANDCRAFTED AUTHENTICITY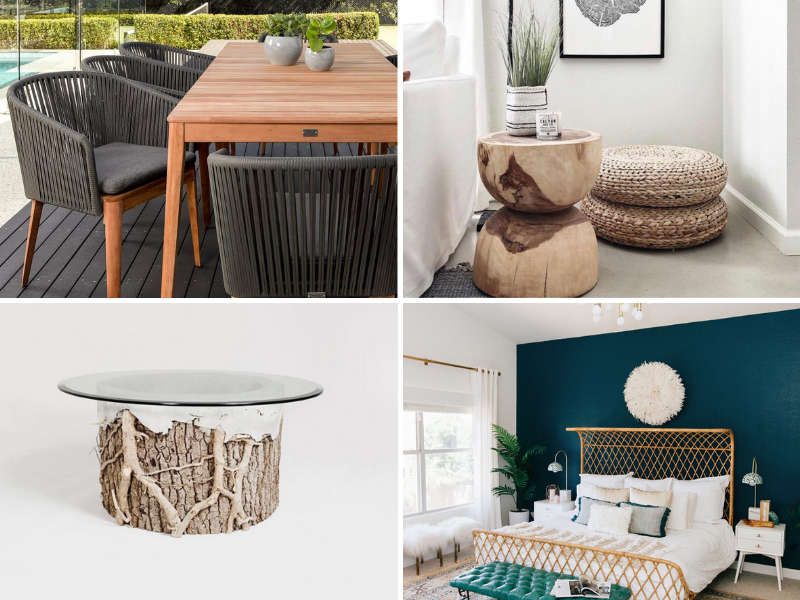 Expect to see the rise in popularity of sustainable materials and nature-inspired furniture. Organic, recycled, sustainable, and handcrafted is what you should expect. People are more in tune with knowing the stories behind their furniture now.
Expect furniture made of sustainable materials. Like rattan, clay, ceramic, textiles, bamboo and reclaimed materials are all in. People crave the integration of earth and nature in furniture as a reminder to stay grounded in 2019.
Furniture that represents natural elements in design will be big too. Also, look out for recycled and recycling pieces too.
3. FOUR-POSTER ENVELOPING, COMFY BEDS
For your bedrooms, note! Aim for comfort. Gone are the days of compromising comfort for style. Homeowners will be looking for comfort, coziness, and functionality in beds. No skimping on comfort!
Think comfortable, warm textiles and upholstery for your beds. As well as well cushioned, soft mattresses. Incorporate soft rugs and lounge chairs in your bedroom. Keep with the trend and create a comforting den for you to lounge in for hours.
As 2019 ushered in, it seems a foreboding sense followed. In uncertain times, people crave spaces that fulfill them with comfort and safety. Four poster, canopy, enveloping beds are in.
Beds will be more womb-like to provide a sense of nurture and protection in homeowners. These beds are the closest thing to a hug you can get from your furniture.
4. BOHO CHIC FURNITURE TWIST
Yes, it's back! We all know boho to be one of those trends that come and go often. Expect it to be back with a big bang in 2019. Boho is in with more plays especially on vintage and curved furniture pieces.
See layering and patterns apparent in rooms through the furniture. But, done a little cleaner and brighter. Layer fun printed furniture and textured pieces to bring out the boho vibe.
Need inspiration? Try a solid colored fur sofa throw rug over your bright and mildly patterned sofa. Remember! Keep it laid back to avoid completely ditching the sophistication.
5. STATEMENT POP OF COLOR ACCESSORIES
2019 is here and the new trend is maximalism. A 180 degree from the minimalism trend that was so big all the past years. More is more! Since that trend is in we're ditching subdued colors and pieces to welcome pops of color.
Try out 90% neutrals and 10% color. That's the recommended soft spot. What better way to fit in the 10% pop than with statement vivid accessories. Try colorful pillows, rugs, paintings, and statues. Incorporate the pop further with mixes of textures and patterns. Sticking with the last mentioned furniture trend of a boho twist right?
Your ever so popular pastels and neutrals will take a backseat to deeper, more vivid tones in 2019. Less focus on minimalism, more push for excess, brighter, bolder, bigger and overall pop.
6. ACRYLIC FURNITURE
Want to push the maximalist trend but afraid you'll overdo it? One great furniture trick that could balance out your pops is acrylic furniture.
Acrylics give a room the twist without hogging visual real estate. It's also a great way to bring a design pop without looking too 'busy'. Layer acrylics with organic items and other popping pieces. Do it sparingly for the right amount of 'more is more'.
7. WARMER & DARKER WOOD FURNITURE
Pops don't only have to shine through bright color. They can shine boldly through the lack of bright colors too. That's apparent in up and coming furniture trends in 2019. Warmer, darker woods are making a comeback.
These are back to provide more comfort and a grounding sense that people are looking for more now. See warmer/darker wood countertops, cabinets, bookshelves, tables and the like, make a place in homes. Gone it seems the days of tried and true light or whitewashed woods.
8. CURVED FURNITURE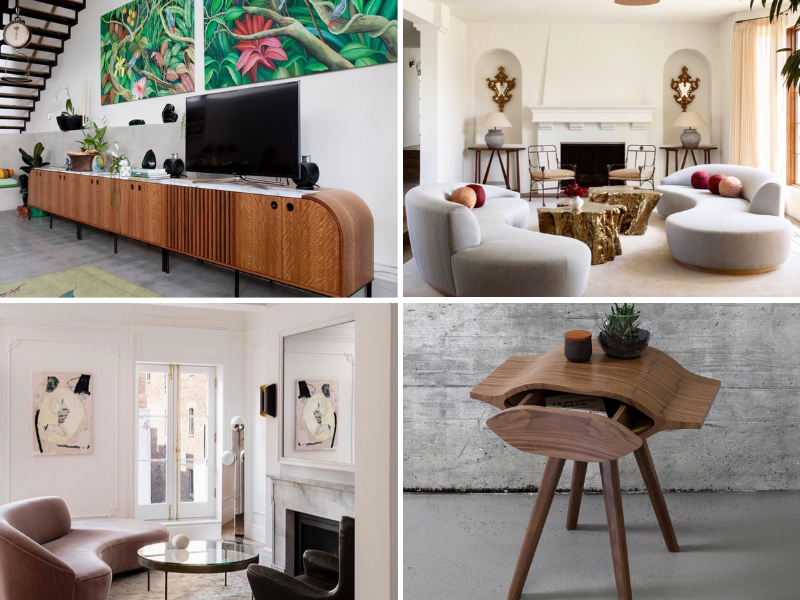 Get ready to embrace the curvy design aesthetic with rounder furniture. Think 1970s rounded furniture. Don't downplay the soft lines on curved furniture. As we expect to see rounded edges and graceful lines get big in 2019. This is keeping with the comfortable, cozy, and soft theme that all the trends are centering.
Need ideas on how to play this furniture trend well within your home? Try getting some rounded back chairs or a Danish banana sofa for your living room. Little touches of curves soften up and give coziness to a maximal looking room.
9. LUXE REVIVAL; KEEP SUBDUED THOUGH
Yeah, minimalism may be out but note that Rome wasn't built in a day. Trending now is soft maximalism as minimalism hasn't completely left. So, luxe is back in! But, in a subdued manner.
The luxe we're expecting a comeback from are fabrics and furniture that have a touch of decadence to them. Incorporate sumptuous fabrics and vivid velvets in your furniture. Try luscious upholstery too.
Try out an Egyptian blue velvet headboard in your maximalist or 'minimalist with a pop of color' room. Add a few jewel-toned textured velvet throw pillows to bring pop into your white sheet and duvet duo. Velvet is a great way to add luxe but still maintain coziness and comfort in your furniture. Remember: a touch of decadence. Don't overdo.
10. MULTIFUNCTIONAL FURNITURE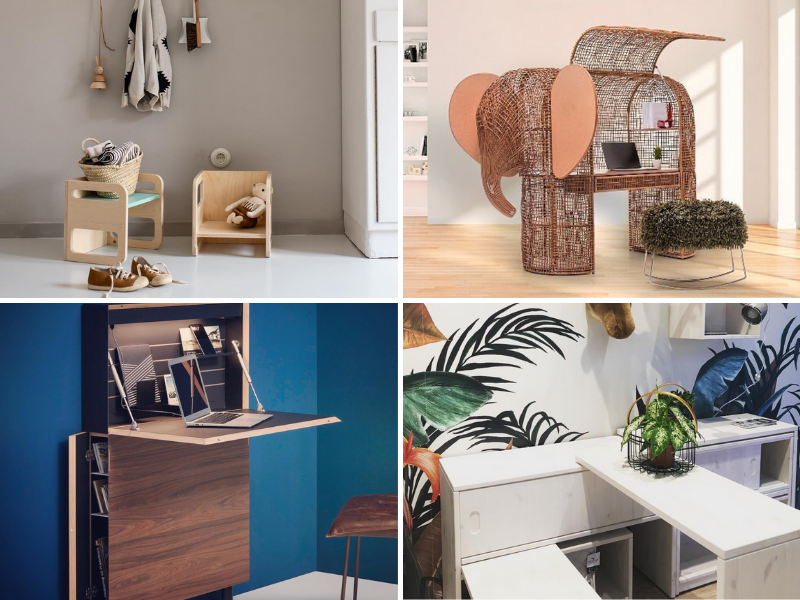 2019 seems to have brought an air of uncertainty and disorder. So, interior design is pushing more towards simplicity. Therefore, professionals predict seeing a surge of multipurpose furniture in 2019.
Also, a lot of us live in small spaces with dynamic lifestyles. So, in 2019 multifunctional furniture seems only apt. Make the most of your space right. A lot of contemporary furniture pieces center multi-functionality, flexibility, innovation, and art. Expect to see them peak in homes in 2019.
Multifunctionality also pushes the fact that your home is more about function and use.  As opposed to only style. This further pushes forth comfort over style in your home. Something which is what 2019 is going towards.
Feeling excited to hop on the "out with the old, in with the new" bandwagon? Now you're covered for furniture predictions you're good to go. Get your up-to-date home without possibly offending the interior design expert.
Remember still, that trends come and go. The new year is about aptest time to give your home a much needed scheduled revamp.
If you enjoyed this article, check out these similar ones too!
Request for quotes and we'll match you with a selection of Interior Designers!
Previous
5 Wallpaper Trends That Say 2019
Next
10 Things To Get From IKEA's SOLGLIMTAR Collection For CNY 2019!