Harnessing Natural Light To Uplift Your Mood
Interior Design & Decor
6688 views
6688 views
Do you know natural lights could affect us both biologically and psychologically? Studies show that sufficient exposure to natural light not only helps lighten the feelings of depression, but also heals mind, body and soul.
Using natural light to stimulate the endocrine system and regulate our body's processes can help to promote sleep and even increase our cognitive performance such as reaction time and activation.
Speaking of which, have you ever wondered how to capitalize on this natural resource in your home interiors in order to reap its benefits? In this piece, we provide 6 tips on how to harness natural light to uplift your mood. Read on to find out more!
1. Open The Curtains Frequently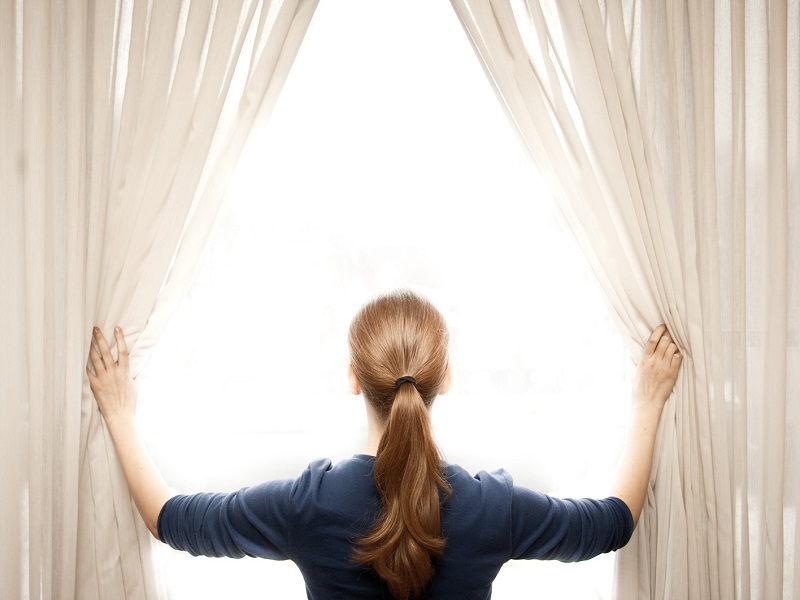 Image via rollerblinds.com.sg
The easiest way to let more natural light into your home is to develop the habit of opening the curtains every morning. Depending on the weather, simply opening the curtains could provide enough sunlight to brighten the entire house.

In addition, curtains can help regulate the amount of sunlight getting into your home. You can close your curtain a bit if you feel the sunlight is too much. Likewise, you can open them if you want to let more natural light in. In that way, it allows you to modify light exposure to adapt to different times of day.
As such, it is apparent why curtains are considered to be one of the most essential fixtures at home. They are an elegant solution to natural light problems. Thus, we recommend homeowners to choose a semi-transparent curtain or sheer curtains by HM World Group as it comes with a finishing elegance touch.
2. Paint The Walls With Bright Colour
Image via diynetwork.com
Painting your walls with bright, white colour is the number one way to reflect natural light back into your room. If your home has dark-colored walls, it may be time for a change because dark colors absorb natural light, whereas light colors reflect it. Therefore, painting the walls a light color could increase the natural light in your rooms and make them feel lighter.
This strategy is even more effective if the paint has a glossy finish, which is more reflective than matte or satin finishes. By using a high gloss paint for your walls, you give them a mirror-like effect, making more natural light to bounce off the wall surface.
3. Install Larger Windows And Doors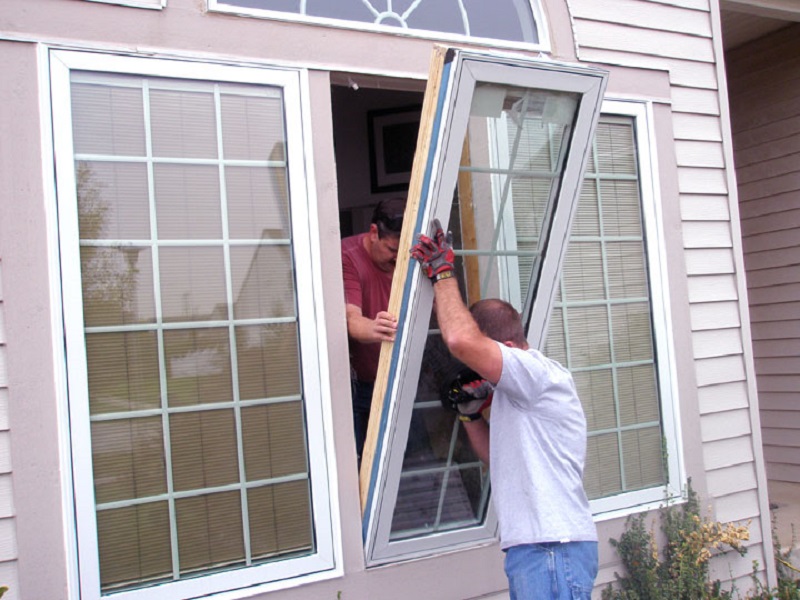 Image via jdiwindows.com
Some homes are built with small windows and solid wood doors, which could limit the amount of natural light available. Installing larger windows and glass doors will significantly increase the natural light in your home, though this may come at a cost.
To keep the costs low, we suggest homeowners to replace windows and doors that will make the greatest impact only. For instance, it would be sensible to only change the windows and doors that typically get the most sunlight if you are on a limited budget.
Then again, we understand many homeowners may be hesitant to make this change because they want to protect their privacy. This should not be a concern if you opt for frosted glass doors or windows. These doors and windows will allow natural light in, but they are not transparent, which means no one will be able to see inside your home.
4. Place Mirrors Opposite Windows
Image via thespruce.com
Some homes seem dark inside, even in broad daylight, due to the lack of windows facing outdoor sunlight. While it may not be practical to add more windows to your home, you can increase the amount of natural light indoors by placing mirrors on walls opposite the window.
For example, if your home has only one small window and some sunlight shines through, it is recommend to place a mirror in this way to let inbound sunlight reflect back into the room, thus magnifying the effect. Depending on its placement, you can even make a dark room seem brighter or a small space seems larger and more open.
That said, the more shiny surfaces, such as mirrors, you can add to rooms, the more light will reflect back into the room. Hence, they should become part of your decorating strategy as they help to bounce light around your room.
5. Place Furniture Out From The Windows
Image via mydomaine.com
Believe it or not, the way you place your furniture could affect the amount of natural light in your home. Tall furniture such as bookcases and wardrobes should always be perpendicular to the wall with windows. If they are placed in this position, they will not block natural light so the room will look much brighter and more spacious.
Depending on the layout of the house and how much light comes into it, a great arrangement can have an impact on how a room functions and how it feels. As such, placing furniture out from the windows can make a place to sit and relax while enjoying beautiful views of the world outside.
6. Install Light Wood Flooring
Image via brotherhoodconstructioncolorado.com
Long for more natural light or the illusion of more space in your home? In this case, we suggest homeowners to install light wood flooring to make their home feel brighter and larger. A perfect candidate of this will be the maple strip collection from ECOPLUZ LRVF as it gives your home some character without making it look dull.
Besides, if your light wood flooring has a light gloss to it, it will reflect light more effectively, creating an illusion of an even greater amount of natural light in your home. What's more, using the same light wood flooring throughout the home will throw more natural light into the whole house and give a real feeling of space and volume.
In conclusion, the biological and psychological benefits of natural light are self-explanatory. There are simply too many positive aspects of natural light to overlook. Appropriate amount of natural light in your home can really improve your mood and overall well-being. From an interior design standpoint, the lighter and brighter the home is, the more comfortable it is.
Nevertheless, the question is no longer the natural light's good but rather how to get as much of it into the home so that all kinds of good things can happen. Of course, we hope everybody could make the most of this wonderful natural resource by following the tips above. Let the natural light into your life and into your home and benefit you in many, many ways.
Request for quotes and we'll match you with a selection of Interior Designers!
Previous
You're Invited To A Design Crosstalk This January 12, 2019!
Next
Scanteak SG - Making You Feel at Home