5 Wallpaper Trends That Say 2019
Interior Design & Decor
4659 views
4659 views
In 2018, wallpaper trends experienced a revival, with tropical wallpaper covering some of the most stylish interiors on Instagram and Pinterest. Having said that, wallpaper is a relatively simple update, and today's patterns are far different from the '80s floral patterns of the past. Thinking about going the wallpaper route? Check out our predictions for wallpaper trends in 2019 below.
Bold Print
Image via decoist.com, wallpapersafari.com
According to Pinterest, homeowners are starting to embrace bold print wallpaper in all its forms and fashions. It has officially joined the ranks of other 2019 wallpaper trends, supported by a significant rise in internet searches for "bold print wallpaper" in the past year.
Bold print wallpaper encompasses tropical wallpaper—and a few of other iconic prints. Some of which include geometric prints, fruit patterns, stripes, and terrazzos. Not only is it a 2019 interior design trend, but it's also available in high and diverse supply. Simply put it, bold print wallpaper has all the elements of a trend that promises to take over our aesthetic world.
Moroccan Style
Image via amazon.com, aliexpress.com
Moroccan style is another wallpaper trend this year. Available in the form of more direct as well as deductive designs, Moroccan style gives us more interior design ideas and home decorating inspiration.
Applying Moroccan style in home wallpaper is an attempt to combine both classical and modern patterns in home interiors. These are all ethnic patterns that are directly used to create more elegance.
Wallpapers, through designs and deductive patterns, are more magnificent and able to express nobility and elegance. Paying more attention to modernity, they can be used in simple and small rooms to accentuate distinct design senses.
Diamond Pattern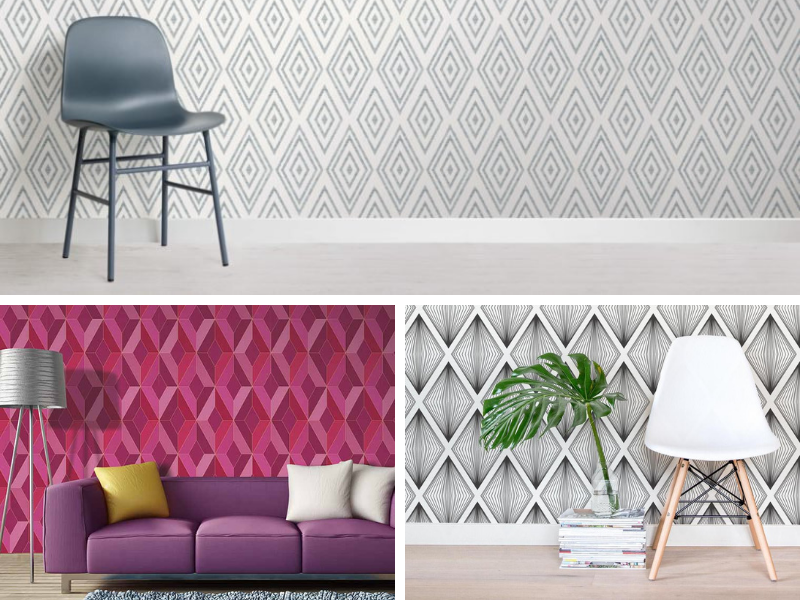 Image via muralswallpaper.com, mywowdecor.com, livetteswallpaper.com
This year, designers pay more attention to diamond-patterned designs. Focusing on different styles and patterns through the shape of diamonds, such wallpaper design can also be very different if incorporated into your home decor.
Terrazzo Pattern
Image via thespruce.com, pinterest.com
A terrazzo wallpaper is deadly attractive to many people. This trend is being integrated into the new products this year by combining with popular colours. You can readily incorporate it into your home if Terrazzo pattern is your preference!
Granny's Florals
Image via shejiben.com, zxzhijia.com, sizuo.com
Feeling intimate with Granny's Florals? We've got you! That's because it'll make you think of things in your grandmother's house in an instant such as the bedsheet, sofa cover, washing machine cover and so on.
This new season, designers have chosen to return to the true and original state in its design, letting us to reminisce the good times of our childhood.

In a nutshell, it's no surprise that the modern wallpaper trend is still going strong in 2019 and beyond. While it might seem like a hassle to decorate your home with wallpapers, filling the walls of your home with beautiful patterns can actually bring more happiness to yourself, whilst adding cozy and warm ambiance in your home. Should you decide to use wallpaper in your home in the future, we hope this short blog is of help to you when you're considering your options!
Request for quotes and we'll match you with a selection of Interior Designers!
Previous
2019 Predictions for Home Decor
Next
Top 10 Predictions for Furniture in 2019